Hyderabad Central: Ramping up ethnic fashion
By Satarupa Chakraborty | May 14, 2018
Hyderabad Central's new in-store VM executes vertical ramp along with leatherite mannequins to promote the store's new section dedicated to women's ethnic fashion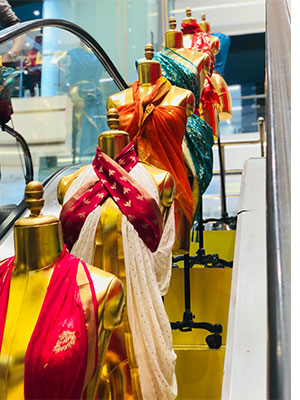 Dedicating an entire floor to women's ethnic fashion, Hyderabad Central has recently executed an innovative in-store VM, deploying a cluster of mannequins on a ramp. As a statement of ethnic fashion, the VM scheme was placed at the entry point to grab maximum eyeballs. To resemble the primary colour of the ethnic section i.e. gold, the ramp is champagne gold in colour while mannequins are gold leatherite dummies.
Elaborating further on the idea and execution, Pawan Nagarwal, Chief – Visual Merchandising & Experience Design, Central, told Retail4growth, "The in-store visual merchandising presentation is created to promote our new floor of ethnic fashion, which we call, the Ethnic Studio. To grab attention at the entry point of the store, we have created vertical ramp by the escalator, on which we have placed leatherite mannequins to render a look as though they are strutting on the ramp."
The mannequins have been supplied by Clone Mannequins and the ramp has been created by Veerasham.