Jai He Museum Store: Inspired by History & Art
By Dipanjan Mukherjee | Vjmedia Works | December 22, 2015
The Jai He Museum Store, designed by ABM Architects, provides as a magnificent replica of the Indian past presented to waiting passengers at the departure lounge of the Mumbai International Airport. The objective of the retail space was to support and feature the works of local architects.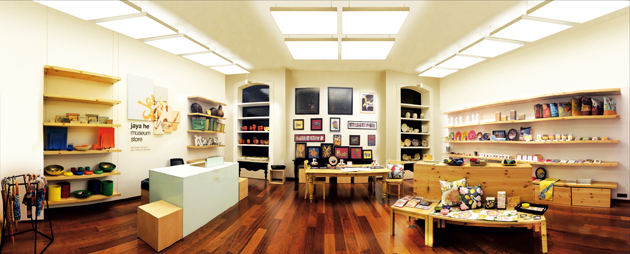 The new terminal at the Mumbai International Airport features an impressive art programme along a 3 - 4 km stretch of walk along the terminal. The stretch transcends the passengers into an art museum experience when they visually engage with museum stories which are placed near baggage claim and the immigration counters.
Passengers can now experience a long stretch exhibiting the Indian heritage through art and craft done by local artists in the Jaya HE Museum Store. The store is a combination of a retail and exhibition space to highlight and promote its crafted art offerings!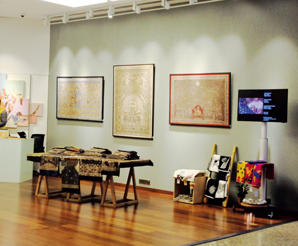 The store design is an interesting mix of inspirations from Indian handicrafts blended with a contemporary look style to exhibits an extract or replica of an art museum which has been tailored to perfection by Mumbai based ABM Architects. "The client, GVK, wanted a contemporary design infused with Indian aesthetics," says Aahana Miller, interior designer, ABM Architects.
The store is spread over 600 sq. ft. of area and the gallery is spread over 400 sq. ft. of area and provides a magnificent replica pieces from the rich heritage of Indian Art. The interiors design palette of the store was planned in a combination of white and wood to draw attention to its special offerings. The combination of a retail and exhibition space over 1000 sq. ft. in an open format was set to exhibit the work of local artists as per the Client's vision while the physical installation can be attributed to ABM architects.
The lighting in the Jaya He museum store has been deliberately kept soft and intimate so as to not overpower the intricacy of the handicrafts displayed. The central sofa, furniture and fixtures in the store have been provided to allow browsing in leisure and informality in a homely experience. Overall, the design and presentation in the store gave the end users a store that did not feel like a traditional airport "store" but an interactive space where they could browse comfortably selective pieces of Indian art and craft.