Kaya's experiential revamp
By Fairy Dharawat | March 12, 2014
As the brand went through a total renovation to project itself as a company shifting its focus from specific skin 'cures' to a broader daily'care' regime, Kaya collaborated with Eumo, to enhance their retail experience.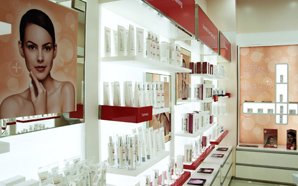 The Indian skin care industry is touted to reach a whopping $84.9 billion by the year 2014 according to a report carried out by MarketResearch.com. The skin care industry is inspiring growth seen never before and not wanting to miss the buzz, Kaya wanted to reiterate its positioning in the Skin Care category. The brand has gone in for a new look for its salons that is fresh and contemporary in collaboration with EuMo.
Internally, the surround product tableaux and central experience bar are designed to induce product interaction. The look is contemporary and while the brand is indigenous, the use of clean lines and reflective materials represent the brand in a modern avatar.
EuMo has worked with Kaya over one year across three formats - a full-format skin services Clinic, a new mall format Kaya Skin Bar as well as a hybrid format that is a smaller skin care services and product retail format.
Shanoo Bhatia, Founder, Director, Eumo says, "The brand was a pioneer at the time it was launched and managed to stay ahead of the race through its phases of growth and recognition. The current redesign mandate was once again to based on foresight and opportunity. Ajay Pahwa, the CEO of Kaya Skin Clinics, led this dramatic change in the business model from upfront and this demanded a design response which we were called in to lead. The business grew through acquisition and shifted focus from pure service and cure solutions to mentoring and advising through the customer lifecycle, as providers of products and services that provide daily benefits." She further adds,
"It was critical to leverage the strength of the brand, which was a perception of expertise, while amplifying the volume of daily care products and services. Hence we created a mixed material palette that reflected the soft hues of skin tonalities with high-contrast reflective materials. Graphics and visual merchandising played an important role in visually segregating products to encourage customers to feel competent browsing the product ranges. A central experience bar defines the space - the form was developed from the idea of a plus+ sign, alluding to the addition of product with service. The graphics reinforced the idea of the dual benefit of product with service using similar motifs. At the experience bar, products may be tried with guidance from skin advisors. The bar was designed to be efficient, with intelligent under-lighting of testers and specific spaces for tools and materials required for testing. The products form a surround, immersive experience around the experience bar. The product gondolas were designed from scratch to meet the functional and aesthetic requirements of display. They are completely modular, flexible and allow labelling at various levels, from the masthead, to ranges and specific products."
On Challenges Shanoo adds, "Since the skin care services business has its own challenges in retail formats, Eumo spent the first month shadowing staff and customers to assess the pain areas. This covered staff functions, reception welcome, customer/client down time, finishes, lighting, storage and accessibility of consumables, display and transaction areas. For an environment to support skincare services, the design should be efficient and functional. We segregated storage requirements and provide a central and controlled inventory of products in one area with consumables stacked in a separate zone, accessible to all service points. Since Kaya is moving into a product plus services model, where the services promote product purchase and are generally shorter sessions, full beds were replaced in the mall format with recliners. Use of composite materials provides a hygienic look and are easy to clean and maintain."