Meet the new Britannia Avenger superheroes in store!
By Smita Sinha | June 12, 2019
The biscuit major has installed VR gaming kit kiosks inside a few MT outlets inviting people, especially kids, to become Avenger superheroes as part of the promotional activity for its product cheese.
Biscuit major Britannia has recently launched an engaging VR-led instore activation to promote its Avengers: Endgame themed Cheese packs among kids and adults. Britannia in association with Disney gave the ultimate superhero experience of Avengers in store to kids through the VR game.
The brand has installed a VR gaming kit in a kiosk inside a supermarket inviting people, especially kids, to become an Avenger superhero and fight a war virtually using the VR gaming kit. The sensor camera integrated in the gaming kit first scans the body of the participant and makes him/her a Avenger superhero and virtually puts him/her in a war zone to fight a war virtually. To experience the VR-led Avenger game, customer first has to buy a pack of cheese from the store.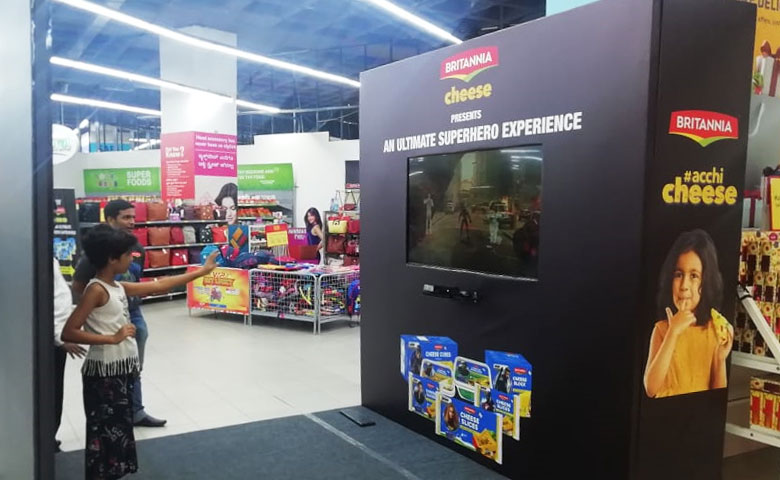 The campaign has been extended across 8 selected stores in Mumbai and Bangalore during weekends. Last weekend the brand did the activation at Spar and Mantri Square Mall in Bangalore.
Speaking about the campaign, Aditya Kumar, Head - Modern Trade, Britannia shares with Retail4Growth, "For the in-store cheese-Avengers promotion we partnered with Disney to install a VR-led gaming kit at selected 8 stores in both Mumbai and Bangalore where the footfalls are high during the weekends, starting from Friday to Sunday. Basically if a customers buys a cheese pack of Britannia from the same stores, then they get to play the VR-led Avengers game in store. It's a two month campaign. We chose weekends for the activation because unlike weekdays, the footfalls are higher on weekends and we wanted a much larger engagement to happen through this VR-led Avengers gaming kit."
Similar News
The key feature of this shopper activation is a drone that moves through the store to capture smiling customers and where a lucky few got to walk away with their purchase absolutely free.