Misha store: Engaging while evoking luxury
By Mohit Manghani | August 16, 2019
Designed by Mumbai based JCA Architects, the store reflects elegance and class, while creating an interactive environment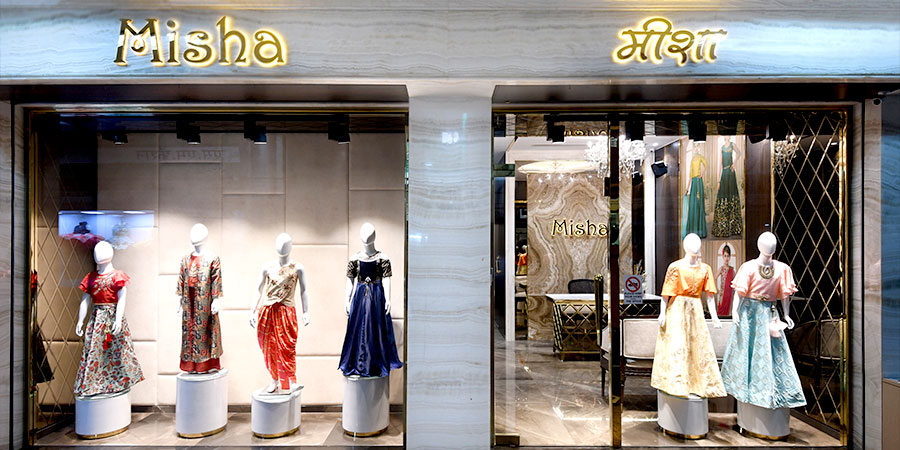 How do you make a small, seemingly restricted space in an unexciting industrial complex drive footfalls and deliver? How do you make the store interact with the city? These were some of the challenges to address before the apparel store 'Misha' was conceptualized. Mumbai based JCA Architects were confident to take it up as a challenge and responded to it by designing a clutter-free and elegant store which is spread across 728sq ft.
Speaking about meeting the store's objective and client's specific needs, Jayant Chheda, Director, JCA Architects, the multi-disciplinary design studio that offers complete design solutions including store fitting concepts, lighting solutions, turnkey solutions, visual merchandising and other allied retail solutions, says, "Designing a store in a compact space is always challenging and requires meticulous planning. It's a wholesale unit and the clear brief from the client was to create an experience that reflects the luxurious girl's apparel range they manufacture. Hence it was very essential to reflect the grandeur. We responded to this challenge by creating a quintessential and well-conceived environment with beautiful and interesting materials where retailers from all over the country can reach out."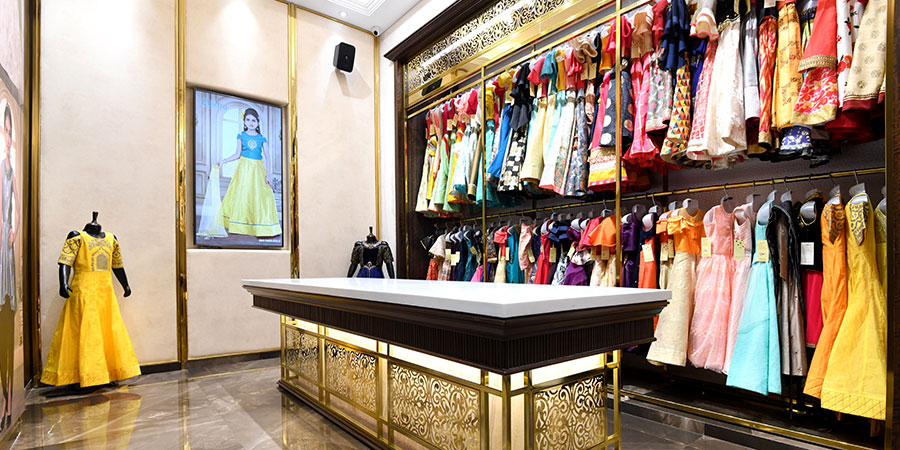 Explaining further, the design approach towards translating the objective into reality, Deodutta Mulye, Director, JCA Architects adds, "The layout is effortless and formally organized to create 3 spaces i.e. reception, retail space and CEO cabin apart from the services zone. To achieve excellence with the overall design we have maintained a stark contrast between colors and materials like stark flooring with light fabric walls and gold inlay. Lighting is placed precisely to highlight the apparels in the correct way."
The store, located in Dadar, Mumbai, posed its own challenges. Talking more about it, especially in the context of the space surrounding it, Vikesh Chheda, Director, JCA Architects says, "I feel the biggest challenge for us was the space of the project, to create a spectacle in a dull and boring industrial complex. It was achieved through value engineering and not through strict adherence to a fixed amount."
The project's success can be measured by the satisfaction of the brand, Kushal Shah, Owner, Misha, shares, "I have achieved what I had dreamt of. The space justifies my brand ethos."
For more updates, subscribe to retail4growth newsletter - Click here
Similar News
From creating customised furniture for corporates in 1970s to designing more than a million square feet of retail space in the current year, JCA Architects have come a long way since its inception. VM&RD chatted up with Jayant Chheda, Founder of JCA Architects to understand the 44 yr old design firm's approach to retail design and how they see it growing in the near future.
South India Shopping Mall opens its 4th store in Hyderabad and plans to open 5 more stores in near future