Modehaus Henschel - A Melange of the Classic and the Contemporary
By Susmita Das | Vjmedia Works | August 29, 2013
Germany based Henschel, previously known as Henschel & Ropertz, an institution in the university town of Darmstadt for nearly 80 years, has updated its brand name to Modehaus Henschel along with the launch of its store. Here's a look.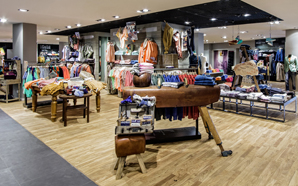 Germany based Henschel & Ropertz has made a brand new entrance with the introduction of a new corporate identity in alliance with the opening of its retail store. This new German fashion store positioned at the university town of Darmstadt is now identified as Modehaus Henschel.

The conversion of this Darmstadt Company has been initiated by the Stuttgart based architecture and interior design firm of Blocher Blocher Partners while the logo development and corporate design were planned and implemented by the communication agency View. "The total area is approx. 13,700 square metres of which we have converted 4,200 square metres interior design-wise. But we also made some major architectural work which does influence the whole building structure," says Angela Kreutz, responsible for Corporate Communications at Blocher Blocher Partners.

Modehaus Henschel is spread across five levels, of which four are entirely dedicated to retail sales. Henschel houses a wide range for women, men and children along with outdoor clothing, lingerie, accessories and swim fashion. Mainly brands like Marc O'Polo, Bench, Boss, Diesel, Gant or Tommy Hilfiger are stocked at the store.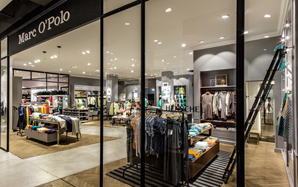 The design firm has elevated the main entrance on Ernst-Ludwig-Straße to 18 meters, using a four-story glass joint, while the second entrance on the marketplace was moved forward to flush with the building's façade and at the same time, the classical arched windows allow more natural light. Additionally all entries and main facade fronts are branded with the new Henschel logo to enhance the presence of the store on the street. "The main goal was to make it easier to find one's way around. So the interior designers have moved the access area to the periphery, markedly increasing the retail space from the ground floor on up to the fourth floor and making it much easier to negotiate the space," stated Angela. Further speaking about the zoning strategy, she adds "Different floorings and a diverse ceiling landscape give orientation and mark the different areas."


In addition to renovating the first to the fourth floors above ground, the designers have completely modernized the women's department placed on the ground floor. From the main entrance, the customer approaches the Marc O'Polo shop where Herringbone parquet floors and vintage cabinets proclaim the overarching theme of contemporary classicism. A black frame structure forms a room within a room, reminiscent of a greenhouse which not just defines the space but also allows a glimpse into the center of the department. Even the flooring of screed and oak expresses a contrast that is repeated overhead, where white panels are suspended from the black ceiling. Some of the white ceiling panels feature stucco moldings which exchange letters with the moldings on the mint grey walls in the central area. Especially eye-catching are the three focus walls, bedecked with ornamental objects by Stuttgart artist Rosemarie Flohr. Those classical design elements are completed by the large oval support columns with a grooved surface. Lobster colored metal racks, knee-high central space cubes and delicate tables further provide modern accents.

AT A GLANCE

Modehaus Henschel
Marktplatz 2
64283 Darmstadt

Architecture / Interior Design: Blocher Blocher Partners, Stuttgart

Corporate Design, Signage: Blocher Blocher View, Stuttgart

Shopfitting: Hoffmann Ladenbau, Rosendahl-Holtwick

Lighting: D&L-Lichtplanung, Minden

Total Area: Approx. 13,700 square meters

Restructured Area: Approx. 4,200 square meters