Molton Brown's revamped store in London is green, immersive & digitally engaging
By N Jayalakshmi | October 11, 2022
Collaborating with Dalziel & Pow, British brand Molton Brown transformed its flagship store located at Regent Street, London, with a clear focus on creating a tech-led immersive, sustainable and green store using 100% PVC recyclable print materials, repurposed props and window dressing, low energy LEDs, low VOC paints, hydroponics-based herbs garden, refill collections and more.Read on...
The newly transformed flagship store of uniquely British brand Molton Brown at Regent Street, London, brings together the brand heritage, technology, environmental responsibility and customer engagement together in a seamless manner.
Working alongside leading design agency Dalziel & Pow (D&P), Molton Brown created an interactive store environment that celebrates the brand roots while re-positioning the brand narrative for contemporary times.
Essentially the brief to D&P was "To reflect the true ethos and origins of the South Molton Street hair salon, described as a 'sensorial heaven' with a particular emphasis on placing Molton Brown's sustainability credentials at the forefront"shares D&P.
Essentially, the calming, botanical and sophisticated ambience of their original 1970s hair salon has been given a contemporary twist with natural materials, sustainable features and carefully selected virtual technology, the company informs.
As Sarah Hopkinson, Design Lead, Brand Environments @ Dalziel & Pow, says speaking about the project, "Our ambition was to create a calming sanctuary on London's busy Regent St; a space that embodied the welcoming, sensory and relaxed ethos of the original 1971 hair salon. Woven through the store are quotes from Molton Brown's perfumers, artifacts from the original salon, and details of Molton Brown's continued environmental commitments, creating a rich, layered, and very personal, tapestry of stories allowing the customer to immerse themselves in the brand."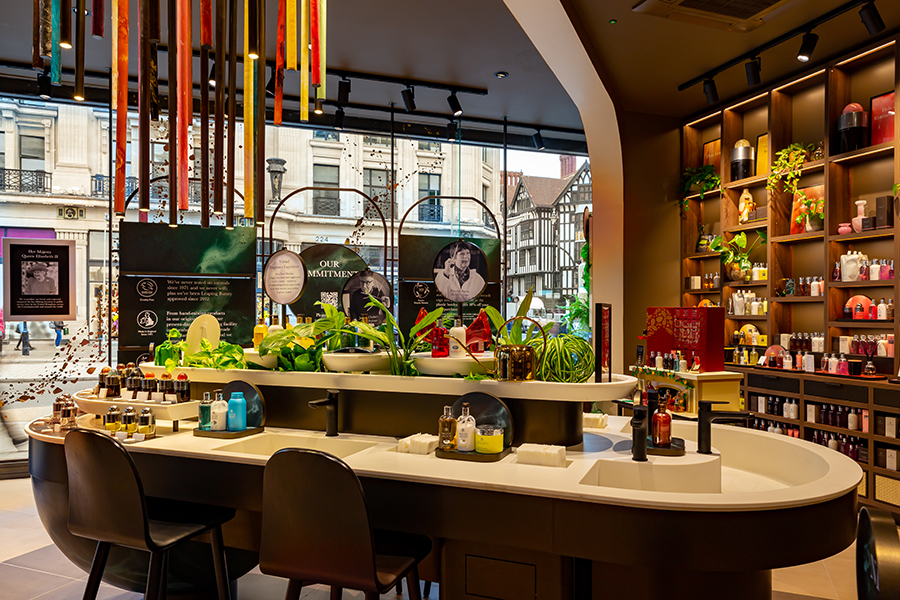 The newly transformed store indeed features multi-sensory virtual fragrance experience zones, in-store iPads with augmented reality technology that bring their ingredients to life, convenient QR codes dotted around for 'behind-the-scenes' content, personalised scent offerings based on individual personality with the 'Fragrance Finder', the Fragrance Discovery Playground where customers can sample their intriguing fragrances, and more.
As D&P informs, the idea was to establish a customer-centric store journey of attracting with fragrance, engaging through product on skin at the eventing and testing hub, storytelling within the social seating area, and rewarding at the gifting station. This informed the store layout to create a frictionless customer experience.
Further, the in-store Lounge serves as a cosy corner to rest, seek expert advice and unwind with the brand's signature Hand & Arm massage. Besides, there is the Personal Gifting Service and a Salon featuring an archive of carefully curated brand memories from the early days.
A large part of the brief revolved around dramatizing Molton Brown's new 'Return, Recycle, Reward' fragrance, body and handwash refill service. Thus the design team focused on utilising the window space to showcase this message, angling the walls to create an engaging space that was visible both out and inside the store and using oversized props to create an eye-catching yet informative piece of retail theatre.
The project did present some interesting challenges for the design team. For example, off the main shopfloor, a small nook, previously an overspill stockroom, transformed into a private consultation space. "The unusual triangular-shaped room created an interesting challenge to find a purposeful use for the room but, now dubbed 'The Salon', this cosy space is perfectly suited to intimate gatherings for sparkling wine sipping and exploring Molton Brown's carefully curated archive collections," shares D&P.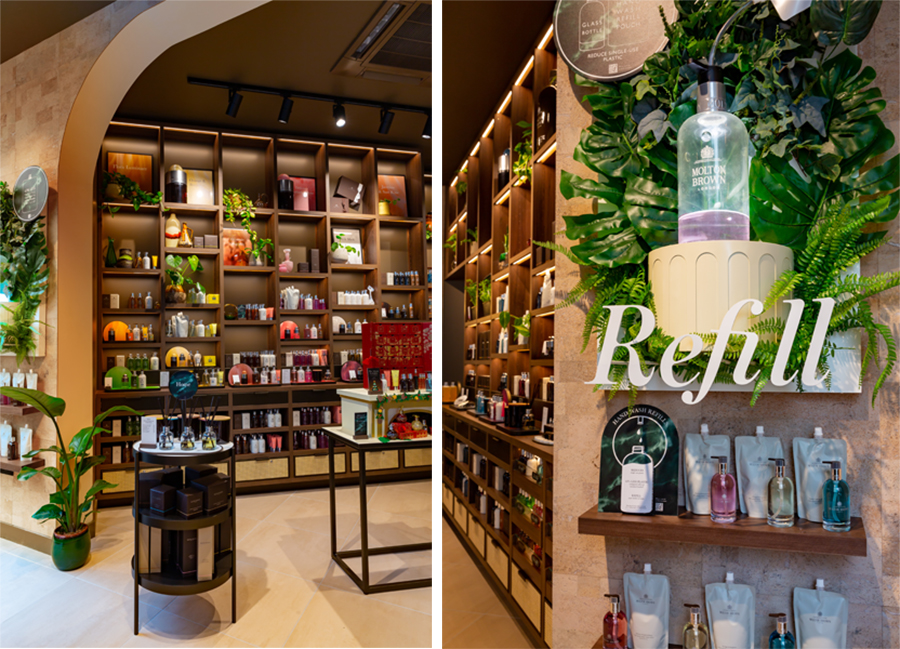 Sustainability as a Core
But the highlight of the store is the focus on sustainability and the emphasis was on promoting Molton Brown's sustainability credentials; thus the material choices were carefully considered to uphold these values – such as the use of sustainable cork as the signature wall finish – all referenced back to creating a contemporary twist on the 1971 salon aesthetic.
Some of these initiatives as part of the focus on sustainability include:
Refill collection
Core bottles made with at least 50% recycled plastic
'Return. Recycle. Reward' scheme, wherein customers can bring old Molton Brown plastic bottles to the store for recycling and enjoy 10% offer on next purchase
Flourishing plants to help purify the air, including a herb garden, grown using a sustainable method called 'hydroponics'. This involves creating a controlled, pesticide-free environment with LED technology
FSC certified wood laminates, low VOC paints and low energy LEDs
Sustainable floor tiles and parts of the wall covering filled with cork, which is made in a zero-waste facility using mainly renewable energy
Local British made furniture which are reused and repurposed
Repurposed props and re-dressing of window fixtures for each campaign to reduce waste
FSC certified, 100% PVC free, and recyclable print materials made with recycled content.
All pics courtesy : Dusan Kacan/Molton Brown