Multipurpose category header for GT
By Arnab Dutta | July 24, 2013
A category header which would offer a good visibility spot in general trade, be easy to install and also help shop owners as well as the customers. These were the requirements from client ITC to Solutions for Retail Pvt. The latter thus came up with a solution that addresses the needs of all concerned.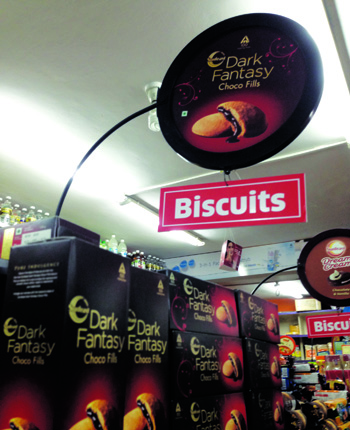 Keeping in mind the general requirements and grouses of shop-owners with regard to in store branding, Solutions for Retail Pvt.Ltd, has come up with a category header format which offers easy brand visibility and a loud and appealing brand communication making the shop-owner want to accept
the product at first glance.
The solution was based on the existing scenario in the GT space with its overwhelming brand cutter at shop entrances, cash counters, rack lips and glass tops. Hence it was thought to design something that would suit the shop owners as well as the brand managers' requirements. This thought process led to the idea of using air-space The key observation was that given the clutter, brand shouting does not happen at the shelving level.
"We have followed the'?' shape as an answer for everything that we identified in general trade, so we have bent the rod in a question mark shape and tilted it a bit to pop out of shelf. We have taken the round shape for branding and below that a rectangular hanger for category , so that the customer can easily notice the product category and identify the brand at the shelf while he is walking at bay with a basket in hand," says Prasad Bhagwath, MD, Solutions for Retail Pvt.Ltd.
For the installation part, a magnet strip with a loaded base at the bottom has been used for easy installation on cantilever racks hence fulfilling all the requirements. This category header format will be used in all ISS outlets.