Nike – Launching its latest edition in rocket takeoff style!
By Satarupa Chakraborty | June 13, 2018
Nike's latest window and in-store VM is executed with UV print done on clear acrylic sheet to depict a trail of smoke from a rocket. This is to symbolise the high performing facet of their runner footwear range, Pegasus.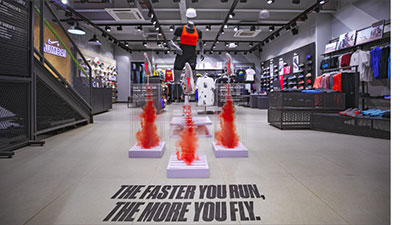 To promote the latest edition of their Pegasus footwear range, Nike India has recently executed a VM scheme involving their window and in-store at all stores at key metro markets. To depict the range's high performance, the concept of a rocket zooming ahead has been executed through UV print done on acrylic sheet.
Talking more on the concept, Nike Team Works India explained, "Pegasus, the high performance footwear range from Nike, is meant for runners who want to quicken their pace. We keep on upgrading the edition and the VM promotes the latest and the 35th edition of Pegasus. To highlight the innovation and high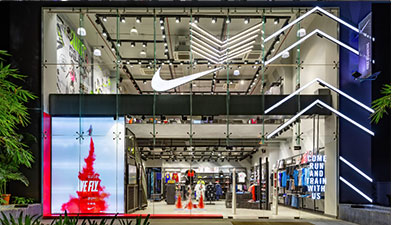 performance, we were inspired by how a rocket takes off leaving a trail of smoke behind. The UV print on the transparent acrylic sheet depicts the trail of smoke while the shoes positioned on top of it seems erupting out of that smoke."
Execution: Catalyst Design (South & West), Sym Graphics (North)