Rasna's fruitful relaunch
By Fairy Dharawat | March 12, 2014
As the beverage industry gears up for the scorching summer season, Rasna introduces their brand new logo to kick off the season in style. The brand's new retail communication aims to create a new positioning in the market.
Rasna has welcomed the scorching summer with a new identity at retail. This brand new identity is a move to connect consumers with a fruity association. The brands' retail communication is thus targeted towards the wider range of the consumer base which also includes health conscious consumers. With the help of Pyramid Retail Solution Pvt Ltd, Rasna was able to translate the communication at retail. Shoppers visiting supermarkets and stores were welcomed with Rasna's new campaign in the form of three units that reinstate the brand's strong retail presence.
The brand has essentailly changed its retail communication language and came up with a new logo to associate the brand with fruits. Samir Jagtap, National Sales Head - Rasna adds on their new logo, "We have changed our logo so as to strengthen our association with fruits among our consumers. The idea is that the consumer should relate Rasna with fruits directly." He further adds on the design of the unit, "The customer needs a simple unit, which is easy to understand ( self explanatory), with an ease in dispensing stock, has ample stocking space with more fruit appeal. Rasna is trying to get connected with fruits with an idea to relate Rasna with fruits directly."
Targeted at housewives, kids, health drink admirers, middle class, upper middle class male, female, The new retail campaign introduces brand Rasna in three different units; FSU, CDU and Dumpbin unit. The FSU and Dumpbin units are found in Big bazaar outlets while CDU units are found across GT format stores. All units are found pan India.
These units are specifically made for three different markets - MT, GT and GT organised retail and the communication for the unit's look and feel has been consistent .The design is simple with an aim to connect with consumer immediately.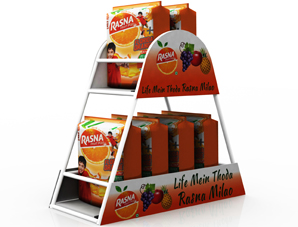 Made up of predominantly of metal and MDF, sunboard was used for the branding. Anirudh, Director, Pyramid Retail Solutions Pvt Ltd, adds on the brief shared by the client , "When we created units for the brand last time it was a big hit and it helped them a lot. They wished to replicate the success story. Rasna has changed their logo and entire communication. Rasna wants to be known as the fruit product - for that we created a different communication in form of FSU, Dumpbin, CDU. The brand wanted to create a Dumpbin with three shelves which can stock maximum number of units."
He further adds, "We have created a CDU (table top unit) which has maximum stocking space. They needed a unit with maximum capacity of holding the product. The table top was designed in a completely new way - simple effective communication. The design turned out to be very cost effective as well."
Below are the number of units manufactured.
FSU: 125 units manufactured: three shelf's: Can stock more than 4 dozens units at one time.
Spectacular: 12 units manufactured: Can stock more than 100 units at one time.
CDU (Tabletops): 3000 units manufactured: Can stock more than more 8 pieces at one time.
Pan India launch, Big bazaar outlets Pan India.
On the shopper response, Samir adds, that they are sure that the shoppers will welcome the new launch with open arms and that the designs are already well accepted. Says he, "We are sure that new campaign will help to boost up the sales in this summer. We have created a strong product segment in fruit based beverages. We are positive that the launch is going to a fruitful one."