Raymond's Complete Man in a new retail avatar
By Susmita Das | Vjmedia Works | December 05, 2013
The Raymond Shop positioned at the Forum mall in Bangalore dons a new look with its refurbishment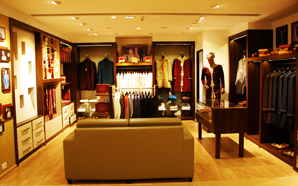 Raymond, which has more than 650 Raymond Shops across India, came up with an updated look for its store located at the Forum Mall in Koramangala, Bangalore. Sharing the reason behind the makeover of this store, Shradha Kurup, Head- Visual Merchandising, Raymond Ltd says, "The Raymond Shop at Forum Mall has been one of our top performing stores. The store was due for a revamp. The requirement for the addition of special categories like the suit lounge and ethnic zone was the perfect opportunity to look at redesigning and renovating the store to bring about the desired freshness. There was additional floor space that was being added to the store that was also utilized to create a Made to Measure section that has in the past been the highest contributor to the store."
Spanning across 5500sqft, the store is a single foot plate space which offers complete wardrobe solutions to'The Complete Man'. The merchandise ranges from a wide range of fabric in both suiting and shirting. It also offers casual wear and formal wear in the readymade category, while special occasion wear in the formal and ethnic segments have been highlighted through specially created zones in the store. A custom tailoring section and Made To Measure are specialized services that the store offers.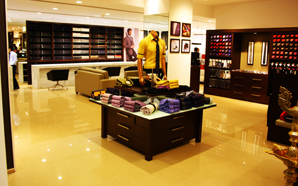 The final layout of the store is the outcome of alignment of the design team with an external architect. The signature elements of the store mainly highlight strategic use of Raymond Red across specific details like the façade, furniture and other displays. "The store fascia available was in an'L' shape. To maximize visibility we had to showcase The Raymond Shop sign as well as communicate the presence of Made to Measure. We have created Box windows with the main signage at the center above the entrance," says Shradha.
In order to grab the attention of the passerby's a signage has been created using the latest LED technology, while the Raymond Red element has been imposed to the window through a running band. Also, the Made to Measure window is partially open allowing a peek into the in-store sections.
Contemporary merchandising designs and specially created zones reflect the brand values and create an international appeal. The store offers ethnic and occasion wears through specially designed lounges in order to create a specific ambience. Largely the use of materials like veneer, glass and Duco/PU finish has helped to generate a distinct and contemporary look to the store. As for the store's lighting strategy, Sushil Wakde, Head, Projects, Raymond Ltd. explains, "Lighting has been designed to bring out the best features of the garments on the shop floor. The store flaunts white and yellow lamps which highlight the accurate features of the fabric on display."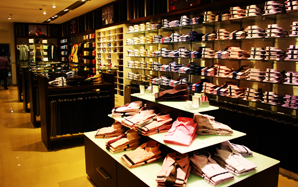 A lot of detailing has gone into creating special customer interaction zones and the fitting rooms are large and well lit with adequate seating facilities. Further, imported wall paper distinguishes this section from the others. Multiple POS points have also been created to enable smooth operations on high traffic days.
"There were many aspects around which the VM strategy for the store was designed. Starting with the product, we spent a lot of time designing the elevations for the various categories. The store staff along with the regional VM team put in great efforts to create some perfectly crafted displays, working on the lines of color blocking, layering and cross merchandising," further highlights Shradha.
Speaking about extending this brand identity to other stores, Shradha says, "This concept is a part of the design strategy that we have been following across our flagship stores which are set up in varied regions. At present, eight of our flagship stores have been designed on similar lines which include the NDSE, Delhi, Vijayawada and Bangalore Phoenix Market City store among others."