Reliance Trends connects with shoppers through in-store meet ups
By Satarupa Chakraborty | November 08, 2017
Reliance Trends's series of in-store meet-ups recently kicked off at Phoenix Marketcity Bangalore outlet. The first event, Trendship hangout, brought some noted women bikers of India together to interact with the shoppers.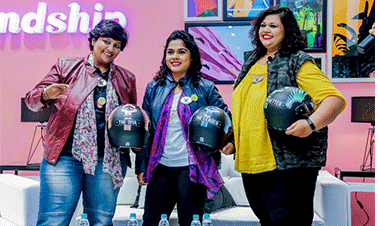 In a bid to augment interactivity with the shoppers, Reliance Trends has chalked out a few meet-ups as part of their shoppers engagement programs this season.
The talk show series of in-store meet-ups kicked off recently by the name of Trendship Hangouts at its Bangalore Phoenix Marketcity outlet. Hosted by renowned radio star Shagufta Ahmed, the first edition of Trendship Hangouts on 28th October, 2017 starred the Bengaluru Chapter of The Bikerni, India's largest all-women Biking Trendship of over 600 women. It brought biker fans to the store and took the store to screens across the country via Facebook livestream.
A Reliance Trends spokesperson said, "Whether a newbie or a veteran biker, the event made you feel at home amongst your tribe. By giving the hardships and triumphs faced by the group a stage, the event also helped the brand show its support towards helping women enjoy the freedom of thought, word and action. The brand plans to take Trendship Hangouts to its stores across the country in the months to come, giving India's vibrant sub-cultures and Trendships a platform to call their own."