Shoppers Stop's shining tribute to Chandrayaan-2
By Mohit Manghani | August 26, 2019
Installed at the flagship SS store in Malad, Mumbai, this hard-to-miss window display is a fitting salute to the launch of Chandrayaan-2, India's second Moon mission.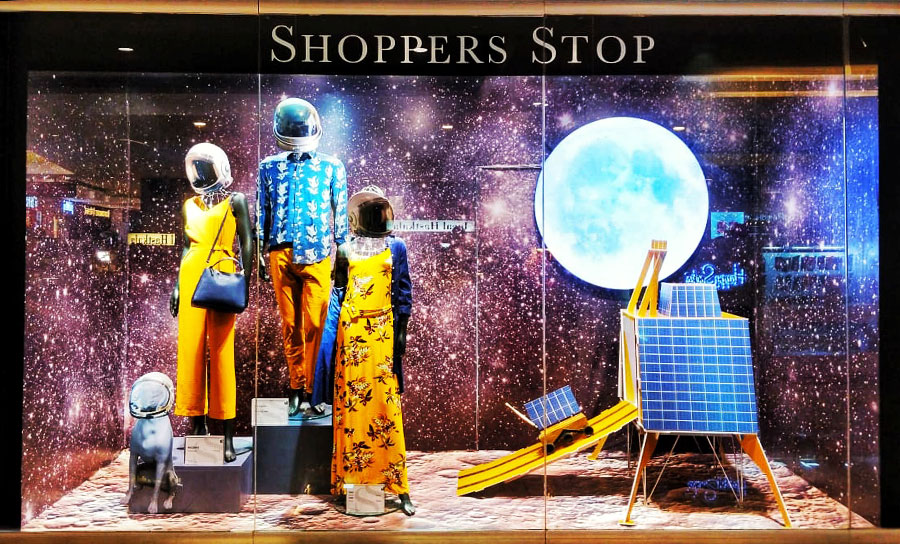 Aimed at celebrating India's historic feat with 'Chandrayaan-2 launch, Shoppers Stop has installed this marvellous window display at its flagship store in Malad, Mumbai.
Speaking about the objective, Amin Kassam, Chief of Retail Operations, Shoppers Stop, said, "We at Shoppers Stop wanted to pay a tribute with a unique window display to the successful launch of Chandrayaan-2; India's second Moon mission. The objective and the thought behind this concept was to commemorate this launch, since it is a noteworthy accomplishment for our country. We feel, visual merchandising is a creative tool to communicate with the community at large in a unique way."
Shedding light on the elements used in the display, Amin shared, "The key elements that were used to create impact were the space imagery with a 3D proto miniature of the space vehicle, an illuminated Moon (destination of the mission), mannequins dressed in an astronaut helmet gear and a very special character – the dog on the moon."
The entire conceptualization and execution of the spectacular display was done by the internal team of Shoppers Stop. "The idea was conceptualized in-house by our talented store VM managers and the execution, styling, prop, production and set-up were all done internally by them. The printing of the backdrop was sourced through our registered supplier," added Amin.
For more updates, subscribe to retail4growth newsletter - Click here
Similar News
The company posted an EBITDA of INR 50.1 crore in the quarter, up by 15.4% owing to significant operational efficiencies.
Spread over approximately 44,000 sqft area across three floors, the new store will offer chic and desirable fashion brands under one roof.