Smoke House Deli II now at Lavelle Road
By Susmita Das | Vjmedia Works | August 23, 2013
This Smoke House Deli launched at Lavelle Road in Bangalore is a tribute to the city's colonial era.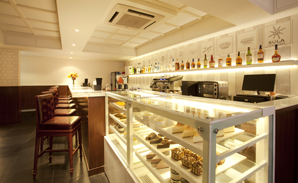 Smoke House Deli has once again made a buzz in Bangalore with the launch of its second restaurant in the city. While being similar to the first one located at Indiranagar, the new one also portrays an amalgamation of the vintage with the contemporary and is an accolade to the foremost resident of Lavelle Road, Michael F. Lavelle.
Restaurateur Riyaaz Amlani of Impresario, the parent company of Smoke House Deli said, "Bangalore's epicureans have been very kind to us. The warmth and familiarity that the city has shown to us has been humbling. As they say, cities are made of their people, and Smoke House Deli at Lavelle Road is a tribute to the locality's foremost resident: Michael F. Lavelle himself, the neighborhood's namesake and the region's first gold prospector."
The restaurant is a hat-tip to a bygone British era of excessive luxuries, highlighting zones segmented into an outdoor area, a lounge and a restaurant at the end, while the hand-illustrated interiors at the space recreate a hypothetical hunting lodge resembling the one possessed by Michael F. Lavelle. The walls are a record of his experiences as a hunter, an art collector, a family man; and a friend, besides being a parody of his membership in the East India Company as a'gold-digger'. They also speak in myriad tones depicting secrets about the city's glorious past, and some also pass on ideas about what the city can be. To further allow these stories to talk to the masses, funny codes have been infused below most of the artworks.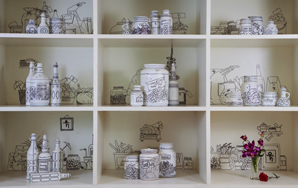 Zameer Basrai, Architect at The Busride Design Studio, says, "We've unearthed a number of anecdotes, histories and stories and illustrated them, as a fun and irreverent way of looking at the city's colonial past. Of particular interest, were the finishing schools in the region that taught English etiquette to our local elite - perhaps that's why the residents on Lavelle Road behave the way they do even today. Their fascination with hats, gentlemen sports, thoroughbreds and fetish for leather products finds its roots deep in our city's colonial history - and in a strange way, even deeper in the life of Michael F Lavelle.'
As for the main feature, the food, City Chef Saurabh Arora said, "The menu at Smoke House Deli on Lavelle Road draws on a variety of inspirations, some as old as the locality and others as avant-garde as the Deli itself."