Tang brings shopper engagement at retail
By Dipanjan Mukherjee | June 04, 2013
The fruit flavored powdered drink kicks off an integrated marketing campaign at retail targeting mothers and kids with'Tang Rocketman' and'Tang Refreshment Bars.'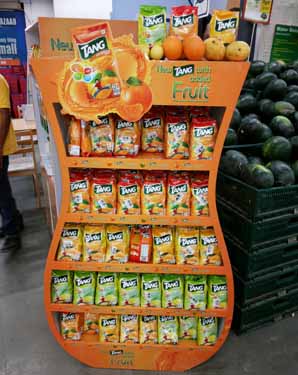 Cadbury re-launched their brand Tang with an integrated marketing campaign to connect with their target shoppers - mothers and kids. To attract the shopper attention, the brand introduced two campaigns which triggers purchase through customer engagement . With these two activations, the company aimed to pique interest among those consumers who haven't tried the drink or are sitting on the fence on whether to buy a powdered beverage or not. The brand spent on heavy investment, on-ground engagement, differentiated POB execution and PR to strike chord with the shopper.
Tang Rocketman is an initiative wherein mobile Tang Rocketmen promotes active in-store sampling of the ready to drink beverage across all key consumer touch-points. The Tang Rocketmen drives shopper engagement and provides consumers with the real tang experience while the idea triggers shoppers purchase decision. The Tang Rocketman initiative took place across key hypermarkets such as Big Bazaar, HyperCity, Walmart, Spencer's, Tesco and Reliance in Mumbai, Pune, Delhi, Kolkata, Chennai and Bangalore.
Tang Refreshment Bars' initiative will help to drive consumer engagement in modern trade. These unique gondola bar displays will come alive with sampling dispensers and the'Tang Men' dressed in fruit costumes to build excitement around the all-new fruitier Tang. The Tang Refreshment Bars have also been setup across key hypermarkets in Mumbai, Gurgaon and Delhi. The idea was to give consumers a quick taste of the drink rather than depend on them to prepare it.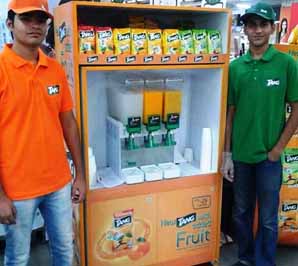 Narayan Sundararaman; Category Director - Beverages, Candy & Gum; Director - Consumer Insights & Strategy at Mondelez International says, "The Tang Refreshment Bar was an idea conceptualized by the Tang brand team, and fabricated by the agency to their specifications. At first, there was a prototype made and used for internal sampling. On the basis of the feedback received, inputs were taken from the various stake holders and the design was improved to include these added features."
As the campaign was targeted to trigger purchases as being a powdered beverage, wet sampling played an important role in triggering trials for Tang. Both the sampling activations kicked off towards the end of March 2013 and will be on till mid-June 2013. Narayan Sundararaman says "The response has been very encouraging. While the activity was initially scheduled for select stores across the country, basis retailer & sales requests, the same has been extended to additional stores as well. These unique sampling initiatives are a first for the category and help create excitement in an otherwise not to vibrant section of the store."