Targeting the young and the restless...
By Dipanjan Mukherjee | August 09, 2013
Restless, a new energy drink brand, has been launched in the market catering to the rising demand in this segment. Point of Purchase gives you the details on the launch.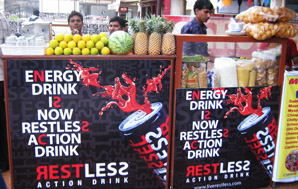 According to a study carried out by United Nations, the average age of Indian is 25 years, and with a population of more than 1.21 billion people (2011 Census statistics), the number of people around the age of 25 years is around 50%, which makes India one of the youngest countries in the world. This young population is also synonymous with aspiration for an urban lifestyle and changes geared towards that. The demand for energy drinks is one of the effects of these changes.
The energy drink market in India is in fact estimated at around Rs 500 crore, according to Nitin Gupta, Founder and MD of'Restless' Energy Drink, who also added that the energy drinks market in India is still in its nascent stage and is expected to grow at a Compounded Annual Growth Rate (CAGR) of 25%.
The reason for this huge shift in the energy drink segment can be attributed to rising awareness among consumers and the rise in income levels of the middle and upper class households. Adds Nitin Gupta, "Urbanisation has resulted in substantial increase in lifestyle expenses. Energy drinks have become an urban phenomenon. Over the past few years, the sales of energy drinks have been driven by changing consumer lifestyle and increasing demand for alcohol mixers. Their association with high octane sports such as the Indian Grand Prix and with eating out has further boosted sales and increased consumer awareness. Today's hectic lifestyle means that people are looking for products that add far more value to them, than before. India's consumers, particularly its younger demographic are passionate about new experiences and brands as New plays out well in India and brands have to constantly find ways to drive this novelty. While some brands in the FMCG space, developed by Indian companies, are making successful inroads such as in the case of soaps, foods, beverages, appliances, etal.., there is a lot left to be desired when it comes to understanding the consumer journey across various touch points for the brand and driving specific interventions for them, to create more value for the consumer."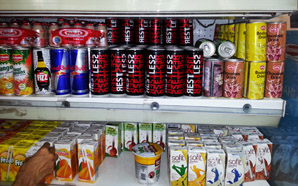 Aiming to bridging some such gaps in the segment is the brand Restless that is out to capture the new generation of ambitious youth who are determined to get more out of life. As Nitin Gupta says, "The target audience for this energy drink is not determined by a demographic, but by state of mind. We are targeting students and young executives, men and women, who are in need of constant energy and individuals living in urban areas - Metros, Tier I & Tier II cities. We aim to reach our target market through modern trade, premium retail outlets in all the major metros (to start with), and premium wine n beer outlets and clubs/bars."
According to him, Restless' marketing strategy at retail level is about, "driving awareness for the brand, creating the desired pull for the product through creative displays, well thought out placement at select stores in and around related and complementary categories that can drive cross-sell, ensuring presence in specific catchments where product trial potential is huge like liquor shops, pubs and bars, and sampling at key locations".
Thus the brand made its entry at the retail stores with black units in bold communication that says, 'Energy drink is now Restless action drink'. Created entirely of MDF with a rotating compact refrigerator with vinyl prints, the black unit can easily stock more than 10-15 units at one go. Designed by the brand, the unit has the bottom branding communicating 'Restless'. The units can be found in Mumbai and Delhi where the brand is already present and it is further gearing up to enter Bangalore soon in a few months time. The response the unit generated has been so far positive.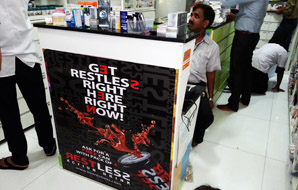 Speaking further about the positioning of the brand he adds, "We are focusing on health conscious minds who want energy and benefits of an energy drink without any of its adverse effects." With a TG which ranges from 20 year olds to even 40 plus prospects looking to get that "extra" in their life, Restless is positioning itself as a brand which enables a mind set to strive for more.
The growth and expansion plans for the year 2013-2014 for the brand is focused on driving trials for Restless, strengthening the brand's frame of reference for its consumers, bringing the brand ethos alive through various activation platforms (offline and online), and finding unique, differentiate ways to create users.