Trent's Samoh makes its aesthetic debut in Bengaluru
By N Jayalakshmi | October 26, 2023
Samoh, the elevated occasion wear brand by Trent Ltd., recently announced the launch of its first store in Bengaluru, right at the heart of Indira Nagar, which is a celebration of style and sartorial elegance. Here is a look at the store design…
Samoh, the elevated occasion wear brand by Trent Ltd., recently announced the launch of its first store in Bengaluru. Located in the heart of Indira Nagar, this 2000 sq. ft. store launch follows the brand's debut in Lucknow, underscoring its plan to expand its footprint nationwide.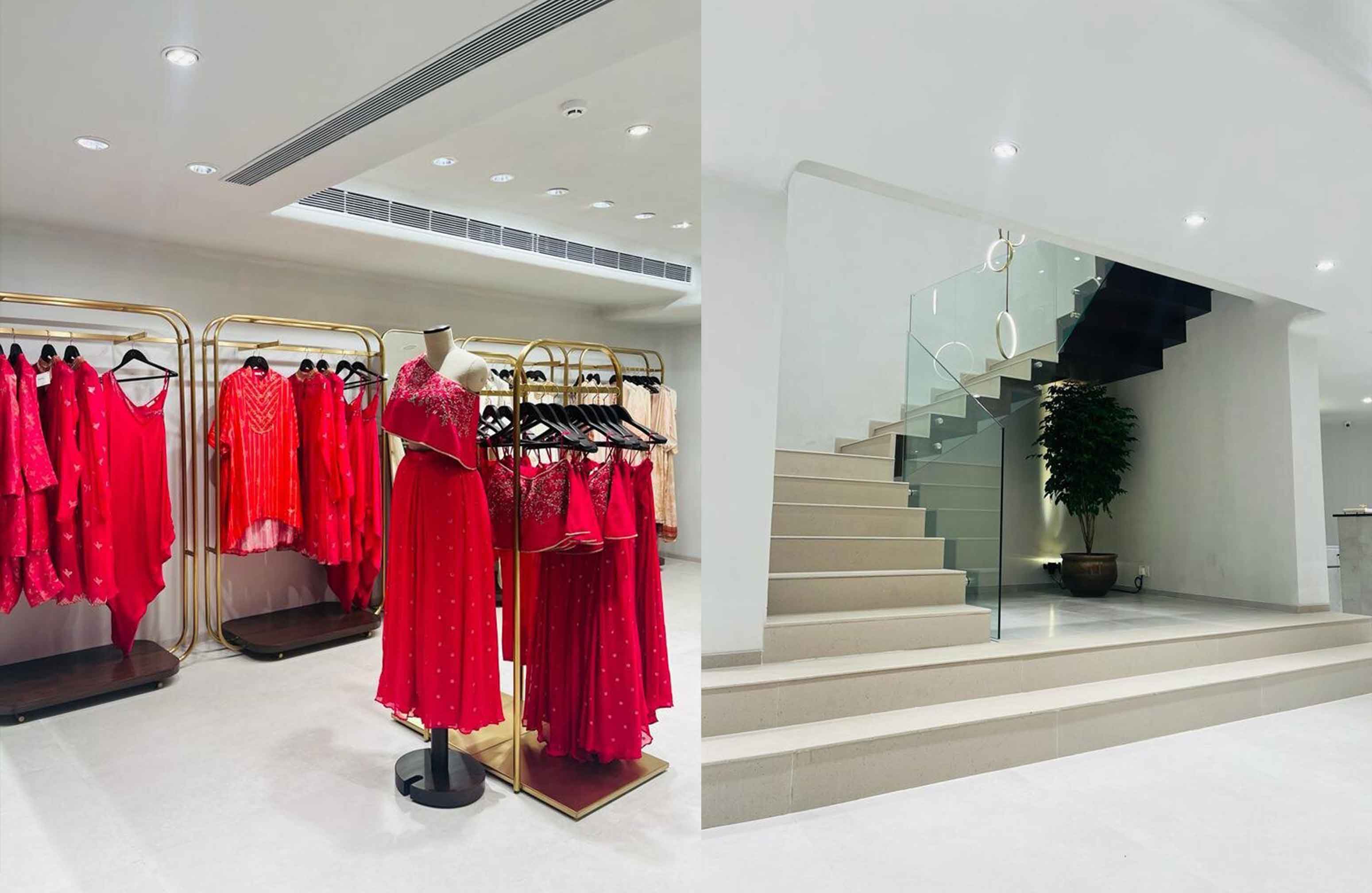 SAMOH as a brand is a harmonious blend of traditional Indian designs and modern aesthetics. The new storebrings alive this brand narrative through a palette of soft colours that merge with elegant brass fixtures, as Diptendu Shekhar Saha, Head - Visual Merchandising & Retail Experience at Trent Ltd, told Retail4Growth.Right from the facade through the interiors, the store is an aesthetic expression of the brand attributes.
Facade
The store's double-height facade serves as an inviting feature for passersby, meticulously designed with sustainable materials to be an aesthetic reflection of the interior space. The pattern on the facade is derived from the letter 'O' of SAMOH.
Green aura
The landscape has been designed in an abstract pattern, meant as an inviting space, leading people into the store. Lively exotic plants with a hint of Indianness offered by the lotus plant, accentuates the overall effect.
Celebration of style
The interiors of the space have been crafted, essentially as celebration of fine taste. Offering more insights into various aspects of the store design, Diptendu explains, "Minimalist, seamless fixture design discreetly recedes into the background, placing the spotlight firmly on our exquisite garments and products, all seamlessly integrating into the sinuous, curved interiors. The dressing room, an oasis of comfort and delight, has been thoughtfully designed to transform the act of selecting garments into a cherished family ritual. Plush sofas and pendant lighting further contribute to the experience, ensuring that every moment spent here is a celebration of style."
Elevating experience
The staircase is a focal point in the store, mean to literally elevate the customer's journey from one floor to the next. The staircase in fact was meant as a metaphorical bridge between luxury and discovery, adding an element of dramatic flair to the overall ambience. The round shaped chandelier adds to the effect, being a representative of the brand language.
"At its core, the retail space is conceived to ignite an exhilarating and theatrical customer experience, perfectly choreographed to harmonize with the brand's narrative, resulting in a visually stunning space that transcends expectations," sums up Diptendu.
Trent plans to expand Samoh's footprint to various cities across India.