Vero Moda takes Mickey Mouse to Japan
By Satarupa Chakraborty | June 21, 2018
Executed at their standalone stores and SIS, Vero Moda, following a global collaboration with Disney Brothers, incorporates a window and in-store VM scheme, where iconic cartoon character Mickey Mouse is presented in its Japanese avatar.
The "Mickey in Japan" campaign by the global bespoke collaboration of Disney Brothers and Vero Moda has been executed across 32 Standalone Vero Moda stores along with 27 SIS spread in the main Departments Stores as Lifestyle, Central, Shoppers Stop and Iconic.
As part of the VM scheme to denote the iconic character Mickey Mouse with the basic values of Japanese culture, the window mannequins donned the look with raw straws and vertical bamboo canes creating the dramatic visual impact. The pinkish floor is in line with the Sun image that is showcased on the main visual and the same ends up giving a lift to the full display as a splash of colour to offset merchandises with a darker colour palette.
Nuno Rosa, Head of Visual Merchandising and e-commerce styling, Bestseller India – Vero Moda, explained to Retail4Growth, "For all selected stores, I decided to create a display in our frontal tables, that usually are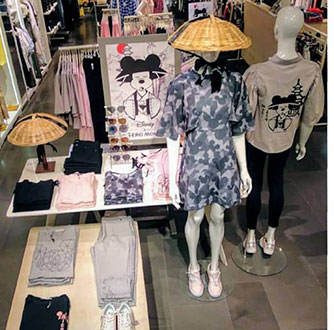 visible from any point outside the stress or mall corridors. Once more, I selected the use of straw hats and place them strategically in our mannequins, as per the styling created and implemented across our business chain."
Along with a large table visual that highlights the Disney-Vero Moda collaboration, a free-standing unit, displaying a single straw hat that could be picked by customers, played the role of customer engagement.
Execution: Brandmela