VM&RD Retail Design Awards 2018: Adidas PARLEY
By VJ Media Works Team | April 16, 2018
Green Initiative; Project : Adidas PARLEY; Merit : 02 Design Studios / Few Steps Ahead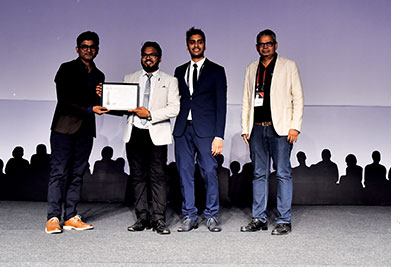 Parley is the global network for creators, thinkers and leaders to come together to raise awareness for the beauty and fragility of our oceans and collaborate on projects that can end their destruction. Adidas Originals, in collaboration with Parley presented an environmentally conscious EQT Support ADV sneaker, where the upper of the shoe is made partially using recycled Parley ocean plastics created from upcycled plastic waste that has been intercepted on coastal communities before reaching the ocean.
To activate the product, select influencers were invited to join the movement. The product was sent to two influencers in packaging made out of waste plastic bottles, to get the message across, with the Adidas parley branding. Biodegradable garbage bags were sent to the other influencers, with a message on how plastic garbage bags used at home can be replaced with biodegradable ones and how these small measures can prevent plastic waste from entering the ocean. The campaign was aimed at spreading awareness about the cause, and to accelerate a process of change in peoples' approach to looking after our planet.
Shredder was placed inside the store where customers were asked to get plastic bottles and put them inside the shredder. This shredded plastic was then given to an organization called Development Alternatives who in turn, created beautiful bags and accessories with it, and whoever bought shoes from Adidas got them in those bags.