VM&RD Retail Design Awards 2018: Arttdinox
By VJ Media Works Team | April 16, 2018
Green Initiative; Project : Arttdinox; Winner : FRDC (Future Research Design Company) India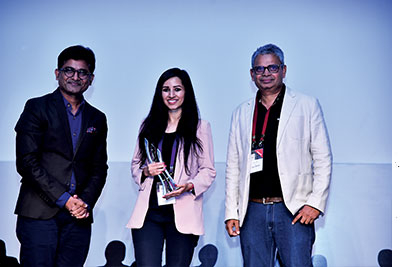 At the Arttdinox store execution, the core objective was to optimize and save energy consumption, to reduce material wastage, to employ green and eco-friendly materials along with using best practices within permissible limits.
Following USGBC's guidelines of LEED compliant retail interiors, the attempt was to create a store that complements the brand and also its values of inclusive design. It was a conscious decision to keep the space natural and original. To achieve this there were interventions taken to 'Reduce' the energy consumption by harvesting maximum abundant natural daylight and using LED lights within the store. There was also a conscious decision to 'Re-use' certain reclaimed items such as doors, etc., which were already existing in the store. In addition to this, the design called for effective use of Eco friendly materials with minimum wastage like raw cement fibre boards, eco plus Elitecrete flooring and a minimum use of water in the store during construction.
The following techniques were used for the same:
1. Natural Daylight Harvesting for minimal power consumption.
2. VOC free and Low VOC materials and paints/finishes.
3. Minimum use of external materials and retaining maximum existing structure for less energy impact.
4. Local materials usage.
5. Minimum light and other power consumption. Usage of Energy Star appliances.