Coming back with a Splash!
By Chanda Kumar | August 29, 2013
Although Splash as a brand boasts of an enormous foothold in the Middle East retail market, it has maintained a subdued presence in India since its entry. Going in for a complete switch, the fashion brand is now all set to create a buzz in the Indian market. Kalyan Kumar G, COO, Splash Fashions India Pvt Ltd shares more details with VM&RD on the brand's expansion strategy.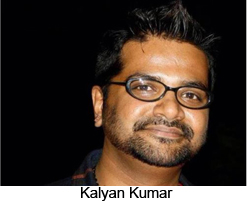 Splash, the fashion brand from the Landmark Group, has revived it presence in the Indian market recently to gain positioning and capture the market by offering high street fashion at affordable prices to Indian shoppers. Armed with a new retail identity, store expansion plans and brand communication, Splash intends to penetrate new regions and capture more Indian shoppers. Kalyan Kumar G, COO, Splash Fashions India gives more insights into how the brand plans to strengthen its position in the country.

Q) Since its entry in 2008, Splash has had a very quiet presence in the market till now. Can you tell us what the brand has in store for the coming years?
This is the first year that Splash is really turning around with a complete new way of thought. We have gone into a complete changeover from what we were before. We have a come up with a new store design concept, new team and large store expansion plans this year.
Our first store with the new concept was launched in September 2012, at Whitefield, Bangalore. So far we have completed about six stores with 4-5 stores in the pipeline. Also, we are now focussing on marketing and advertising, for which we have gone widespread in the digital medium. Along with our very active facebook, twitter and pinterest pages, we have also introduced'Splash TV' on the website that gives current fashion trends.

Q) Earlier you were present as a shop-in-shop format in couple of Lifestyle stores. What is the plan to expand through this format in retail?
We are currently present as a shop-in-shop in only one Lifestyle store at Chennai Express Avenue. We were present in couple of Lifestyles earlier, but the direction is to move towards standalone store formats. It's about the experience we want to bring along. And when you are a 7000 sq ft format, you cannot be a shop-in-shop and therefore you need an identity for yourself. We needed to communicate that we are not just a category but a complete brand.
Q) Splash has been mostly present in South India. What is the brand's plan to expand its reach to other regions in the country?

We have started penetrating into markets now. We were mostly a South-led brand with one store in Delhi. We have now chosen to take it beyond these regions. We have recently opened stores in Ghatkopar-Mumbai, Pune, Thane, and Chandigarh. Though we were already present in Chennai, Bangalore and Hyderabad, we have put in additional stores in the same city. Going forward , we are looking at Mangalore, Cochin, Vishakhapatnam, Kolkata, and Jaipur.
However, Mumbai and Delhi will remain key focus regions for us, since they are typically the fashion hubs in India. But it also depends on how real estate works. So while we are exploring new regions, we are constantly looking at Mumbai and Delhi markets.

Q) How is Splash positioning itself in this competitive retail market, with so many brands catering to the same TG?
The first thing that we had to do for the brand was to conduct a consumer study to understand what Splash means to people. Everyone came forward to say that' Splash is a very fashion forward store'. The perception was that the brand was too premium in pricing and positioning, catering to very young shoppers.
So we had to work very hard to project Splash as a brand that stands for'the young at heart'. The brand offers high street fashion at great prices.
Splash earlier was'high on design' and now we are'fashion 365', offering fashion for every occasion and every day. That is the brand positioning as of now, and you will see all our communication going towards that. With this, we are also very sure to penetrate the Tier II market as well.

Q) Could you tell us a little about your retail expansion strategy?
Like I said, when we approached malls in the beginning, they all had the perception that Splash was very high on fashion. But the minute we opened our store at Ghatkopar, Mumbai, we had about 12-14 people approaching us from places like Nagpur, Indore, Bhopal and Lucknow. They saw that we bring in fashion at affordable price points.
Currently we have ten stores, and we will be concluding this year with 14 stores. In the next two years, we should take the store count to 30.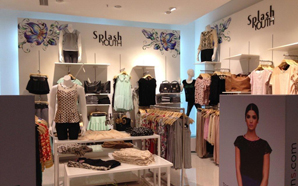 Q) What has been the response of the new retail identity and store concept?
The response for the new format store we have introduced is fabulous. Unlike earlier, we now have a one monobrand called Splash. The new store design is based on the concept & philosophy of Fashionism - Merging Creativity and Fashion. The new concept brings together all Splash stores across the globe under this philosophy.
While black & white are the two prominent colours throughout the store, there are vibrant bursts of neon green and grey on the ceiling, walls and floors. This adds to the energy in the store making the shopping experience that much more enjoyable.

Q) What is the brand's USP?
Honestly, there are three things that contribute to this. You need to get the latest trends, bring affordability along with it and finally give a great shopping experience. So it's important that these three factors blend in.
Splash in known to offer value for the great fashion mix that we have. According to an in-house study, we saw that 93% of our shoppers look at the price tags only at the cash counters. This shows that they are very sure about the value that Splash offers.
As for the new retail design concept, we have kept the consumer in mind for the store format, which offers ease in shopping, convenience with an open and clear layout.

Q) With the retail expansion plan, would you be looking at high street location or malls for the upcoming Splash stores?
Predominantly our stores would be located in malls as high streets have challenges such as driving in consumers to the store. But it's not that we are against high street locations. It's all about the catchment areas.
Infact, the upcoming store in Jubilee Hills, Hyderabad is located on a high street. And even in Bangalore, we are looking at key areas such as Koramangala and Indiranagar where you don't really have malls.

Q) What are you doing as a brand to strengthen your connect with the customer?
Connecting with the shopper has been the key focus this year. Besides the typical feedback forms, promotions, digital connect, in-store and malls events, we are also doing survey and focus group studies in which we invite customers for preview of the new collection and take their feedbacks. Connecting through our customer loyalty programme,'Inner Circle' which has 3.8 million active members is the focus for us.
Another unique initiative is connecting with the local community as a marketing activity during a store launch. For example, when we opened the store at Velachery, Chennai, we had made bags with the'I love Splash' campaign along with that day's newspaper that was placed on every door knob in the surrounding area. Through this we established close connect with the community.

Q) What are the brand's plans on being present as an e-commerce platform?

Although the Landmark Group has started its e-commerce platform about eight months ago, it will arrive in India soon. E-commerce is not about making the product available, but managing the supply chain very well. It's just an extension of opportunity, and must co-exist with physical retail spaces.
As a retailer, we depend on store experience and this is something we will deliver. A retail space showcases and brings the merchandise to life.
Related Viewpoints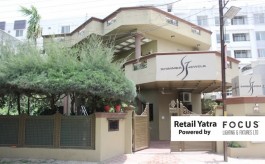 Shimmer Jewels
'Central India is a market with lot of potential'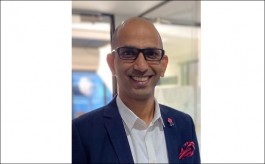 Director - Retail , Forevermark
'Need of the hour: Stick to basics, adapt to new technology'