Fashion retail showing signs of recovery, says ICRA
By Retail4Growth Bureau | September 29, 2021
The segment is expected to witness a 15-17% Y-o-Y growth during the period July-March 2022, translating into an annual revenue growth of 23-25% in FY2022, according to ICRA's channel checks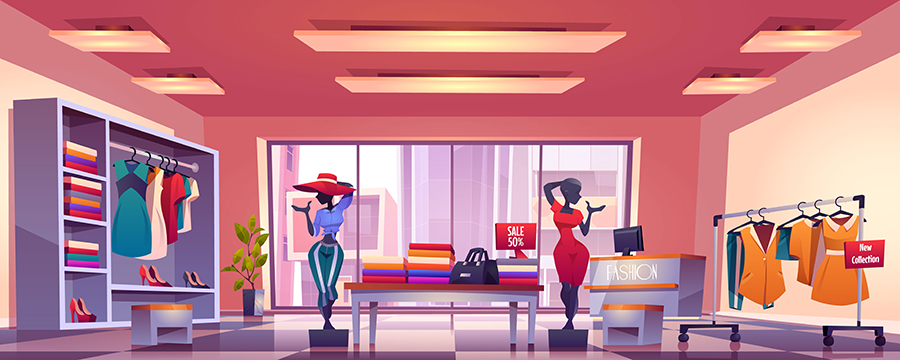 The fashion retail segment is witnessing strong recovery in sales post reopening after Covid 2.0. ICRA's channel checks suggest that during the months of July and August 2021, the segment witnessed a healthy recovery upto 70-85% of pre-covid level of sales. Though the average ticket size has moderated from FY2021 levels (though remained higher than the pre-Covid levels), the footfalls have increased, suggesting that this time around consumers are more comfortable in making repeat visits. This current recovery is in contrast to a relatively muted recovery (upto 48-50% of pre-Covid sales) reported during Q2 FY2021 following the reopening after the first wave.
According to Sakshi Suneja, Assistant Vice President and Sector Head, ICRA, "With an improvement in the vaccination coverage, the segment is expected to witness a 15-17% Y-o-Y growth during the period July-March 2022, translating into an annual revenue growth of 23-25% in FY2022. This shall, however, remain lower by upto 20% vis-a-vis pre-Covid level of sales. ICRA, therefore, maintains its negative outlook on the segment and expects it to revert to its pre-covid level of sales by Q2 FY2023."
Besides material costs, retail entities typically have three key cost components– rental, employee cost and selling/promotional expenses which account for ~29-30% of their total costs. While the rental negotiations during the first wave were chalked till March 2021, fashion retailers again invoked the force majeure clause in the rental agreements and renegotiated rents for the current fiscal following the second wave of Covid-19 and lockdowns. The extent of rental concessions in Q1 FY2022 were, however, markedly lower by upto 55% than those seen in first wave. Additionally, most of the retailers have rolled back salary cuts in FY2022, though they are expected to continue rationalising other overheads. Therefore, while the operating profit margins (OPMs) are expected to improve in FY2022 on account of Y-o-Y growth in revenues, these shall still remain lower by around 450 bps[1] vis-a-vis pre-Covid levels.
The pandemic spurred the adoption of online retailing in India, with most of the retailers reporting more than 50% jump on a Y-o-Y basis, albeit on a low base, in online sales in FY2021. Omnichannel retailing, however, has its fair share of challenges, including large investments required towards technology upgradation. Consequent to this, contribution from omnichannel sales, though increased over FY2020, is expected to remain low at low-mid double digit levels of the overall sales mix over the medium term. ICRA notes that, while the retailers will remain focused on increasing omnichannel presence, the same is expected to remain only supplemental to, and not replace, the offline model of store expansion, given the overall low penetration of organised retail in India. This is also corroborated by the store expansion spree as announced by several large fashion retailers in recent times in India. Fashion retail entities in ratings agency sample set are expected to increase their capital spending towards store additions by over 45% in FY2022, entailing a total capital outlay of approximately Rs. 14 billion. The liquidity position of most of these retailers also remains strong on account of equity raisings done during FY2021.
"A severe third wave, however, poses significant downside risks to this base case, as it may hurt the segment during its most profitable festive season quarter. As per estimates, a third wave peaking in the months of October/November 2021 could potentially shave upto 40% of the segment's revenues from ICRA's base case during Q3 FY2022, translating into a modest 7-8% Y-o-Y revenue growth only in FY2022. This, in turn, would further delay the fashion retail segment's recovery to normalcy," Suneja concluded.