Forget the High Street. MICROTOWNS are where the action is
June 23, 2016
Despite a decade of urban doom and gloom these hipstery green shoots are popping up right across the planet, as an alternative to the homogenised high street.
It begins over a beer. A couple of guys agree to try brewing their own and when that goes well they want their own brewery. They settle on a silly name, rent a warehouse on a disused industrial estate and within a couple of years have opened a shop, a bar and been joined by an arty florist, a trendy barber, a funky fashion designer and a gourmet hot dog stand. And so a Microtown is born, and despite a decade of urban doom and gloom these hipstery green shoots are popping up right across the planet, as an alternative to the homogenised high street.
Governments of all shades, local authorities, as well as private landlords, have failed our communities. They continue to milk retail for every last drop in spite of the biggest global financial crisis in history. They act as if nothing has changed and that eventually everything will return to how it once was. It won't. Relentless rents, rates, taxes and parking penalties are how they pay respect to those that fed them when times were good. Worse, they refuse to acknowledge that this is a new age, the digital age, where the gentlest swipe of a thumb sees your groceries delivered, your washing machine replaced. Even our richest, busiest town centres are locked in a state of stasis, where only ubiquitous chain-stores are willing to invest. And too many of these are clinging on simply because they must be seen to be there.
If you were lucky your urban regeneration was taken care of by your town centre together with their polished marble and glazed roofs. But even here, with all this shiny shopping centre packaging it's hard to attract independent brands that might bring something fresh to the mix. So, with some notable exceptions, an enormous number of our city centres are either decimated, dying or just plain dull.
Thankfully nature has a way of responding to disaster. Razed forests become fertile ground for new shrubs, not quite the ancient old oaks we grew up with and believed were immortal, but new plants that bring fresh colour for a different age.
The term Microtown was originally coined to describe a place that had bled to near-death because its citizens abandoned it to work elsewhere, so that it became a tiny, broken version of its former self; a kind of pre-ghost town. I've hijacked the term to describe something far more significant: the nuclei that is the genesis of new communities. Those edge of town micro-brewers and their chums are actually pioneers building our future, re-awakening our shopping streets, and in the process, redefining retail itself. They have already shifted the centre of gravity away from the mediocrity at the heart of so many towns, and rest assured the Microtown movement will gather momentum as other young, retail enthusiasts join the fun.
Let me take to you a couple of my favourite Microtowns that I visited in the last year.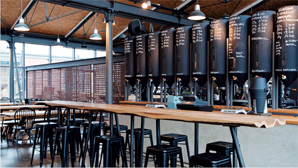 Schanze, Hamburg
Hamburg is such an elegant city. I spent three days walking it and I can honestly say that every square meter has been thoroughly thought through and precisely planned; every facade elegantly up-lit, every sign hangs squarely in an appropriately tasteful font. The problem is, it's boring. The city centre has no nooks and crannies, no quirky coffee bars or cafes hidden down lanes asking to be explored. Presumably this is why celebrity chef Tim Malzer set up his Bullerei restaurant on the edge of town, to escape the tidiness. It's not like he couldn't afford a flash restaurant with a lovely up-lit stone facade overlooking one of the canals, but it's just not hip hanging out with Hugo Boss and Massimo Dutti. Sometimes it takes a single entrepreneur to kickstart an alternative town centre, and thank'Gott' he did. As soon as I stepped into his converted abattoir (yes, really) I could see this was where all the beautiful people had been hiding. (I'd wondered why I hadn't seen any) The Bullerei restaurant is clearly the main attraction but the area is developing fast and there are plenty of other things to enjoy, like the Spanish wine store, The Burger Lab, Cafe Elbgold with its coffee roastery and shop, and of course, Altes Madchen, a glorious brewhouse and beerhall inside an old warehouse, serving burgers, brisket and, yes, craft beer.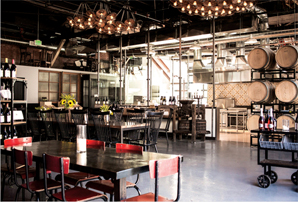 The Funk Zone, Santa Barbara, California
Santa Barbara isn't a place that looks like it's struggling. No this is not an Auckland or a Detroit. The streets here are lined with palm trees and giant magenta flowers that make a pretty poor attempt at screening the sprawling haciendas that oversee the ocean. Like Hamburg, the town centre is almost perfect. In fact, the architecture is so ridiculously cute that walking up State Street feels like you're in an outdoor shopping mall, safe in the ubiquity you'd expect from a glamorous holiday spot. But if you want somewhere a little edgier head just east of State Street to what is cringingly known as the Funk Zone. The heart of the zone is The Lark, a signature restaurant in a disused fish market, serving ultra trendy local dishes on long communal tables raised from the stone floor by rusty reclaimed radiators. Peek through the window behind the bar for a glimpse of the stunning Wine Collective rooms, for tasting and celebrating an endless range of local wines. Across the yard is a hip pizza place, Lucky Penny, as well as Le Marchands, the wine bar and merchant. Helena Avenue, a trendy artisan bakery is opening soon too. All of the above were created by Acme Ventures, a clever bunch of Barbarians who know what people want, and that they won't find it on State Street. Alongside the Acme brands there are other restaurants, coffee shops, the Surf Museum (I have no idea) and enough galleries to satiate the most pretentiously arty appetite. Most memorable of all is the magnificent Guitar Bar where they actually encourage you just to hang out. It's so obvious this is where the action is and, by contrast, how staid and stuck in the nineties the town centre has become.
So you see, you can't kill community, though local government has done a decent job in trying. As I've said a thousand times, retail is the lifeblood of our communities and if town centres remain frigid to the oxygen of innovation, then bright young retail entrepreneurs will set up shop elsewhere.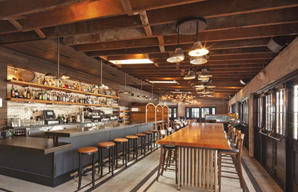 http://www.22and5.com/forget-the-high-street-microtowns-are-where-the-action-is/
About Howard Saunders
Howard has worked in retail design for over twenty five years. As a former Creative Director of Fitch, based in London, he was responsible for retail design and branding and for creating multi-disciplinary teams of architects, graphic designers, product designers and copywriters and making them work together! As an independent consultant Howard has worked closely with Marks & Spencer, Waitrose and Westfield, for over a decade, helping them develop new store designs and keeping them informed of the latest retail innovations and shifts in customer expectations. His work with Westfield, for example, culminated in the creation of the artisan Great Eastern Market at Westfield Stratford, Europe's largest shopping centre, which opened in 2011 on London's Olympic Park. Now based in New York, Howard's current clients include CBRE, Claire's Accessories, Consumer Goods Forum, Ebay, Johnson & Johnson, L'Occitane, Magento, Mothercare, Permira and Westfield World Trade Center. As an international speaker Howard's talks are big, visual journeys across the world of retail. Provocative, challenging, brutally
honest, evidence based and thoroughly entertaining.
Related Viewpoints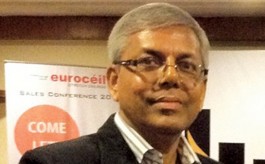 Managing Director, Euroceil
'Innovation is our hallmark'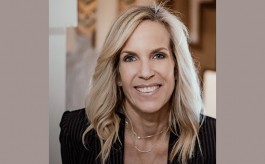 Co-founder & CSO , 3DLOOK
'ROI can't and shouldn't be measured purely by financials'