How helmet brand Steelbird is creating one-stop hubs for bikers
By N Jayalakshmi | January 03, 2023
Steelbird is on a retail expansion spree, having over 135 retail outlets already operating pan India, and aiming to roll out 1000 'RiderZ Shoppe' by 2024 as a one-stop solution for riders. The company's focus with these outlets is to close the information gap as far as the safety of riding gears is concerned. In this exclusive interaction with Retail4Growth, Shailendra Jain, Global Group President, Steelbird Hi-Tech India Ltd., shares the company's approach to retail and more.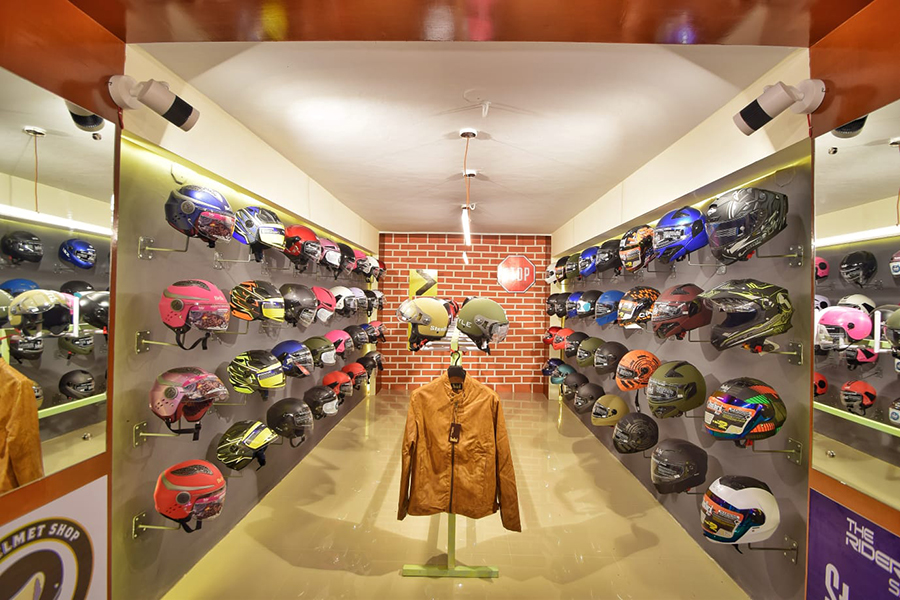 Steelbird Helmet recently opened its next RiderZ Shoppe retail outlet in Noida as a one-stop solution for bikers. How is the response? And what is the whole idea behind these outlets?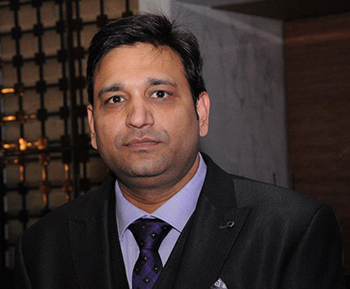 The chain of Steelbird RiderZ Shoppe is increasing its store counts - as of now total 135 retail outlets have been successfully rolled out PAN India, and there are 2 more outlets in Noida operating successfully. The RiderZ Shoppe can be defined as a one-stop solution for bikers as it conveys multiplicity in choices of helmets for riders with the latest technologically friendly series of helmets and auto accessories. Based out of Delhi / NCR region, these stores cater to youth looking for outlets that can provide high-end helmets with decals and differentiated technology. In fact, these new outlets provide them with a full range of riding gears, especially helmets. The shoppes are designed by our manufacturing plants of helmets located in the Himachal Pradesh District (Baddi) & accessories plants located in Noida, Uttar Pradesh.
How does physical retail help a category like this?
Physical retail helps businesses in several ways. High-quality one-on-one customer service is one of the prime benefits. Moreover, physical retail always helps to get greater traffic to online sales platforms. Simultaneously, shoppers who buy both online and offline, tend to spend more on average, compared to those who interact on only one channel. The brand experience is inherently enhanced in physical retail, and of course, the product touch and feel factor, fitment & size comfort are the beneficial factors of physical retail. In addition to that, offline retail in nearby locations offers easy accessibility and aids better in buying decisions, especially in a category like this, where many helmets or riding gears of different ranges and technologies are explained by trained staff for a better understanding of the shoppers. We can say that Steelbird RiderZ Shoppe is positioned as a place where people can enjoy a unique buying experience that includes information offered by experts in the store on the technical aspects, which helps them understand how products and their functionalities work. Also, these exclusive stores enable shoppers to go through the whole product range, as they are positioned as a single window solution.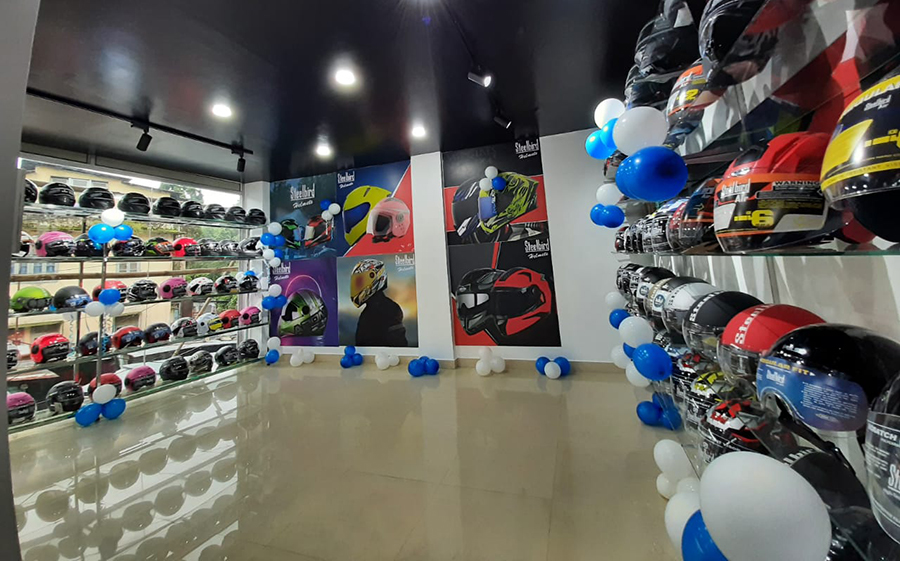 Any specific approach or process you have in place while planning and designing these outlets?
Prime location with easy accessibility for targeted customers is one of the major factors considered while designing these outlets. Care is taken in terms of the specific store infrastructure and designs implemented. The display areas must be as per the standards defined by the organisation. Additionally, factors such as the coverage area based on the potential i.e. geographical gap between two shoppes, the technology (software related to invoicing), exclusive decals and other product features to be highlighted are taken into account.
What noticeable trends do you see in your shopper behaviour in this category? How do these influence your store planning?
As per a report, the Gross State Domestic Product (GSDP) reflects a growth of 7.34 per cent, and it further points to the good purchasing capacity of people and their passion to buy the latest range of helmets with fantastic decals. Our idea is to meet this customer need through our shoppes. A lot of innovation has gone into the Steelbird products based on customer behaviour & feedback. The store planning is also dynamic, based on emerging requirements, and is equally focused on innovation, quality, deep market penetration and diversification.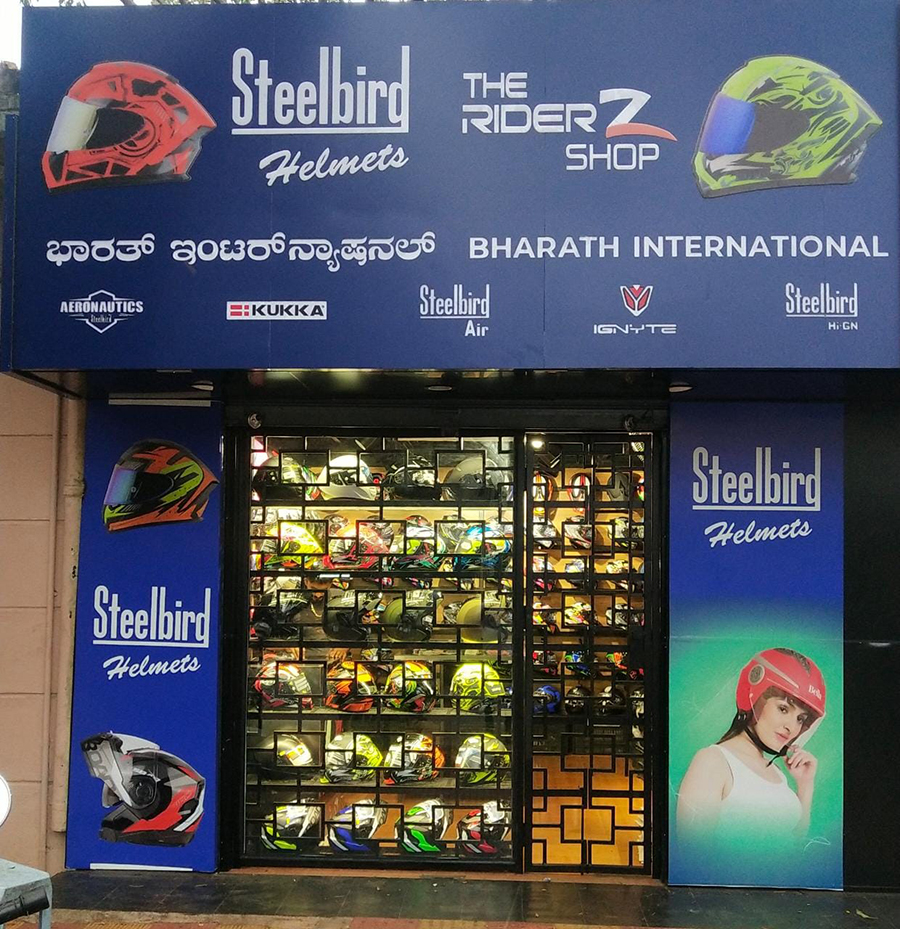 Going further, do you see stores becoming more of community spaces? Accordingly, what would be your focus areas of investments in retail moving further?
India has the largest proportion of motorcycles in the two-wheeler industry, thereby creating a huge market for riding accessories. However, when it comes to buying branded, high-quality riding gear, bikers hardly have a choice. The business aims to close the gap and inform customers to opt for high-quality products through Riderz Shop. Therefore, the major goal of expanding the Steelbird RiderZ Shoppe network is to promote the use of ISI-certified helmets and offer the best riding gears with a wide selection of products catering to all segments of the community. It is also critical to provide the right information. Due to widespread ignorance about the safety of products in terms of adequate testing, etc, the Indian helmet business is leading to counterfeit and cheap products, which endangers the lives of innocent people. So the purpose is to create more spaces that educate people on the safety of riding gears. The investment parameters will remain the same, as per the current scenario/policy.
What's the focus on technology in the retail space? Any specific areas where you see greater usage of technology as far as the retail end is concerned?
Technology in retail is much more than basic digitisation or having an online store today. We focus on displaying our outlets in a precise way, in a manner by which a customer can easily visualize their respective products. Steelbird products use a lot of new technologies and the retail aspect also reflects this.
Any new retail plans in the immediate future?
Our main objective is to build 1000 RiderZ Shoppes by 2024. The fact is that users have scarce options when it comes to branded riding gear. We want to bridge this gap through the RiderZ Shoppe outlets, which are a one-stop solution for riders.
Related Viewpoints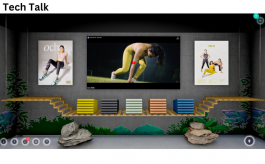 CEO, VOSMOS
Who says virtual can't be experiential? Welcome to Meta Commerce!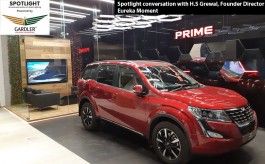 Founder Director, Eureka Moment
"Lighting is what enhances a space"