How the right retail solutions partner empowers brand Zespri
By N Jayalakshmi | January 17, 2023
Branded fruits as a category is rather a new entrant in the modern trade (MT) ecosystem. For Kiwi fruit brand Zespri, a lot of strategy and thought goes into the brand presence and visibilityin its retail space. Enabling this is Brandshell, the branding solutions partner for Zespri. Akshay Pai, Assistant Marketing Manager - India and Middle East, Zespri, talks to Retail4Growth about the fruit brand's approach to retail visibility and how the partnership with Brandshell works to the brand's benefit.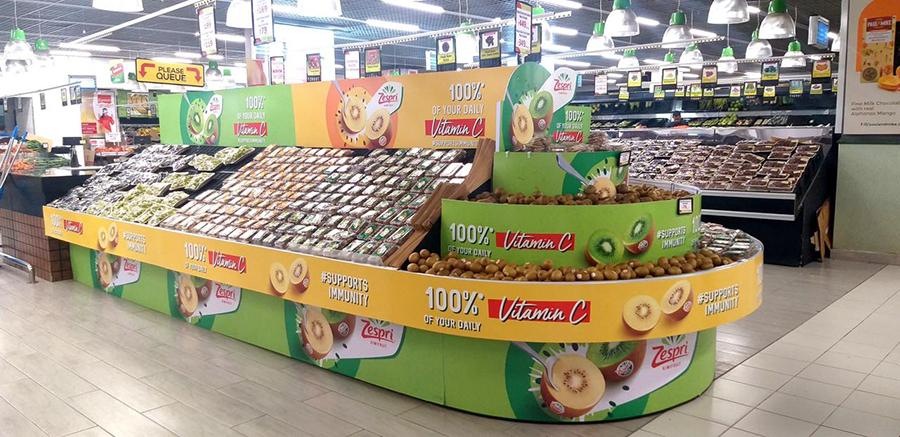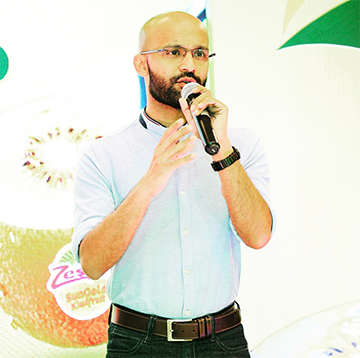 For health-conscious Indians, who are growing in number, fruits rich in immunity-boosting vitamins are becoming an integral part of their diet regimen and there is a rising number of consumers who are willing to pay a premium for what they perceive as a healthy choice. Catering to this segment is Kiwi fruit brand Zespri, which sells imported Kiwi fruits. While a bulk (almost 80%) of the brand's sales comes from General Trade (GT), Modern Trade, including hypermarts, is also a strategically important touchpoint for the brand. The brand is present in almost 125 stores across 4 cities including Delhi, Mumbai, Ahmedabad and Bangalore.
Communication, prominent shelf space and the right use of touchpoints within the store space are important aspects for the brand to connect better with its potential customers. Facilitating Zespri's brand presence and communication in the retail space is Mumbai based retail solutions company Brandshell Pvt Ltd. Says Akshay Pai, Assistant Marketing Manager - India and Middle East, Zespri, speaking about the partnership, "We have partnered with Brandshell for all our branding requirements across stores. For us, it helps to partner with a single agency due to the ease of logistics, supply chain and coordination. Brandshell has a pan India presence and that makes our work much easier."
Key partner strengths

Further elaborating on how the brand zeroed in on Brandshell as a partner, Akshay adds, "One factor that is really important for us is their capacity to provide comprehensive and integrated solutions - right from the adaptation of our key visuals to designing different communication layouts, production and logistics. So it's an integrated approach which enables seamless end to end delivery, and we need not go to different sources. Thus, they help us achieve operational efficiency and minimise operational glitches."
Further, explaining why timelines and speed of execution are so crucial for the brand, Akshay says, "We have a short selling window as ours is a perishable commodity, so time is of the essence. If we lose time in execution, then it's a huge loss and it's very important that we get the first time right in everything that we do. Brandshell has that agility in everything that they do and that's something we look for in our service partner with the delivery of end-to-end services." He adds, "Plus, they also give us cost efficiency, as they do everything in-house and can integrate all the functions very well."
Leveraging multiple touchpoints
The brand leverages a range of touchpoints in the retail space for enhanced visibility, including large signage, floor stickers, island displays, chiller branding, arch gate branding and category branding. Speaking about this, Akshay says, "As part of category branding we communicate the benefits of Kiwi fruit in general and create 'disruptiveness' among consumers in the store. We have also experimented with cross-category branding through communication focused on healthy eating habits among consumers, particularly in related categories such as snacks and ice-cream categories."
Akshay adds that the brand is also creating a presence in impulse purchase categories, an unconventional path for a fruit brand, and has seen some promising results.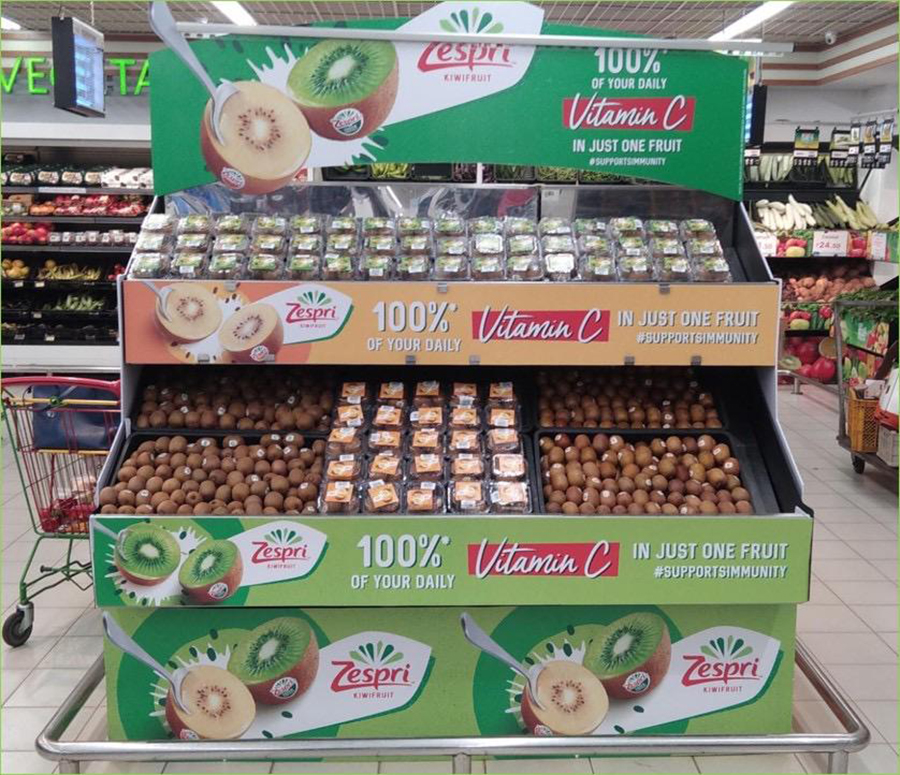 In-store brand communications
Indeed, for Zespri, research-based persuasive communication that reiterates the functional and health benefits of the fruit is a key element of the in-store communication. Also, as consumers evolve in terms of their awareness of healthy food choices, the brand too is evolving in terms of its storytelling.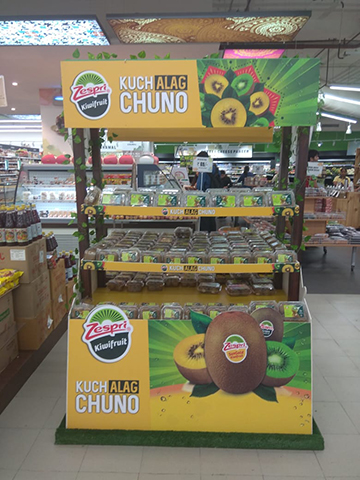 As Akshay shares, while talking about how these in-store communications influence purchase decisions, "Post Covid there was a general rise in demand for fruits rich in Vitamin C, which helps boost immunity. Also, we saw that there was a rise in the sale of Kiwi fruits when Dengue cases were rising, as doctors recommended Kiwi fruit for its benefits. So we realized that there was already some awareness among the target audience regarding the health benefits of the fruit and we had to go a step further in our communication. So we took the aspirational route, highlighting what more could be achieved in life with better immunity and health, and this is the focus of our communications now."
Speaking about how the brand communication is played up in stores using the right visual elements, Akshay also informs that the brand is planning to create a vibrant, playful and witty brand personality portrayed through two mascots (the Kiwi brothers) which have already been used in other international markets. As he says, "The two animated mascots are basically personified versions of Kiwi fruits, and will be anchoring the communications, talking about their own story and thus bringing in a level of authenticity to the whole brand communication."
Long-term partnership to combat key challenges
For any brand today, particularly in newer categories, creating an offline retail presence comes with its own dynamics and challenges. Speaking about this, Akshay says, "The biggest challenges are operational, especially in terms of storage. Exotic fruits like ours need to be stored in a certain way to ensure freshness and quality, especially since availability is a challenge for consumers. Also, getting prominent shelf space in MT outlets is a big challenge, especially since fruits and vegetables are not a major category there, and cannot compete with FMCG brands that get more real estate."
In order to overcome the space challenge, Zespri focuses on meticulous planning of space, basis the daily sales cycles. As Akshay says, "Instead of focusing on getting more space and resulting in wastage, we plan on effective branding in the available space, so we can grab more eyeballs of our target consumers and create multiple touchpoints in the stores."
As Akshay agrees, these are the critical areas where the right partnership makes a big difference. Speaking about the brand's partner Brandshell, he adds, "They have expertise in guiding us on what multiple touchpoints we can create in the stores, especially since they have better negotiability and partnerships with the key retail accounts and this eases our efforts."
Well, given the value-adds, Zespri is obviously looking at a long-term partnership with Brandshell, even as the brand lines up plans to expand its retail footprint across 4-5 cities during 2024-2025.
Related Viewpoints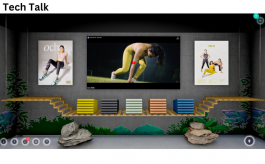 CEO, VOSMOS
Who says virtual can't be experiential? Welcome to Meta Commerce!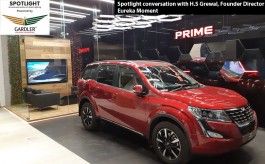 Founder Director, Eureka Moment
"Lighting is what enhances a space"