Retail among the key drivers for warehousing demand, says CBRE Report
By Retail4Growth Bureau | September 28, 2023
As per a new report by real estate consultant CBRE, the share of retail category in warehousing demand has increased from 8% in 2019 to 13% in 2022; and that the fashion and apparel category is anticipated to expand by over 12 times by 2047, necessitating adaptable storage solutions.
CBRE South Asia Pvt Ltd, the real estate consulting firm, has unveiled a report titled 'The Three-mile Tale: Dissecting The New-age Retail Supply Chain Network', at the CII Realty 2023 conclave in New Delhi. The report delves into the evolving landscape of retail warehousing in India, offering insights and a forward-looking roadmap for the industry.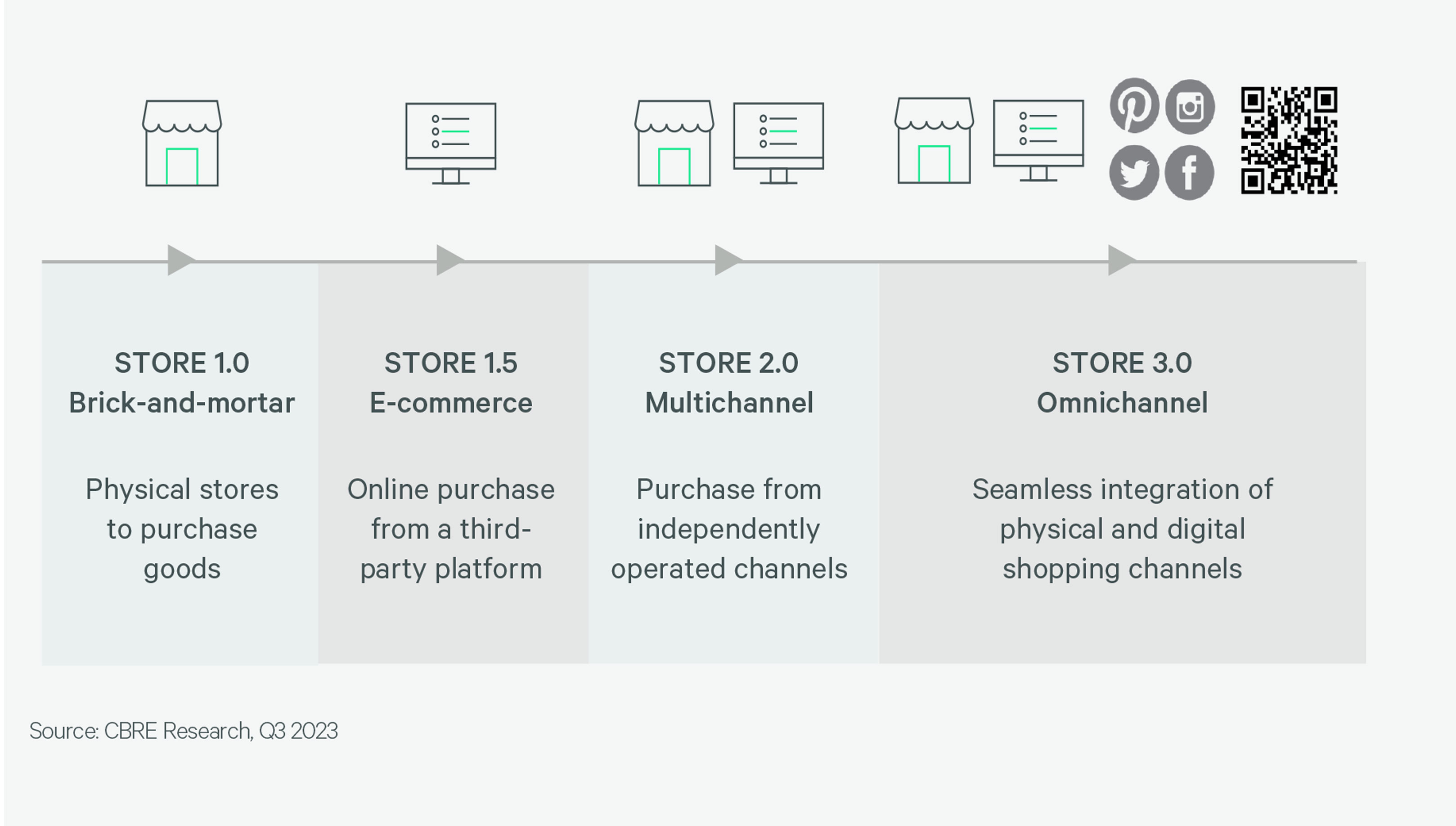 As per the report's findings, the collective warehousing demand for e-commerce, FMCG, and retail sectors have accounted for nearly 27% of the total demand in the 2019-H1 2023 period. Within the retail sector domain, hypermarkets (51%) and fashion & apparel (32%) companies dominated the share in warehousing demand. Notably, the share of retail in total demand has increased from 8% in 2019 to 13% in 2022. Although it touched 9% in H1 2023 and is expected to strengthen in H2 2023 backed by an anticipated increase in consumption during the festive season. As consumer expectations evolve, retailers recognize the efficiency and advantages associated with investing in supply chain transformation. Therefore, going forward, a strong warehousing demand is expected from retailers especially those with omnichannel fulfilment requirements.
Post the pandemic, an increased expansion of e-commerce has led several retailers to embrace an omnichannel retail strategy. The adoption of this strategy requires a complete overhaul of a retailers' business, from advertising and merchandising to payment, fulfilment, and delivery.
As per the report findings, the retail sector, across categories is poised to witness accelerated growth. The fashion and apparel category is anticipated to expand by over 12 times by 2047. This growth will necessitate adaptable storage solutions capable of accommodating shifting inventory requirements driven by seasonal fluctuations. The FMCG category is projected to grow nearly six-fold by 2027. To support this expansion, temperature-controlled storage facilities will be essential to maintain product quality. Additionally, automated First-In-First-Out (FIFO) rotational methods within warehouses will be crucial to prioritize the sale of older products first, minimizing wastage. The consumer electronics category is anticipated to witness a 1.5-fold increase by 2027. To enable this growth, measures like anti-static flooring, specialized packaging, and handling procedures are essential to prevent damage from electrostatic discharge. Warehouses will need to also adhere to specific standards and regulations to safely store lithium batteries and other hazardous electronic materials and components. The beauty & personal care category is poised for a 1.7-fold growth by 2027. To support this expansion, it is imperative to have controlled environments for temperature and humidity to prevent product degradation. Warehouses must also provide facilities for delicate product handling, including dust-free areas that may require sterile conditions.
The report highlights various technological breakthroughs that continue to enable retail businesses to execute logistics operations with higher efficiencies, lower costs and greater flexibility based on seasonal demand. Listed below are a few key new-age technologies that are likely to play a pivotal role in the future of warehousing and logistics:
Commenting on the report, Anshuman Magazine, Chairman and CEO, India, South East Asia, Middle East and Africa, CBRE, emphasized, "India's retail landscape is undergoing an unprecedented shift, owing to a surge in retailers, store expansion, and rapid growth in online shopping. The convergence of social media and e-commerce platforms has enabled an extensive online purchasing ecosystem. Evolving consumer preferences and expectations coupled with a shift in the social fabric, rapid technological advances, complex trade dynamics, and stricter compliance regulations, including sustainability, are key aspects creating a stir in the retail segment. Retail players are trying to stay agile and nimble by reassessing their supply chains, which has led to a rise in demand for warehouse leasing and advanced warehousing solutions.
Furthermore, urbanization, increased disposable income, post-pandemic supply chain restructuring, and successful new brand launches are nudging retailers to streamline their business and explore the untapped tier-II, III, and IV markets for both stores and warehousing."
Rami Kaushal, Managing Director Consulting & Valuation Services, India, Middle East & Africa, said, "The robust demand and growth witnessed is retail warehouse leasing across organized spaces such as high-quality malls, prime high streets, and standalone developments is a testament to the rapid expansion being witnessed in the retail sector. The massive boom in Q-commerce for quick delivery of food, goods, and services, coupled with the rapid penetration in e-commerce, especially expanding to tier 2 and 3 cities, has led to a surge in demand for retail warehouses. With fashion & apparel, homeware, department stores, and hypermarkets consistently driving substantial demand, it's evident that retailers are adapting to changing consumer preferences. We are also witnessing a shift toward omnichannel retailing, emphasizing a seamless shopping experience across diverse platforms."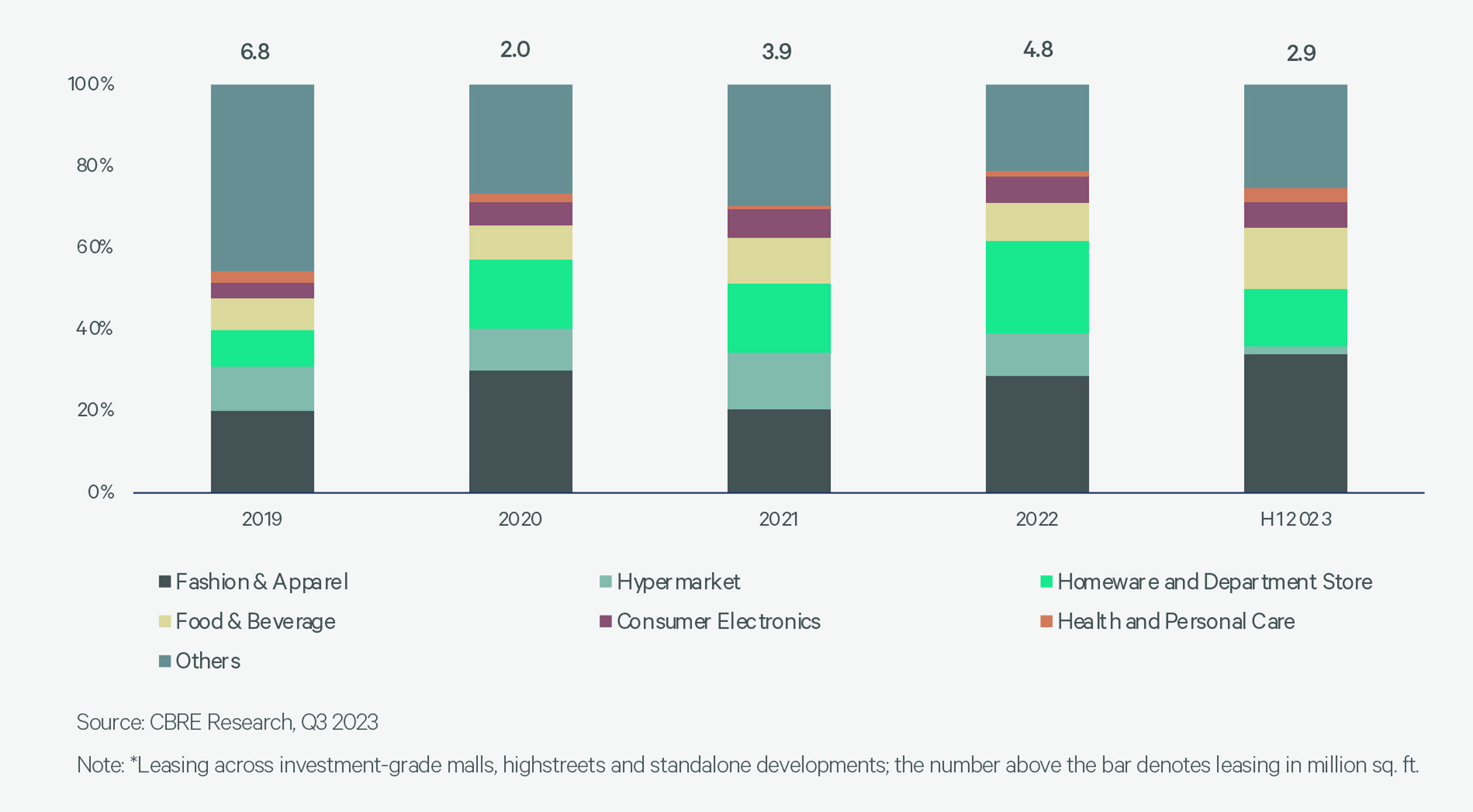 Modern Grade A warehouses are gaining prominence in the continually changing retail landscape. Retailers are expected to increasingly adopt these advanced facilities in the future as they seek enhanced efficiency, flexibility, and reliability in their supply chain operations.
The report lists out some key retail warehousing trends poised to align with expanding retail demand:
Resilient demand
Retail occupiers' warehousing demand is expected to stay strong, driven by their adoption of a 'multipolar' supply chain strategy and ongoing government efforts to enhance logistics infrastructure and investments. Retail occupiers will likely persist in prioritizing multi-sourcing and nearshoring strategies to address the rapidly growing market demands.
Robust Supply
Developers are likely to focus on constructing new age warehouses with maximum technology integration to attract 'flight-to-quality' leasing. Warehousing facilities with features such as high ceilings to accommodate automated stacking systems, sufficient loading / unloading zones and power back-up provisions are likely to gain more traction across retail categories
Multi-level warehouses would be a preferred option to overcome challenges related to urban logistics in densely populated megacities with competitive land prices
ESG Integration
ESG takes center stage in retail warehousing as companies commit to decarbonization and carbon neutrality, shifting from an option to a project's competitiveness marker
Collaboration with occupiers to ensure intertwined decarbonisation strategies would become a key priority for developers
Growth beyond Tier-I cities
Rising urbanisation, increase in per capita income, supply chain revamp after the pandemic and successful brand launches in tier-II, III and IV markets have led retailers to explore these emerging untapped locations to set up store as well as for warehousing requirements
Retail occupiers would prioritise prime locations closer to consumption hubs for expansion, but the non-availability of ready-to-move-in supply would shift their focus towards secondary / tier-II locations, which would also enable them to leverage comparatively low rentals.