Rising Out Of Hard Times: Re-strategizing business operations is the most fruitful option
By Mohit Manghani | July 01, 2020
To cater to the society, UBON, Gadget Accessory & Consumer Electronics brand, ventured into making PPE products which include – Hand sanitizers, Thermal Thermometer, designer masks, face shields, etc.
In a special interaction with Retail4Growth, Mandeep Arora, MD, UBON shares how venturing into PPE has proved fruitful to the enterprise, biggest challenges for the consumer electronics market today and more.
1. Ubon recently forayed into PPE products. Could you explain the background to this, what drove this diversification?
Diversifying in tough times is what humans are designed for. With the outbreak of COVID19 pandemic businesses almost across every sector have been affected due to the nationwide lockdown and shutdown of warehouses, retail counters, etc.; to stay afloat during these tough times re-strategizing business operations is the most fruitful option. Safety products are undoubtedly the need of the hour. Thus, after close observation of the situation, we shifted our focus to manufacturing safety products like Face Shields, Face Masks, Hand Sanitizers, Infrared thermometers, Sanitizer dispensers, etc.
A great benefit of venturing into safety equipment is that the enterprises can get to keep operating and coming into work. With our country facing job losses and salary cuts, the business of safety products manufacturing has opened the door to new employment opportunities for a lot of people. The technique of stitching a mask is quite easy to learn and it helps workers from different industries to earn their livelihood in this time of the global pandemic. For small and medium enterprises, pivoting to making safety products equipment has proven to be a win-win situation as organizations are able to meet up their cost and keep their employees engaged.
2. With the expansion of portfolio, how do you expect your business opportunities to expand? What are the specific advantages that you can offer consumers?
Since our inception we are seeing an upward growth, starting with a small shop in Lajpat Nagar to our current presence across 150+ cities, we have come a long way. We are one of the very few brands in the country that are available pan-India through both offline & online channels which includes e-commerce platforms like Amazon, Flipkart, etc. as well as our retail partners. We are getting huge demand from both Tier 1 & Tier 2 cities of the country, in addition to metros. With the outbreak of COVID19 we had to re-strategize our business model and entered into the manufacturing of safety products. From the largest homegrown consumer electronics and gadgets accessory brand to manufacturing and selling 100k face masks in a day, we are growing with each step.
Analyzing the current scenario, we have also stated home delivery of our products both gadgets as well as safety products apart from presence over various e-commerce platforms and multi-brand stories.
Customer convenience and satisfaction is our foremost motive. We always work on a minimum profit plan as we are constantly working around consumer satisfaction rather than focusing on revenue generation.
3. Talking about consumer electronics and gadgets retailing, what have been some of your key observations with regard to shoppers during lockdown? What kind of shopper trends can we expect going forward?
COVID-19 has a substantial impact on consumer electronics and gadgets retailing till now, due to supply chain disruptions and lower consumer demand. Due to the global shutdown, initially, a downward growth curve was observed. But analyzing the flipside of the situation, work from home caused an increase in demand for products like earphones, neckband and power banks among the mobile accessories sector and computer peripherals like mouse, monitor etc. to keep up with the new working dynamics wherein, people are increasingly engaging over voice calls, video chats etc. The coronavirus hasn't impacted the orders but definitely, caused disruption in the supply chain.
The lockdown and work from home period has underscored the importance of consumer durables and electronic products, and such items featured high on the wish list which later turned into their shopping lists with unlock 1.0. Products such as laptops, smartphones, earphones and power banks have become crucial for those working from home which provides optimistic growth for both retailers and eCommerce firms.
In the near future one can witness retailers across the spectrum waking up to the e-commerce opportunity and vice-versa. As consumers are avoiding stepping out of their homes due to COVID19 outbreak, giving preference to buying online is observed. This has boosted the traffic over e-commerce platforms and retailers are betting big on e-commerce platforms to sell their products.
4. Based on the expected shopper insights what do you think brands should do at the store level to instill trust and reassurance in the brand?
In order to instill trust and reassurance in the brand in this time of global pandemic, we are adopting all the safety measures to keep the stories clean and hygiene. Time-to-time we are sanitizing and disinfecting the stores. Our store captain's are keeping a proper check on the safety measures of customers as well as employees. Analyzing the whole scenario we have found that there is a sense of fear among the consumer in stepping out of homes thus, we have employed 24*7 home deliveries across India. Our foremost aim is to cater to our customers with utmost safety and care in this hour of the difficulty.
5. What do you think are the biggest challenges for the consumer electronics market today? What do you think this industry needs to do to go to the next level?
With innovation comes a different set of challenges that can limit the burgeoning growth of the Indian mobile accessories market in India. There are a lot of unbranded products in the unorganized market which attracts customers with low-cost as they packed with great specification but in the long-run, these products are not reliable and do not provide a good user experience. These cheap gadgets pose a great threat to privacy, lack of standardization and are of low quality. But their low prices are very tempting to the consumers though they cost a lot in the long-run. This has become a big challenge to the branded players providing quality at a price.
Some of the key challenges faced by Consumer Electronics and Accessory sector in India –
1) Shrinking operating margins: With great production there comes great competition. Companies need to be more cost-efficient in order to endure but make sure it doesn't compromise with quality. The market is flooded with brands offering products packed with specifications but low on quality.
2) Service and warranty management: The Unauthorized service centers are the biggest loophole of the consumer electronic and accessory market. Usage of fake and cheap software and hardware devices used by authorized service centers put questions to the industry at large are creating unhealthy competition.
3) Price War: Today, neither the channel nor the consumers are loyal to a particular brand. As a result, most of the brands are having a hard time staying afloat in the market. Moreover, the recent inflow of low-quality products has led to decreasing demand for expensive branded products as the price difference between the two is significantly high. But among the elite category, the differentiation between the prices is not that high which creates a dilemma among the customers.
With shifting consumer preferences and fast-changing technology, the industry needs to tread carefully. Analyzing the growth opportunities and taking the leap, one must make sure that compromise shouldn't be done on quality and standards.
6. Do you see a greater reliance on technology solutions and solution providers going forward on the part of brands and retailers?
Undoubtedly, modern-day technologies like Artificial Intelligence (AI) have taken over the industries, every industry has adopted technology for better reasons. The retail industry is also pacing up with the trend and a lot of technology providers have emerged over the years that are using AI and ML in their solutions. Forecasting future trends, identifying customer buying behavior and patterns
AI-based chatbots are the new sales representatives being used by the retailers to handle customer queries and contact with customers.
Blockchain is another technology which is gaining huge popularity. The perk of using blockchain is that it allows the data to be more interoperable. This makes the data information to be shared and be available with brands, manufacturers, suppliers and vendors. It also makes things transparent among the various levels of the supply chain. The use of this technology can also help the manufacturers know if the product is original or fake
Augmented Reality-based Virtual Trial is also gaining pace as due to the outbreak of corona it helps shoppers to provide offline experience using Virtual Reality (VR) while they are shopping through e-commerce platforms. Through AI customers could get the actual look of the product.
Thus in the coming future, one can witness retailers betting immensely on emerging technologies.
Related Viewpoints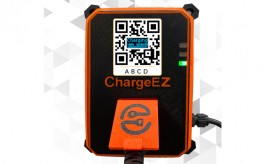 Co-Founder & CEO , ChargeEZ
'EV charging points serve as key customer touchpoints across multiple locations'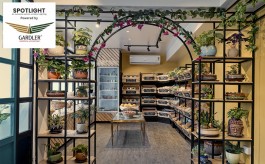 Founder & Principal Architect, Studio Noya
'Making the product visible in today's retail environment means making the most of light'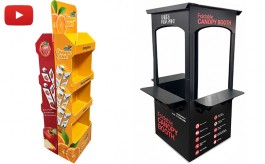 Innovator , Unidos Insta Print
On being the 'Foldable Pioneers' & creating tech integrated displays