'Safety First' says FRDC study on 'How Indian Customers Will Shop?'
By Retail4Growth Team | May 09, 2020
Leading Bangalore based retail design agency FRDC, in association with Brand Footprint & The Better Design Foundation, recently conducted a survey to assess customer shopping behaviour post COVID19 lockdown. The idea was to develop relevant solutions for retailers that would help them cater to their end consumers' requirements in a more relevant manner.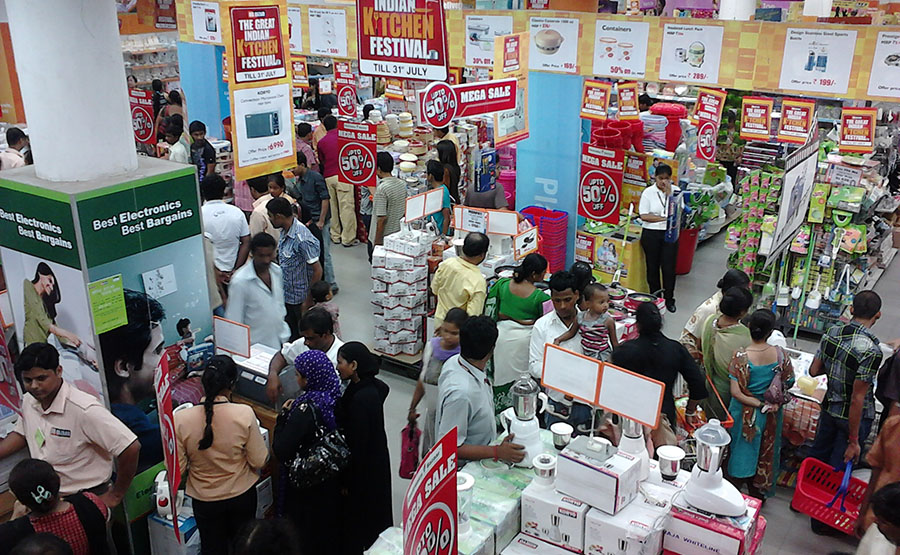 FRDC, as part of a survey project in association with Brand Footprint & The Better Design Foundation, spoke to consumers across India to determine insights into customer preferences, expectations and their implications on retail. The findings are based on responses of men and women between the ages of 20 and 75 years, across Sec A+ & A, with a sample size of 750 participants. The online survey covered urban and tier 1 locations in India, including Delhi, Mumbai, Bangalore, Chennai, Ahmedabad, Hyderabad and Kolkata.
The questions delved into how consumer behaviour had changed towards aspects such as product contact, proximity (to other customers and staff at the store), cleanliness and hygiene at the store environment and products, new preferences and more. The study also looked into the change in shopping behaviour before and after lockdown, shopping frequency, shopping channel preference and more.
Speaking about the objective behind the study, Sanjay Agarwal, MD & Co-Founder, FRDC shared with Retail4growth, "Retail always follows customers. And happy customers become advocates for your brand. With the current lockdown due to COVID, we wanted to understand what is going on in a customer's mind and how their shopping behavior would change in the store. The survey got us very good insights and shifts in customer mindsets."
Indeed, the study threw up some interesting findings. For example, it reiterated the expectation that safety was on top of consumer priority.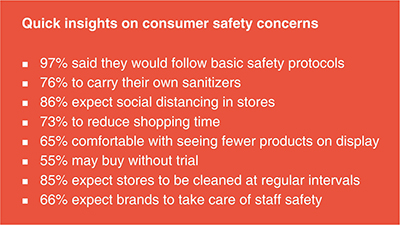 Speaking on the findings from the survey, Vineesh Chadha, Director, Brand Footprint says, "The COVID19 pandemic will change consumer behaviour significantly. Old business models will give way to different ways of shopping and living. We have to understand our consumers and their needs and reinvent ourselves."
The study also showed a significant inclination towards online shopping, particularly in the age group of 31-40 years. For example, even in the fashion category, 54% said they intended to shift to online shopping. In terms of technology use too, the study showed that 62% preferred self check-out, and more than 90% said they were comfortable using vending machines and self-ordering screens, provided they were user friendly.
As Sanjay explained, summing up the survey results, "A majority of customers will have safety & hygiene as a priority when it comes to shopping, which was not so earlier. The responses show that customer will step into retail spaces that have necessary safety measures in place. We also put together certain adaptive interventional solutions for retail environments that respond to new customer expectations. Retailers can utilize these measures depending on size, scale and budget, to demonstrate that they are thinking of making the customer feel comfortable, happy & safe at the store again. But one must note that while the crisis may pass overtime, retail will evolve and adapt to changing times."
The above-mentioned solutions that FRDC has put together are broadly divided into the categories of People, Places and Products, each having the relevant tools and interventions to ensure safety and hygiene in the store.
Click here to know more about the How Indian Customers Will Shop? and the Adapative Interventional Solutions for post COVID Retail Environment.