SPAR: Bringing The Fun Back To Shopping!
By Chanda Kumar | July 16, 2018
Rajeev Krishnan, MD & CEO, SPAR India talks about the 10-year-old journey of the hypermarket chain since its first store in Bannerghatta Road, Bangalore and how the retailer is trying to make shopping fun, engaging, convenient and relevant to the customers of today.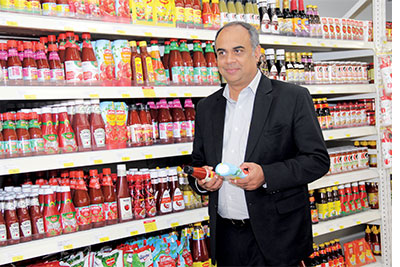 Rajeev Krishnan believes that shopping should be fun! And not a chore for the homemaker. Well, that's what this visionary CEO of SPAR Indiia hypermarket is trying to bring into the chain, enhancing the customer experience one store at a time. Establishing its presence in India 10 years ago, SPAR India, a strategic partnership between Dubai-based Landmark Group's Max Hypermarkets India Pvt Ltd and Amsterdam-based SPAR International, has been focussed, calculative and preservative in its approach to tap the Indian market. Unlike many retailers that came in with a bang, and faded away quickly, SPAR has grown to retain its customers, understand them and evolve with them.
Today, the company has 20 stores in nine cities and is predominantly present in South and North-NCR region. "Many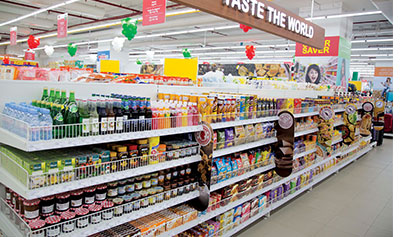 people have asked why we have not opened across the country or scaled up. I think running doesn't help anybody. We need to understand the geographies we open and operate in, which is getting more diverse and complex. For instance, in Bangalore the customer demography is constantly changing. We have chosen to understand the customer better, as we have taken the time. So we have seen the loyalty that comes back from the consumer with that process."
Achieving its 10-year milestone recently, SPAR India has started to move in a faster pace with the expectation of 80% growth between
the last 12 months to the next 24 months. The hypermarket has also made its way to Tier 3 locations such as Shivamogga. "This is happening because of India's aspirational consumer getting exposed to retail. What is fascinating is that Shivamogga was the biggest opening so far. People at Shivamogga knew about us even before we reached there, as they have been to SPAR in Bangalore.
" But it's not just about opening another store or entering a new city; SPAR is enhancing the shopping experience with each store, where it aims to engage every member of the family. The retailer launched its next-generation hypermarket in Coimbatore last August, offering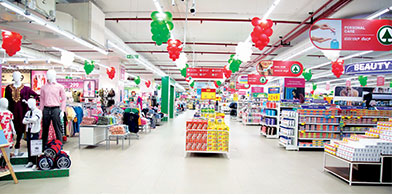 enhanced shopping experience with the use of technology. The store has technology layered in three dimensions: The Knowledge Series that helps the customer understand the benefits of various products by displaying information through digital signage and tablets; Virtual Reality which enables customers to gain a 3D experience of products that they purchase, especially in the home furnishing section and a 55-inch, interactive multi-touch screen that offers 'infotainment' content for kids along with providing scope to play around and be creative.
When SPAR completed the Coimbatore store, they already had plans on how to up the ante with the Vega City store. And then to the existing store at Mantri Square, there were more thoughts and ideas that went into store experience.
"The premise for this is that the consumer today is stressed like crazy. Life is not how it used to be. And the beauty of India, is that we love to shop. If you go back to the past it was a day out. It was entertainment. And today, stress levels have gone up with work, family and income. So now it's more of a chore than a fun outing. But, we want to bring the fun factor back. We want the entire family to come and shop. It's not just about organised retail but engaging retail," explains Rajeev.
Speaking of customer service and shopper marketing strategies, Rajeev says that there is no better place to learn this than the neighbourhood kirana. "Some of our peers are doing incredible work, where everyone is innovating. But we find it very fascinating to study and understand the local kirana and how without technology, without space, they know the customer by name, what she wants, when she wants and they will get it for her. While we in the organised sector go to the other extreme, on how we can't do something. SPAR is trying to go back to fundamental basics, what can we learn from the kirana and how can we partner with them."
Instead of competing with kiranas, SPAR has started collaborating with them. "I think we as retailers have drawn a line across India that says organised and unorganised. But, both come together to form an ecosystem that takes care of the consumers. So, we need to see how we can support the kirana, deliver what the customer wants. We have assortment and range, which the kirana can get from us. While he has connectivity and proximity to consumer, which we don't have necessarily," Rajeev opines. Today, SPAR has already kickstarted a bunch of pilots with kiranas in Bangalore, which has generated great results and the company sees huge potential in the same.
Talking about retail formats, SPAR believes that omni-channel is the only route to grow. One of its innovative formats launched late last year is the SPAR on Wheels format, collaborating with push-cart vendors of various localities. The 'click and collect' business model will help one get fresh fruits and vegetables right at their door steps. "We have learnt that the push-cart vendors still service the communities, while we are sitting with all this fresh produce at the store. With the heavy traffic on roads today, we thought we have to go to where the consumer is and that's been in pilot phase with one truck. And the numbers are 500% more than what we assumed." Rajeev says ecstactically. The truck also has a kiosk attached, where you can order on the e-commerce portal. "The learnings have been amazing, and we are now ready to take off with other concepts."
Competition has kicked in from all side, making it essential for retailers, CPG brands and vendors to collaborate to succeed. Speaking about SPAR's strong belief in collaboration and co-creation, Rajeev says, "If we all agree that consumer is the focal point to succeed, then let's come together and give them a better experience. Just because we have been doing something for the last few decades doesn't mean we can't do something differently. The request I have with this paradigm shift is that it cannot be transactional. Just making today's sale profitable, is not going to help us."
In the next phase of SPAR India's journey, Rajeev also mentions that they look forward to partner with retail solution providers. "So we are looking at revamping categories that have never seen any change in the way they are displayed at the store for a long time. So we see huge opportunity for better engagement and new feel of shopping, and we look forward to partnering with these solutions providers," Rajeev explains. The company has so far collaborated with Bosch, HCL, TCS, Purpule and Tektronix in Mumbai, for enhancing store experience through digital interfaces.
'Growth' is the mantra for SPAR India today, where new store launches in the last 12 months are a testament to this, recording the fastest growth since they have opened. "I don't like to get into number of stores we plan to open, but we are growing. The fundamental reason is that our customers have accepted us and that's the reason we continue to methodically open in geographies where we understand our customers. We are exploring different retail formats, sizes, tech enhancements, virtual shopping and more. I believe it's going to be a fun and innovative journey ahead," Rajeev concludes.
INSTORE EXPERIENCE
SPAR India has developed interesting zoning to engage customers at the store, which include:
Wonder Years – Kids section for the little ones
Milkyway – An exclusive section for everyday dairy needs
Home Sweet Home – A dedicated area for all home décor requirements SPAR Natural – A concept which offers organic produce to the customer
Apart from these exclusive segments, SPAR also houses its private label products, which include provisions such as groceries, cereals, home needs, and more.
GLOBAL RECOGNITION
The 63rd International SPAR Congress was recently held in Bangalore, which witnessed the amalgamation of 260 International SPAR delegates from all over the world. On May 21st, they kicked off the tour by visiting SPAR stores in Mantri Square Mall and Vega City Mall. The delegates including Tobias Wasmuht, Managing Director, SPAR International, were impressed with the new and improved SPAR version 2 store format. The neatly segregated categories, self-checkout kiosks, and the engaging shopping experience were appreciated by the delegates. They were also impressed by the growing demand for SPAR Private Label products.
Related Viewpoints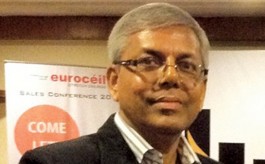 Managing Director, Euroceil
'Innovation is our hallmark'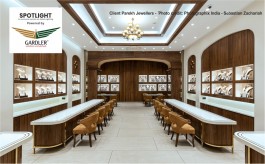 Principal Designer, Shravan Design Company
'Lighting impacts how merchandise is presented to customers'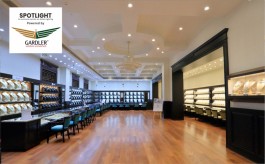 Head Designer, Ahanas Design For Space
'We look for sound technical knowledge in our lighting partners'