"The new consumer market has grown rapidly because of new supply, new channels, & new marketing."
By N Jayalakshmi | October 11, 2021
In an exclusive interaction with Retail4Growth, Vincent Huang, Overseas VP, MINISO, talks about the retail brand's success factors, particularly in the US, how retail brands in the fashion and lifestyle space can integrate omnichannel for faster growth, opportunities in the Indian market, and more.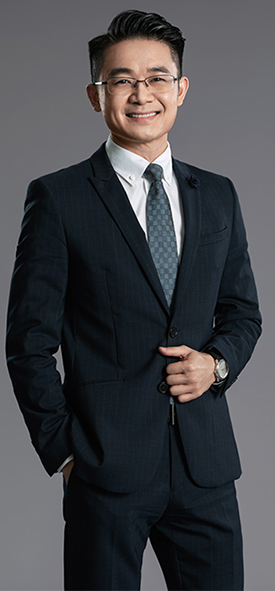 You have opened 364 stores opened the last one year and announced a 72.93% year-on-year increase in sales revenue in the United States during the first half of 2021. To what do you attribute these positive developments, especially at a very difficult period?
Compared to the same period last year, many MINISO stores are back in business. And MINISO's sales channels are more diversified than before, facilitating consumer shopping by collaborating with third-party e-commerce platforms and building our own e-commerce platforms. Besides, now that the COVID-19 pandemic has gradually come under control, people tend to go out more often and shop more often at physical stores. MINISO's extremely cost-effective products and the high frequency of its product updates gives consumers an incentive to become repeat shoppers.
Any important lessons/takeaways from the pandemic situation that influenced your retail strategies?
We learned a couple of things along the way:
Channel – We embraced e-commerce by accelerating the digitalization process in terms of contactless payment, O2O (online to offline) delivery, and collaborations with major e-commerce platforms. As a result, by the end of June this year, the online channel sales exceeded 12% of the total turnover for the first time ever.
Product – We promptly adjusted our product supply by providing more products to help people take preventive measures against COVID-19 such as cleaning and fitness products. At the same time, we reduced the number of travel products.
Pricing - In the Chinese market, 90% of MINISO products are priced below 49.9 RMB. All of them are priced under 100 RMB. A similar pricing strategy is implemented overseas, for example, in the U.S., 90% of our products are under $10.
Reports suggest that you are very upbeat about the market in US. Any particular factors that are working well for you in the US?
We have had some success along the West Coast. That said, we believe that the reasons for our initial success and confidence in the US market are the following:
1) MINISO's core competency lies in its supply chain capability because it has been deeply involved in the Chinese supply chain for many years and has the strength to integrate it. In addition, the entire value chain from product design to marketing and sales is controlled by MINISO itself, eliminating intermediaries and delivering better benefits to consumers.
2) The products MINISO provided are cost-effective and well-designed, which is better at meeting the needs of consumers; our localization efforts and the supply of IP products that American consumers like such as the Marvel series and the Disney series are also contributing factors.
3) We supply a full set of products in the United States that are in line with consumer habits such as buying in bulk, large package products such as towel sets, tableware sets, etc.
4) We attach great importance to the U.S. market, which is directly administered by our head office. To that end, we have been nurturing the West Coast for four years. Based on our understanding of the U.S. market and consumer habits, we are ready to enter the markets in the east coast and central region and expand vigorously. We opened our first store in the eastern part of the U.S. on September 3 in New Jersey.
What is your projection for the Indian market? Any expansion plans lined up for India? Are there any specific markets in the country that you are focused on?
The Indian market is very promising. We originally had plans to expand significantly in India, but the COVID-19 pandemic in India is rather serious now so we will move forward afterwards depending on the situation. We are already present in 41 cities in India, the key cities are of course Delhi, Bangalore, Mumbai, along with others. We will gradually expand to more smaller cities and towns as planned.
In comparison with other markets how do you find the Indian market? Any unique factors that you have observed?
The Indian market is large, but complex, with different religions, cultures, languages and climates so these place higher demands on our product supply, localization effort and understanding of consumer needs.Compared with the European, American, and even the Chinese markets, the Indian market has relatively low spending power, but the consumers' pursuit of quality, design, and a pleasant shopping experience is the same.
Post-pandemic, what are the key factors that will drive growth for retail brands in the apparels/fashion and lifestyle category?
It is very important to provide products with a higher cost performance, sense of design, that are suitable for consumers' needs.
The high frequency of product updates must meet the diverse needs of consumers while driving growth.
Creating a comfortable and safe shopping environment for consumers in offline physical stores provides a relaxed and immersive shopping experience.
Emphasizing customer relationship management and launching promotions and membership campaigns frequently increases consumer repurchase rates.
Do you see e-commerce and brick and mortar retailing co-existing seamlessly in the times to come? How can retail brands in this category best leverage omnichannel?
MINISO is a good example of a business that can prove this prediction right. Once positioned as a brick-and-mortar retailer, we found it difficult to draw a clear line between online and offline after accelerating our digitalization process last year.
In the second quarter of fiscal year 2021, the e-commerce and O2O businesses of MINISO combined contributed to 12% of total revenue, and efforts in online business paid off significantly. When domestic e-commerce businesses launched the "6.18 Shopping Festival" promotional activities on a large-scale, and users' spending enthusiasm was high, this resulted in a 136% year-on-year increase in domestic e-commerce revenue. Nearly RMB 200 million was earned that quarter.
The new consumer market has grown rapidly because of the new supply, new channels, and new marketing. Against this backdrop, MINISO continues to upgrade user consumption with in-depth insights into consumer patterns, its targeted reach, and operations. These help MINISO to rapidly transform and iterate into an Internet platform enterprise.
As of June 30, 2021, the number of active members of MINISO in the past 12 months exceeded 33 million, representing a 49% year-on-year growth and 10% year-on-year growth.
Finally , how does 2021-'22 look to you?
The impact of the COVID-19 pandemic is still being felt and we need to learn to live with it.
Offline retail will rebound as vaccination rates increase and the epidemic comes under control. However, consumer habits have changed as they have developed an online shopping habit.
Going forward, we think consumers will value affordability even more, care about value for money while seeking a good quality of life and a pleasant shopping experience.
We think economic situations will continue to be different in domestic and overseas markets - with strong consumer demand in China's domestic market and persistent uncertainty in overseas markets. MINISO will be cautious by pursuing better business quality and steady development.
In summary, MINISO is responding to and actively embracing current market changes and trends. We are confident that 2021-2022 will be a year of continued success.