2018 - The Year Of The Ultra Violet
By Chanda Kumar | January 12, 2018
Pantone announced the dramatic purple shade PANTONE 18-3838 Ultra Violet as the Colour Of The Year 2018 recently. A dark and mysterious hue communicates originality, ingenuity, and visionary thinking that points us towards the future.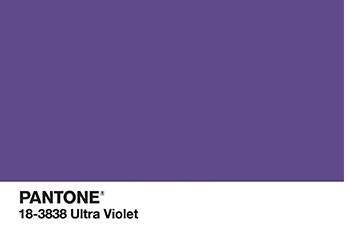 With the beginning of every year, the creative minds in all field look forward to colour trends and inspirations from them. Pantone, known world-over for its professional colour language standards, recently announced the PANTONE 18-3838 Ultra Violet as the Colour Of The Year 2018.
"We are living in a time that requires inventiveness and imagination. It is this kind of creative inspiration that is indigenous to PANTONE 18-3838 Ultra Violet, a blue-based purple that takes our awareness and potential to a higher level," said Leatrice Eiseman, Executive Director of the Pantone Color Institute.
Complex and contemplative, Ultra Violet suggests the mysteries of the cosmos, the intrigue of what lies ahead, and the discoveries beyond where we are now. The vast and limitless night sky is symbolic of what is possible and continues to inspire the desire to pursue a world beyond our own.
ULTRA VIOLET SYMBOLISES:
- Counterculture
- Unconventionality
- Artistic Brilliance
- Experimentation
- Mystical
- Exotic & Enticing
- Vibrancy
- Regal & Luxurious
- Complexity & Mystery
- Spice & Brightness
About the Pantone Color of the Year
The Color of the Year selection process requires thoughtful consideration and trend analysis. To arrive at the selection each year, Pantone's color experts at the Pantone Color Institute comb the world looking for new color influences. This can include the entertainment industry and films in production, traveling art collections and new artists, fashion, all areas of design, popular travel destinations, as well as new lifestyles, playstyles, and socio-economic conditions. Influences may also stem from new technologies, materials, textures, and effects that impact color, relevant social media platforms and even up-coming sporting events that capture worldwide attention. For 19 years, Pantone's Color of the Year has influenced product development and purchasing decisions in multiple industries, including fashion, home furnishings, and industrial design, as well as product packaging and graphic design.
• PANTONE 15-0343 Greenery (2017)
• PANTONE 15-3919 Serenity and PANTONE 13-1520 Rose Quartz (2016)
• PANTONE 18-1438 Marsala (2015)
• PANTONE 18-3224 Radiant Orchid (2014)
• PANTONE 17-5641 Emerald (2013)
• PANTONE 17-1463 Tangerine Tango (2012)