Arvind to be Rs 2000 crore brand in the next 5 years
By VJ Media Bureau | Vjmedia Works | 3 | June 07, 2013
A core part of the growth strategy is the rapid rollout of 'The Arvind Store' format, which recently crossed the 100 store mark and will be grown to 400 in next 5 years, making it a Rs 600 crore franchise.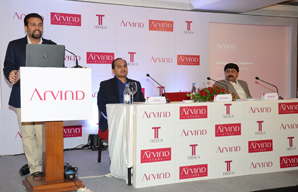 Arvind Limited, one of India's largest integrated textile and apparel companies, is planning to build the brand'Arvind' into a Rs 2000 crore brand by FY2017-18. According to the company's press release, the brand Arvind which is a premium fabric brand for both men's and women's fabrics clocked revenues of close to Rs 500 crore in the last fiscal, and is an important part of Arvind's overall brands and retail portfolio which touched revenues of Rs 1900 crore in FY2012-13. The four fold growth strategy will see Arvind expand beyond its traditional distribution model with a rapid roll-out of its new retail format 'The Arvind Store' and growing in the premium fabric market with its new brand 'Tresca'.
With 100 Arvind Stores up and running, Arvind Ltd is now aiming to grow the format multi-fold to over 400 stores in the next five years. Taking a step away from the conventional look-and-feel, The Arvind Store is a modern and futuristic layout to provide the best of Arvind merchandise under one roof. By exhibiting all of Arvind's finest fabrics, customised tailoring, customised jeans and the best of Arvind's ready-made brands, 'The Arvind Store' is designed as a complete lifestyle destination. The Arvind Store franchise is likely to cross Rs. 600 crore in revenues by FY 2017-18.
Recently, Arvind Ltd introduced its most premium fabric offering'Tresca' to target the high-end shirting and suiting market. Arvind aims to build Tresca into a Rs 250 crore brand over the next 5 years.
Commenting on the aggressive growth plan, Kulin Lalbhai, Executive Director of Arvind Limited, said, "The 'Brand Arvind' will play a critical role towards Arvind Ltd's vision of building a $1 billion brands and retail business. Our aim for the brand Arvind is to attain a leadership position in the fabric brands and retail market in India."
The Arvind Store widens the portfolio of products offered to attract the younger customer - casual fabrics, denim fabrics and Arvind Denim Lab- a concept new to the consumer. It plans to access a very large consumption market of more 500 cities which can sustain this model.