Asian Granito India introduces 8-colour printing technology on tiles
By VJ Media Bureau | Vjmedia Works | September 12, 2014
Through this technology, myriad effects like emboss, polished, luster and precious metals, among others can be printed on the tiles.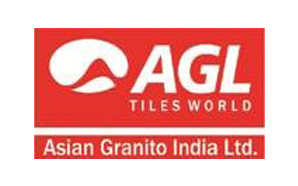 As the advent of digital printing technology has taken the Indian ceramic industry to a new horizon, it brought in the possibilities of experimentation in more than one colour of printing and therefore, is offering more options to consumers.
Asian Granito India has introduced the 8-colour printing technology in India and is aiming to modernise the way tiles are printed in India.
The company has also introduced its first exclusive collection of digital wall tiles printed by 8-colour technology that will have all the added effects of a new combination of colours and highlighters by the 3rd fire technology.
The target being the higher premium class, the exclusivity and rare combination of hues of colours like golden, silver, purple and orange among others, would be the most appealing features of this range of digital wall tiles.
Commenting on the latest feather in the cap, Bhupendra Vyas, Chief Operating Officer - Asian Granito India Ltd. said, "Through the introduction of 8-colour printing technology in the Indian ceramic market, Asian Granito India Ltd. has created a new milestone not only on the technological front but also in terms of total value proposition offered by a ceramic tile product. By launching the 8-colour printing technology, Asian Granito India has made India one of the few markets in the world to have this technology for tiles. Moreover, the introduction of this collection will create a separate exclusive premium market for wall tiles digitally printed through the 8-colour technology."
The 8-colour effect will be further enhanced by coupling it with the use of highlighters by the 3rd fire technology, for the premium segment of consumers. This technology offers smoother surfaces with increased design and image resolution to give finer details to effects. It renders more vivacity to the tiles with highly crisp colour effects giving extraordinary ambiance to spaces.
Vyas further added, "Asian Granito will target the metros, mini metros, big cities like Pune and initially launch this collection in 300x600 mm and 300x900 sizes. AGL will utilise its extensive marketing and distribution network which comprises over 3000 dealers and sub-dealers to take its latest offering to each and every state of the country. These tiles will be available in all the 60 exclusive showrooms under'AGL tiles world exclusives' in India.