Barcom invests in Esko software & hardware for its label business
By VJ Media Bureau | Vjmedia Works | October 29, 2014
Barcom is a pioneer in the production of security labels and food safety compliant labels with ISO 22000 certification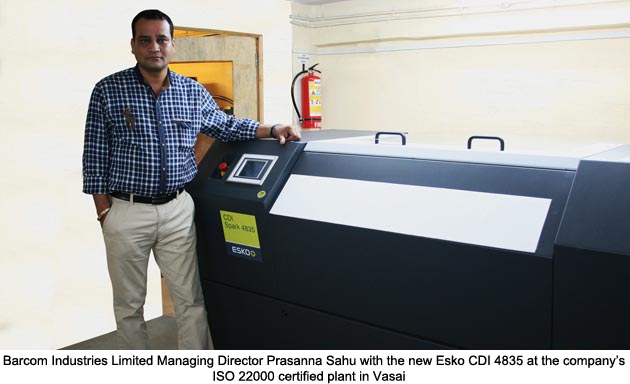 Mumbai-based Barcom Industries Ltd has recently invested in Esko software and hardware for its label business. Known for its innovation, the company is a pioneer in the production of security labels and food safety compliant labels with ISO 22000 certification. Barcom's Managing Director, Prasanna Sahu, says, "There is no label printing firm in India which has been ISO 22000 certified. This gives us an edge to stay one step ahead of the game."
The recent investment in Esko's Packedge, FlexoTools and a FlexRip together with a CDI 4835 imaging device for producing flexographic plates, gives the company complete in-house flexo plate production. Barcom produces high quality consumer product and security labels on multiple high technology label presses at its 30,000 square foot plant in Vasai, near Mumbai. Sahu says, "It was necessary for us to opt for high-end technology as it gave us an edge. Moreover, buyers today demand high quality from us and this led us to invest in high-end technology."
Barcom Industries' investment in Esko's prepress tools comprises PackEdge, a full-featured packaging preproduction editor focused on major pain points such as CAD/graphics misalignments, trapping, distortion, screening, and barcodes. PackEdge is the answer if one wants to drastically reduce the cost of errors and increase the efficiency of the preproduction department. Flexo Tools, a plug-in for Adobe Photoshop, anticipates and fixes graphic reproduction aspects for flexo printing. "The Esko software and hardware solution will allow us to innovate and improve. The quality will also enhance our standing in security labels, and the in house setup saves us time and cost." states Sahu.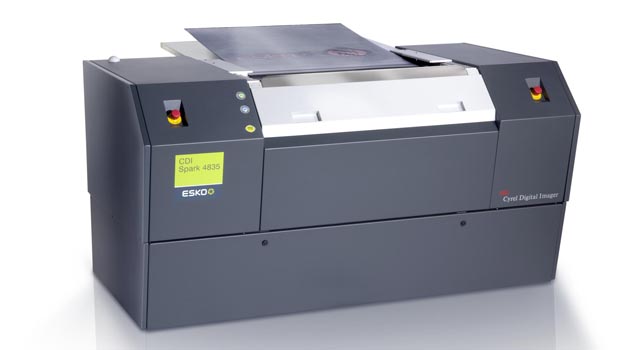 The flexo workflow at Barcom is completed by the Esko FlexRip that is used to drive the CDI 4835 for exposing flexographic plates. The high resolution imager offers superb results for high quality multicolour labels with enhanced security features. Having the entire software and hardware gives Barcom added security and efficiency according to Sahu. He says, "The speed, quality and ease of use of the Esko software along with the highest quality flexographic plates produced on the CDI give us an edge in productivity and allow us to innovate for the future. Our experience thus far has completely vindicated the trust we have put in Esko."
Esko India's Sales Director, Shrihari Rao, says "It is important to implement the pre-press in a structured way, stage-wise. Barcom did it exactly the way it needs to be done. They installed the best in Packaging software first and gave their team enough time to learn the preparation of ArtWork for Flexo Printing. It was a natural progress to just add the imaging device and they chose to bring in the state-of-the-art CDI 4835. The Plates produced on day one was ready to go to the press. The focus that Barcom has on technology implementation and certification is commendable and Esko is really proud to be associated with Sahu."