Brand Street India begins operation in Chennai
Vjmedia Works | July 25, 2017
After taking its operation to Chennai, the marketing agency is now present in all major metros in India.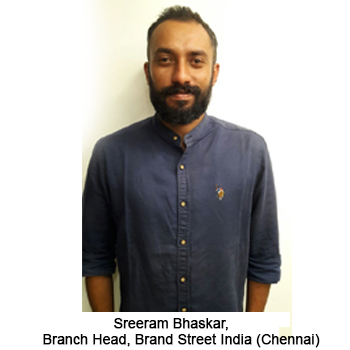 Gurgaon-based integrated marketing agency, Brand Street India continues geographic expansion with the opening of its branch in Chennai after Delhi, Mumbai and Bangalore. The Chennai branch will be headed by Sreeram Bhaskar, who will be responsible for spearheading growth of the company in the south and managing client expectations. The firm has also recently opened its dedicated branch for retail and in-store activities, The Retail Story.

The Chennai division will provide end-to-end experiential marketing to its clientele with the help of Sreeram's 9 years' experience in sales & marketing. Sreeram has worked with some of the leading brands like IBM, McAfee & Reliance prior to joining Brand Street India's Chennai office.
Speaking about the expansion, Sreeram Bhaskar, Branch Head, Brand Street India (Chennai) said, "I am extremely elated to be associated with Brand Street India. With the opening of their Chennai branch, we are on the way to bolstering our presence in southern India, which will help us reach new heights in the experiential marketing segment. "

Commenting on the expansion, Rajinikanth, Business Head, South, Brand Street India, said, "We are thrilled to have Sreeram on board with us. His experience of working with industry bigwigs has lent him a certain roundness which is similar to the ethos we at BSI believe in. We hope that with his appointment and opening of Chennai branch, we will be able to better penetrate the southern market and deliver some awe inspiring work. "
Surendra Singh, National Head, Brand Street India said, "We are delighted with the turn of events at Brand Street and look forward to scaling greater heights on this journey together." The company has rolled out in-store campaigns for brands like Kraft Heinz India, Lipton, Tropicana, MTR Foods, Lhotse India, Muruguppa Group and Godrej.