ColorJet bags'India's Largest Manufacturer for Wide Format Digital Printer' Award
By Nabamita Chatterjee | Vjmedia Works | January 25, 2017
The event was attended by over 400 top imaging industry professionals, who included manufacturers, importers, exporters, distributors, resellers, etc. from different parts of India and also from China.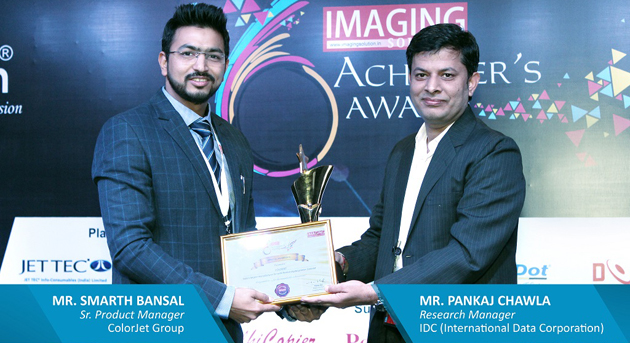 ColorJet brand from ColorJet Group has bagged the 'India's Largest Manufacturer for Wide Format Digital Printer' Award at the annual 6th Imaging Solution Awards Night held at Hotel Suryaa in New Delhi recently.

Over 45 awards were given away to different individuals, products, brands, companies for their outstanding performances in different segments and activities of imaging industry in India like Ricoh, Brothers, ITDL, Avision, etc.

"We feel honoured on winning the award and for being named 'India's Largest Manufacturer for Wide Format Digital Printer'. We dedicate this award to the large number of Indian digital printing fabric manufacturers, who reposed faith in ColorJet digital printers, due to whom we bagged the award," Smarth Bansal at Colorjet India said.

"At the same time, winning the award also increases our responsibility towards our current and future customers, as we will need to continue to offer the same 'Gold' standard of after sales service, for which Colorjet is recognized in India and the world," he added.

According to their report, ColorJet commands 33 percent market share in India in super wide format of digital ink printers and have recently expanded their production facility, to further fulfill the growing demand for both domestic and international markets.

Founded in 2004, Colorjet Group maintains its operations via two manufacturing facilities and sales offices spread across seven countries, which include India, China, Bangladesh, UAE and Sri Lanka and markets its products in 14 countries worldwide. ColorJet has installed and implemented over 4,000 of its printing solutions and products across 315 cities around the world backed by a strong 278 member team, of which almost 100 are in technical related functions.