Insight Instore launches Retail Intelligence solutions
By VJ Media Bureau | Vjmedia Works | 3 | April 23, 2013
The company in partnership with Brickstream has incorporated technology into solutions that help retailers deploy more effective marketing strategies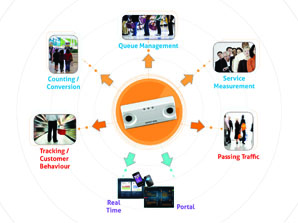 Insight Instore, a leading trend research and retail shopper marketing consultancy headquartered in Bangalore in partnership with Brickstream is using behavior intelligence technology to capture data on retail trends and brick and mortar shopping behavior. This information will help retailers develop more effective in-store marketing strategies. "Our consultancy has been closely tracking companies working to bring clickstream-level analytic into brick and mortar environments, and Brickstream stands out because of the ability of its smart devices to capture highly accurate intelligence about what shoppers are doing, both over time and in real-time," said Nisha Abdulla - Head of Shopper Research at Insight Instore. Going forward Insight Instore will expand its offerings to include other devices and platforms as well. "Turning shoppers into buyers demands detailed insight into how different variables within the store environment—ranging from queue length and service levels to POS displays and product availability—impact their behavior. This is especially important for retailers who are trying to grow in the Indian market—a trend that we expect to see a lot of, now that recent regulatory changes in India have also opened the door to more foreign investment," she adds.
THE INSIGHT 2300 - 3D Intelligent Edge Device
The Insight 2300 is an example of Behavior intelligence technology. It provides accurate real time behavior intelligence data with the help of a self-contained intelligent video sensor which is part camera and part computer. It integrates data capture and behavior analytic into one device, providing a common platform for the collection of a wide range of shopper behavioral data. Insight 2300 has 3D stereovision and patented path tracking technology that counts individuals even within groups, unlike other technologies that count groups as one. Insight 2300 has separate entry and exit counting and distinguishes adult shoppers from children, shopping carts and pets, all of which other technologies are not capable of.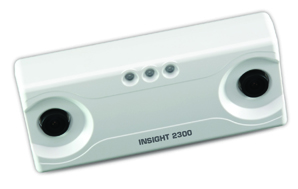 Most importantly, it is extremely accurate (over 95%), handling over 15000 visitors a day, has a long life and high reliability. This translates to significantly better ROI for retailers. Stores that have deployed this solution for over 6 months have seen footfalls up by 5%, conversions up by 5% and average transaction value up by 6%. The Insight 2300 also provides solutions of queuing and dwell times with the right configurations. Thus additionally, it aids in queue management, service management, tracking behavior and monitoring passing traffic.
THE BENEFITS
• The ability to maximize sales and customer satisfaction by ensuring that stores are adequately staffed at all times
• Effectively increases in-store ROI by spontaneously reacting to customer traffic and behavioral pattern changes
• Improves store KPI by incessantly monitoring traffic flow against customer conversion rates
• Aids objective measurement of the true performance of individual stores based on the flow of traffic and taking appropriate actions
• Helps in understanding marketing/sales campaign effectiveness by tracking incremental traffic generated by such programs
Insight Instore & Brickstream demonstrated their products at In-Store Asia 2013, held in February at the Bombay Exhibition Center in Mumbai, India. According to Insight Instore, this first-of-its kind technology, was well received by both retailers and brands.
This technology, the first of its kind in India, was well received by both retailers & brands.