Real Good Yummiez attracts shoppers through sampling activity at stores
Vjmedia Works | April 20, 2017
Godrej Tyson Foods Ltd rolled out a BTL activation offering sampling services to consumers at MTs and selected GT outlets in Bangalore.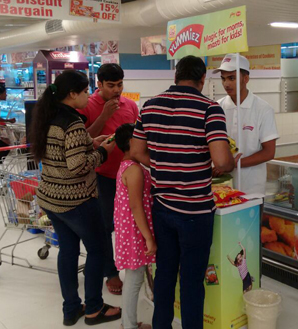 Real Good Yummiez - a brand from the house of Godrej Tyson Foods Ltd., recently made their presence at a mix of modern trade and GT outets in Bangalore offering sampling services to their consumers, supporting their ongoing digital and TV campaign. The BTL marketing activities have been handled by Delhi-based Brand Street India.

To highlight the ease of cooking these products, consumers were served freshly prepared Yummiez Chicken Nuggets & Cheese Corn Nuggets at the store during weekends. The activations also create awareness about the vast range of snacking options offered by Real Good Yummiez. This is woven with an interesting digital engagement to augment consumer's curiosity & interest.The first set of on-ground activation was rolled out in Bangalore only but it is expected to be scaled to other major metro cities soon.

Commenting about the activations, Avnish Tripathi, Vice President – Sales & Marketing at Godrej Tyson Foods said, "Snacking is an extremely evocative category. These activations enable our consumers to experience the taste and uniqueness of our products leading to interest and purchase. It has been an interesting experience to build this holistic activation & we're looking at scaling it up."

Speaking about their association, Surendra Singh, National Head at Brand Street India, said, "We are ecstatic about having demonstrated Godrej Tyson Foods our expertise, and our concept that will help create value for their best-known brand Real Good Yummiez."

Speaking about their concept, Argha Sengupta, Business Director at Brand Street India, said, "It is indeed a matter of great pride to have this cutting-edge, fastest growing brand aboard. The fast paced life that we dwell in today merges well with Real Good Yummiez ready to cook concept. We are sure that our host of activities for the brand will resonate well with the target consumers."