Teacher's creates impact with revamped brand store
By Nabamita Chatterjee | June 03, 2013
Mission Xcellence, a complete solution provider in terms of signage branding creates a new brand experience for the customers at Mookharjee Wine Store in Kolkata.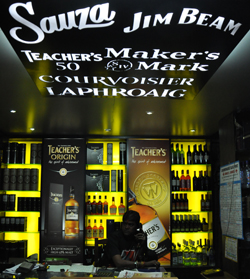 With the aim to increase the visibility of the liquor brand Teacher's, the retail store Mookharjee Wine Store at the busy Lindsay Street area in Kolkata got a new and eye-catching look. Mission Xcellence has provided the complete turnkey solution to the retailer and the brand for enhancing the flow of shoppers within this modern retail outlet where one may choose the required product as per their need. The prime objective of the company was to upgrade this traditional store to a contemporary one with a more comfortable zone for the clients while purchasing the liquor.
"With the changing time the earlier concept of having a barrier between the visibility of the brand among the shoppers & the liquor has changed. For example, in any traditional store there used to have a net or a glass counter in between which used a give a very clumsy look. But now in this shop we have removed it so that the there is an open view of the brand," shares, Pijush Chowdhury, Director-The Mission Xcellence.
The store was revamped in about six weeks because the execution could be carried on only during the dry days or the closed days. The project assignment was divided into several parts starting from the conceptualisation to the utilisation of space, designing and the management of entry/exit points which is the most important part as it has got two angles, one related to the customers and the other is how to smoothly arrange the storage of the products. The light level, selecting right types of racks, the material to be used for decorating the retail store, all has been aptly picked up to suit the environment.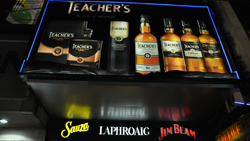 Glass has been used as the primary element with very little wooden support. The back wall which first hits the customer eyes are lit up with vibrant LED lights by using glass panelling. The floor area has been 15(width) x 17(length) and the orientation of the shop has got a complete transformation. To give the ceiling a different look altogether, a drop or a false ceiling has been created with brand names done with router cut and to increase the light level again LED has been deployed from the back.
Similarly the counter has also been given a new look. A part of the bottle coolers has been used as the counter top which is covered by router cut pattern after making it with materials like ply and veneer as well as with acrylic & LED lighting. The lighting arrangements include partially true lights as well with LED spots for the ceiling part. For the letters, CNC router cutting with laser technology has been used on wood, veneer and acrylic.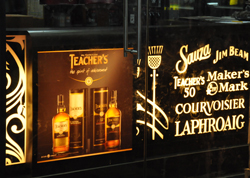 As per the retailers tie-up for a minimum period of 3 years with "Beam Global " -- Brand owner of Teacher's, Mission Xcellence has created this signature outlet for a duration of 7-8 years. Pijush Chowdhury further shares,
Advertisement