Koskii's simple facade lets the signage stand out
By Satarupa Chakraborty | October 16, 2018
As part of ethnic retailer Koskii's revamped retail design ID, the front signage is placed against the minimal design of a large store façade. The brand logo is further used as slighting fixture on the ceiling to light up the immediate entrance of the store.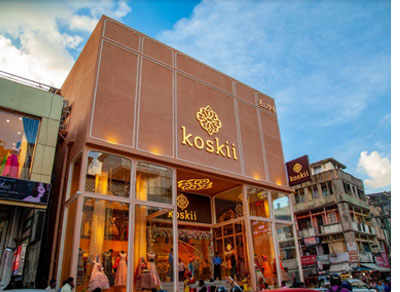 South India-based ethnic retailer Koskii, in their latest store design and outlet at Bangalore's Kamraj Road, makes the store signage stand out in background of the simple design of the store façade. The store has been designed by Bangalore-based design agency Restore, while the signage has been supplied by city-based Citysign.
Talking more on the revamped design ID and cohesive design of the store signage, Umar Akhter, CEO and Co-founder, Koskii, explained, "Keeping the scalability of our brand in mind, we have made sure that the store design stands out along with being cost-effective. The warm and royal design ID is influenced with Jaipur's architecture. In order to make our brand signage stand out, we have kept the design of the 50ftX50ft façade really simple. We wanted the grandeur of the logo design to speak for itself. We continued the aura of the logo and branding even at the entrance of the store, where we have installed a lighting fixture in the design of our logo, to light up the stairs landing area."
Similar News
Koskii changes its store design with its 6th store that takes on the design of a haveli. The brand plans to reach a mark of 20 stores by end of next year
The ethnic retailer plans an aggressive rollout to the southern part of the country initially and will eventually explore other parts too.