11th edition of In-Store Asia to kick-off tomorrow
By Satarupa Chakraborty | February 21, 2018
The bigger-than-before 11th edition of In-Store Asia, now part of world's #1 retail fair ,EuroShop Dusseldorf, will include a 3-day expo comprising of around 150 exhibitors from India and overseas, a two- day convention bringing 350 senior professionals from retail sector and 10th edition of VM&RD Awards recognizing the talents in retail design, VM and manufacturing.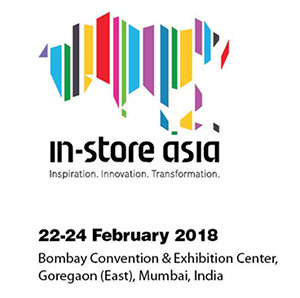 The 11th Edition of In-Store Asia will kick-off tomorrow at Bombay Exhibition Center, Mumbai. In-Store Asia is now part of EuroShop Dusseldorf, the world's #1 retail fair for all investment needs in the retail sector. (www.instoreasia.org)
The event, spread over 4500+ sq mtr, will comprise a 3-day Expo (22nd-24th Feb, 2018) showcasing around 150 exhibitors from India and overseas, and is expected to bring in 7500 visitors. This also features the 10th edition of VM&RD Retail Design Awards. The event is based on the new-age retail theme of "Re-imagining the Store".
Over the last 10 years, In-Store Asia has drawn tremendous response from all key stakeholders from the retail industry and is expected to be bigger than before this year. The exhibitors list includes key players in POP Display, Shopper Marketing, Retail technology, Signage & Digital Printer, Retail Design, VM & Props, Lighting, Fixture, Material & Equipment.
The two-day convention, to be held on 22nd and 23rd Feb 2018, is expected to be attended by over 350 senior professionals like brand owners, retail heads, shopper marketing agencies, retail design-ers, visual merchandisers, fit-out service provider from the Indian subcontinent.
The show will also feature its most popular window display contest 'VM Challenge' for the visual merchandising community, where 42 Top Visual Merchandisers from 15+ top brands and companies compete.
10th edition of VM&RD Retail Design Awards, to be conducted on Feb 23, will recognize talents from Retail Design, Visual Merchandising and Manufacturing from all across the country.