24X7 will soon debut in Mumbai
By Satarupa Chakraborty | December 19, 2018
The round-the-clock convenient store chain has already identified a number of locations across Mumbai and will start opening stores by February next year.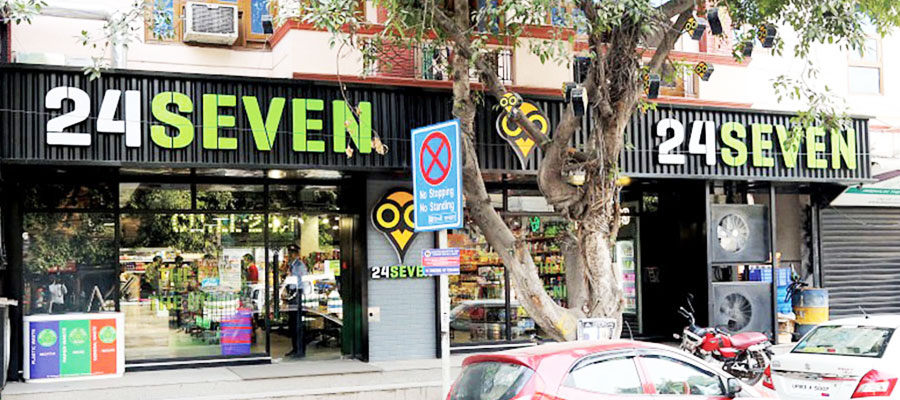 The round-the-clock convenience store chain from Delhi-based Modi Group, 24X7, will soon open stores in Mumbai. with 95 operational stores in Delhi, NCR and Chandigarh, 24X7 has already identified 5-6 locations all across Mumbai and will open a bunch of stores together by the beginning of February next year.
Mumbai-based independent PMC consultant Harshil Khichadia is managing the roll-out in Mumbai. Earlier this year 24X7 revamped its design concept entirely towards more premium value proposition by introducing lot more SKUs, adding digital elements and 360 degree POSs to curtain on the effort of billing and check-outs. In an interview with Retail4growth earlier this year, Samir Modi, President, Modi Group, also mentioned about their plans to add store-on-truck concept, which is already operational in NCR.
During the VMRD Awards 2018, Delhi-based HG Graphics also won an award for Best Signage category for their work with 24X7.
Similar News
With 61 operational stores and with a plan to reach a mark of 170 stores in Delhi-NCR, 24X7 will soon mobile stores on truck. The company plans to add 250-300 of such stores to their network in next 2 years.
Best Store Front Signage; Project : 24X7 Convenience Store ; Merit : HG Brand Retail Solutions