A piece of Rome in Bulgari's new store at Jio World Plaza
By Retail4Growth Bureau | November 07, 2023
Bulgari, the Italian jewellery brand, has launched its new boutique in Jio World Plaza with the architectural concept being crafted by internationally celebrated architect, Peter Marino.
Bulgari, the Italian jewellery brand, has launched its new boutique in Mumbai's business and cultural epicenter, Jio World Plaza. The architectural concept for the boutique has been crafted by the internationally celebrated architect, Peter Marino.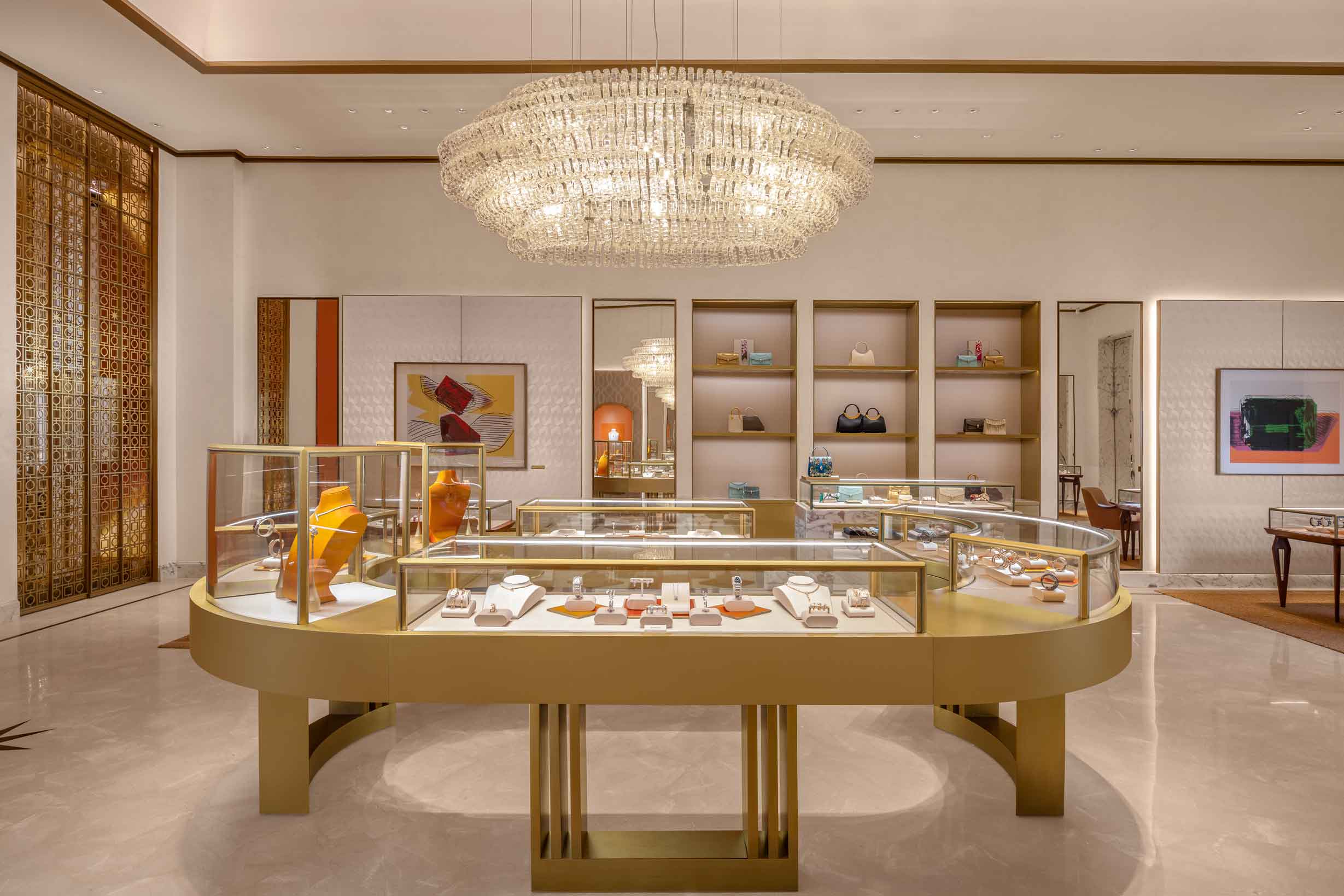 "Marino's design brilliantly intertwines precious materials, textures, and light with Bulgari's devotion to extraordinary craftsmanship. This synergy creates an evocative journey from Rome, experienced through the language of architecture, interior design, and traditional artisan techniques. The boutique seamlessly bridges the design concept with the brand's hallmark, mirroring how Bulgari meticulously crafts its exquisite Jewelry," shares the company statement.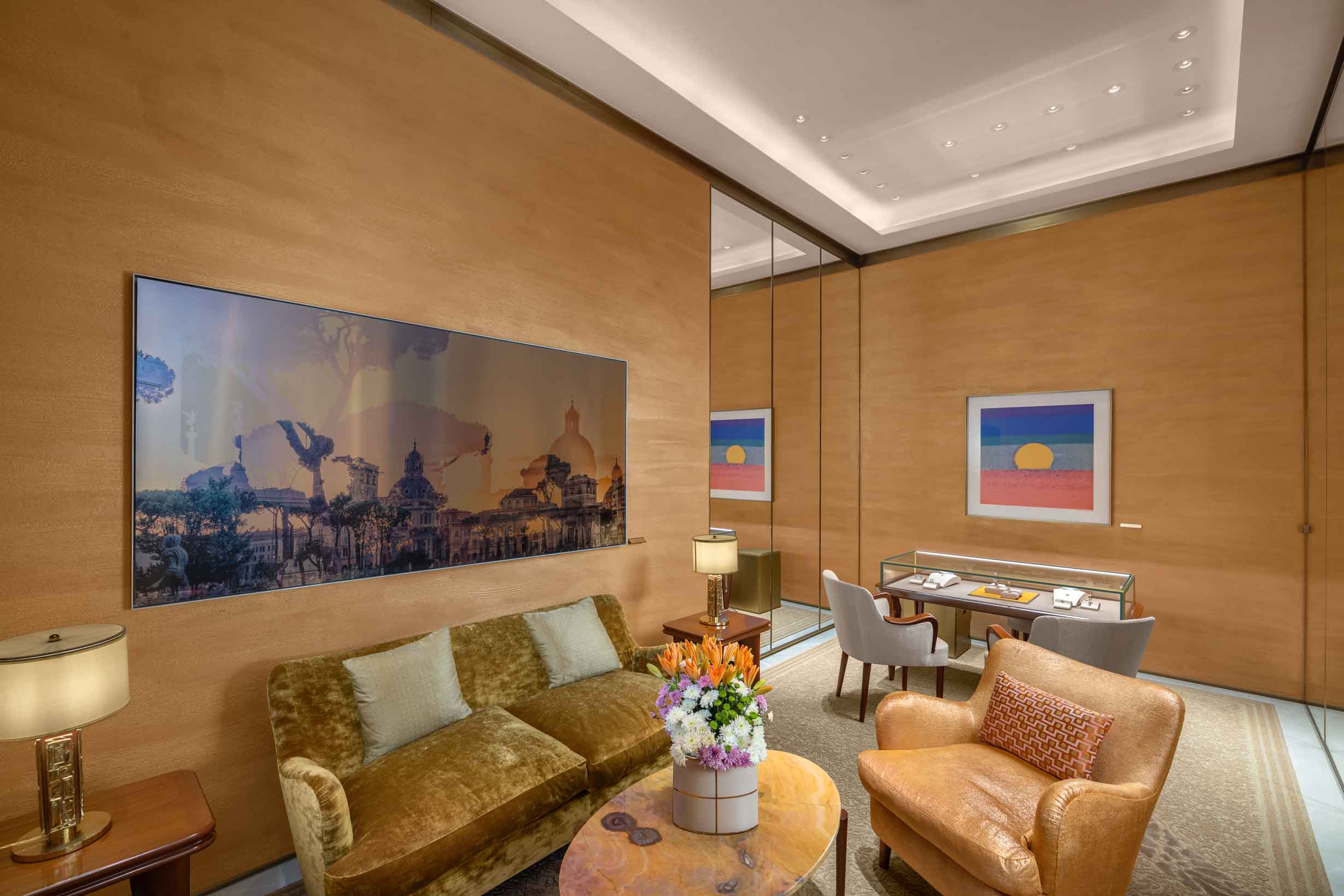 Spread across 1881 sqft, the façade features two see-through windows adorned with the intricate Pantheon Mesh pattern, characterized by a harmonious blend of circles and squares. A prominent feature is the incorporation of the Condotti eight-pointed star, a universal emblem representing balance, harmony, and cosmic order.
"Like the wind rose, whose points venture out in all directions, Bulgari's eight-point star narrates a story of the Maison's artistic diversity and ceaseless visual innovation, echoing a compelling desire to cross boundaries and explore uncharted territories. This legendary symbol is known to be associated with "Roma Caput Mundi," signifying that all paths lead to Rome. It stands as a unifying symbol present in every Bulgari boutique worldwide" adds the statement .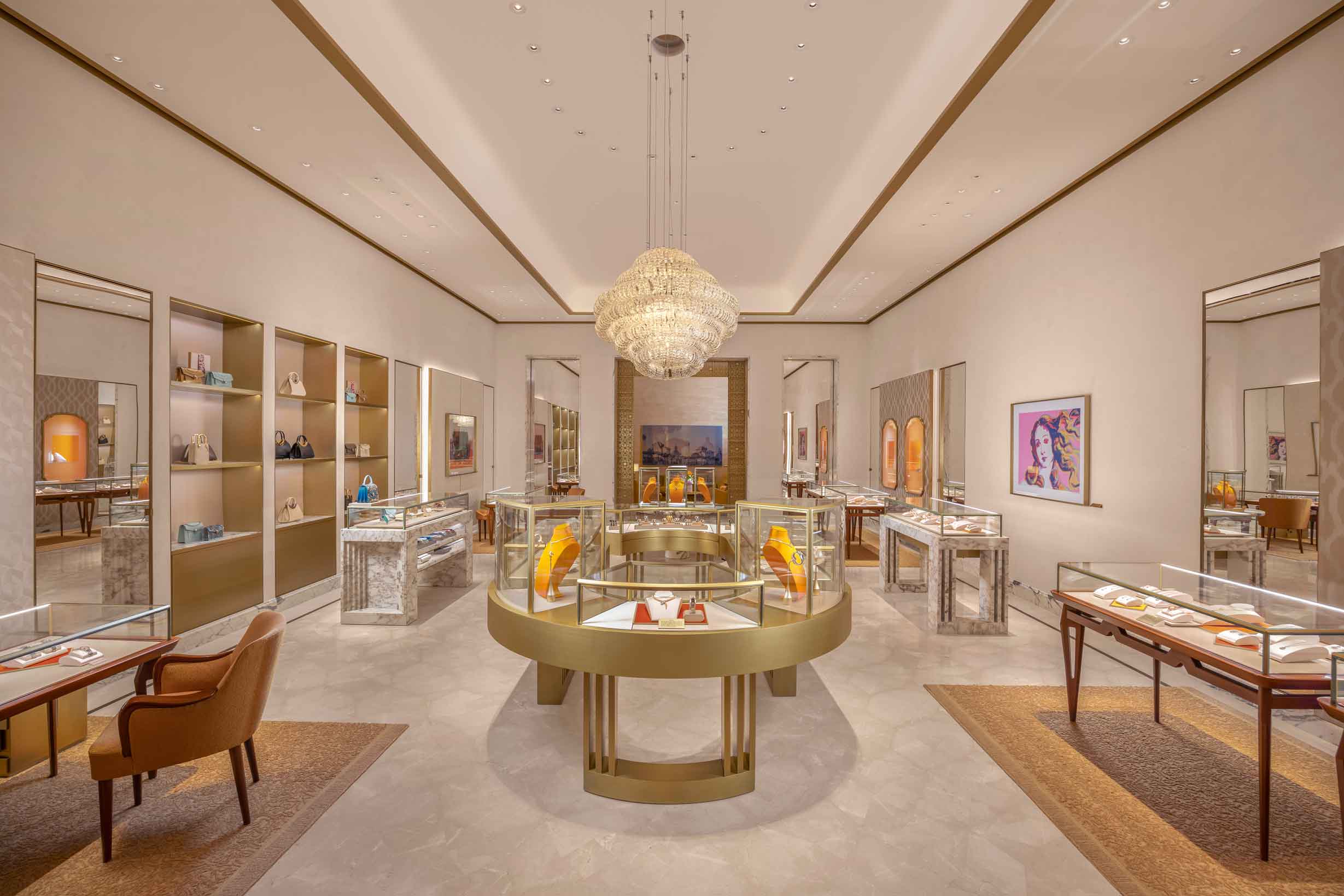 Upon entrance, visitors are instantly transported to the vibrant streets of Rome. The central counter, crafted from luminous brass and glass, is crowned by a chandelier meticulously handcrafted with Murano glass. Adorned with Imperial Saffron-colored shantung silk, the iconic Condotti windows on the walls pay homage to the warm Roman atmosphere and replicate the original windows found at Bulgari's historic flagship store on Via Condotti,in Rome.
Continuing the Bulgari experience is the more intimate lounge area, complete with plush sofas and armchairs.
Jean-Christophe Babin, Bulgari Group CEO, stated, "We are thrilled to introduce Bulgari's latest masterpiece to Mumbai's vibrant landscape. Our new boutique at Mumbai Jio World embodies the essence of Italian craftsmanship, elegance, and innovation. It reflects our commitment to offering our discerning clientele an extraordinary experience, where they can immerse themselves in the timeless beauty of Bulgari's creations. A touch of Rome in the heart of Mumbai. Two-thousand-year-old cultures that have shaped humanity and jewels and that meet on a journey of opulence and refinement. East meets West."
The company adds that Bulgari's choice of Jio World Plaza as the location for its flagship store in Mumbai was a strategic decision rooted in both the prestige and accessibility of this prominent destination.