ABID presents'INTERIORS 2016' at Milan Mela, Kolkata
By Nabamita Chatterjee | Vjmedia Works | March 30, 2016
ABID has played an active role over the last 25 years in promoting and educating eastern India with new developments in the industry, in both interior design and exterior manufacturing.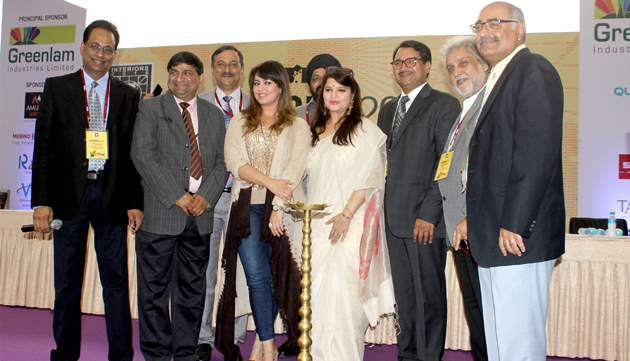 Association of Architects, Builders, Interior Decorators and Allied Business (ABID) presented its yearly mega event'INTERIORS 2016' at Milan Mela premises with much glitterati. The exhibition commenced on March 10th and continued till March 14, 2016 targeting both the B2B and B2C segment, for which VM&RD partnered with the event as its media associate.
The event saw bollywood actress Mahima Choudhury as the chief guest and Tollywood personality, Pallavi Chatterjee as a special guest. Kamlesh Agarwal, President, ABID; Anand Gupta, Secretary ABID, Exhibition Committee Chairman Sundeep Chadha and other office bearers and members of ABID were also present for the inaugural ceremony.
On the event Kamlesh Agarwal, President, ABID said, "In this exhibition this year there were over 80 exhibitors spread over four hangers of Milan Mela covering an area of over 50000 sq. ft. In addition to the excellent stalls put up by several eminent brands there were mock rooms put up by interior designers and decorators to give an idea of how the end products can be used. The fair exhibited the new dimensions and innovations in interior décor related to homes, retail, commercial or office etc. which catch the fancy of the end users and help them reach their inspirations. The Exhibition was visited by more than one lakh this year over five days."
The visitors got the opportunity to explore stalls of principal sponsor, GreenLam Industries Ltd., and sponsors Amulya Mica, Merino Laminates, Raga, Viva Simpolo, Qutone, Raga Kitchens, Somany, Tajpuria, and Enox. Furthermore, some of the recognised brands introduced their new range of home decoration products which was showcased in the exhibition.
Kamlesh Agarwal also informed, "ABID had recently organised a National Seminar on "Green Design in Interior Architecture" on 30th January', 2016 at ITC Sonar Bangla, Kolkata. The seminar was well attended by eminent personalities in the field from all over India and had speakers from as far as Bangladesh and U.K. too. The seminar was the first of its kind in India and very relevant in the present day environment of limiting Carbon footprint so that our children can live in a better and cleaner environment. Also last month, the Indian Postal Department had issued a Special Day Cover of our Association to commemorate the completion of 25 years of service to the industry."
Though no buying and selling is allowed in this fair, it generates awareness leading to enquiries which culminate in business related to interior designing and manufacturing in the region. Although, Interior Decoration, Signage, Lighting, Home Decor and Furnishing are unorganised sectors, it generates great deal of employment for both skilled and unskilled manpower. Exhibition Committee Chairman Sundeep Chadha opined, "ABID INTERIORS successfully provides a great platform to the Interior Designers, manufactures, signage makers, home building material makers, home furnishing and household brands to showcase their products and services to the general public as well as architects, construction companies, individual home builders all under one roof. Each year it is becoming more big and better in terms of presenting the varied aspects of interiors to the clients and the stakeholders are hugely benefiting out of it as it is the only show of such stature in this East zone where people from all parts be it Odisha, Bihar & Jharkhand, North East comes and participates. As per the standards set by ABID, the fair will be breaking new ground in Interior Design and Product launches."
The Organisation regularly holds Exhibitions, Seminars, Educational tours for its members and also for upcoming professionals in the industry. ABID, over the years, has encouraged vocational training by regularly tying up with various Institutes of eastern region imparting such Education by inviting students for its various programs and also by providing field training opportunity to these students. This year the deserving students are also awarded merit certificates by ABID in Consultation with the Institutes at the event.