After note ban blues, FMCG firms get into investment mode
By Dinesh Jain | March 09, 2017
Firms are planning to push up brand-building effort and increase product prices in the future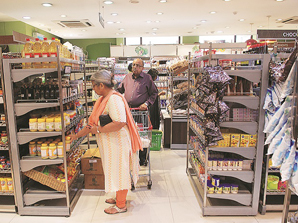 As the 2016-17 financial year draws to a close, consumer goods companies appear to be putting disruptions — demonetisation being the biggest one — behind them.

While a recent Kantar Worldpanel report showed that fast-moving consumer goods (FMCG) sales growth by value had declined to 5.3 per cent in the December quarter, FMCG executives believe the road ahead will be smooth.

"Effects of the note ban are fading fast. Fourth-quarter numbers should reflect that trend. Above all, most companies are now focusing on being GST-ready, more so at the trade level," Bharat Puri, managing director, Pidilite Industries, said on the sidelines of the CII-FMCG Summit on Wednesday.

Puri is the chairman of the CII National Committee on FMCG and is, therefore, aware of the goods and services tax (GST) preparedness of companies in the sector. Companies across the board, he said, had begun work fairly early in anticipation of a change in the tax regime.

"The basic groundwork in terms of getting consultants on board and putting the Information Technology infrastructure in place has been completed by quite a few companies some time ago. The bigger challenge is getting the trade aligned to the GST regime. Most companies are working on this to minimise any impact on sales," he said. Sector analysts have indicated that a movement to GST could result in destocking and a temporary impact on sales, as traditional traders take time to adjust.

Of the nearly 12-15 million retail outlets in India, nearly 9.4-9.5 million outlets are mom and pop or kirana stores, according to industry experts. These are typically the last to switch to a new regime. But, company executives say a combination of education and awareness is changing the picture, with trade enquiries growing. Parallely, companies are also gearing up to minimise promotional activity and dwell on brand-building effort instead, as input cost pressures compel them restrategise. Some firms, such as Nestlé and Marico, have indicated that they may take up product prices in the future as the pressure to absorb input costs wanes.

"Typically, the gains from promotional activity are short-term in nature. The long-term approach is to focus on brand-building, which is more value-accretive to the company. This also improves stickiness and loyalty among consumers, which is critical for firms," Nikhil Ojha, partner, Bain & Company, said.

A Bain & Company report on the FMCG market says that to be successful, companies will need to create memorable brands, ensure shopper visibility and range productivity. It also says effort in this regard will have to be sustained over a long period irrespective of competitive activity.

Some executives say they are putting these principles to practice. "Besides the flagship brand Wagh Bakri, which is known nationally, we have in the last few years expanded our portfolio to include regional brands such as Mili, Good Morning Tea and Navchetan. While they may not be known nationally, we propose to expand their canvass in the medium to long term," Parag Desai, executive director, Wagh Bakri Tea Group, said.

Some other companies are opting to come out of their comfort zones to build growth drivers for the future. Nestle proposes to mark its presence beyond food moving goods, into areas such as health care, nutrition and skincare. Dabur, Marico and Emami are identifying new distribution channels to push their products among consumers, while Godrej Consumer is counting on innovation to create excitement in the marketplace.