Another European major to enter retail space soon: Sharma
By Karan Choudhury | Vjmedia Works | December 24, 2013
Tesco Plc, last week became the first global retailer to seek govt's approval to set up multi-brand outlets in India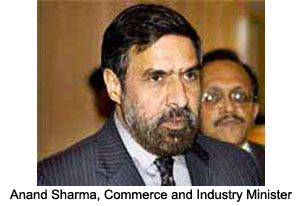 Enthused by Tesco's plan to enter the Indian supermarket segment, the government expects another European major to apply for the multi-brand retail sector.
"In multi-brand retail trading, the first (application) has come. There will be more and I think another European major will come," Commerce and Industry Minister Anand Sharma said here. He, however, did not share the details of the possible applicant.
Last week, UK-based Tesco Plc became the first global retailer to seek government's approval to set up multi-brand outlets in India with a plan to invest $110 million in partnership with Tata's Trent.
It has sought permission to acquire 50 per cent in Trent's wholly-owned subsidiary Trent Hypermarket Ltd, that runs Star Bazaar stores. Sharma said his ministry would fast-track the process of clearance for Tesco. "It (Tesco's application in the Foreign Investment Promotion Board) will be an expeditious approval."
Allaying concerns of global investors, Sharma said that India's foreign direct investment (FDI) policy is attractive and investments are secure and protected. "Investments are protected and fully secured under the law and FDI policy both."
He alleged that the opposition BJP, including its prime ministerial candidate Narendra Modi, had sent conflicting signals to foreign investors. "Conflicting signals, which BJP including Modi has sent recently, are scaring away the investors," Sharma said.
The BJP is opposed to the new policy of FDI in retail and had voiced its concern over it in Parliament.
Tesco's application had come after an year of the policy which permitted global retail majors up to 51 per cent stake to run multi-brand stores in India.
The company's application is in contrast to the US retail giant Walmart, which was earlier very keen to enter Indian multi-brand retail market, ending its partnership in October with Sunil Mittal-promoted Bharti Enterprises, for opening stores in the country.
A WalMart India spokesperson had said: "Under the requirements contained in the new FDI policy, Walmart could not invest in multi-brand retail through the existing Bharti Retail business."