Biyani retains faith in retail, looks to woo customers
September 16, 2016
The firm aims at Rs 1 lakh-crore of annual business by 2021, says will continue to grow by 20-30% every year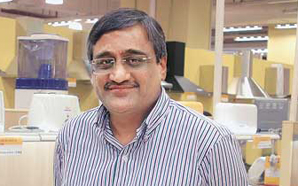 With a plan to have around 40 large format departmental stores under his Central brand by the end of this financial year, Future Group's chief executive, Kishore Biyani, wants to 'seduce' customers who might have shifted to other mediums.

The company says his Future Lifestyle Fashions would be the top fashion retailer in the next two years.

"The idea is to provide a seamless customer experience. Today, there are other mediums of shopping as well; so, the effort has to be on seducing the customer with a great shopping experience," said Biyani.

Future Group, aiming at Rs 1 lakh-crore of annual business by 2021, says it would continue to grow by 20-30 per cent every year. According to reports, it recently surpassed department chain giant Shoppers Stop in retail sales, with Rs 803 crore during the June quarter. "We are opening a new Central virtually every two months. This year, we would have in all another eight new Centrals. As a group, we have expanded 2.5 million sq ft this year,'' said Biyani.

Adding: ''I want to get to the leadership position. It is for consumers to give us that title but I think we have arrived. I think we are the leader now; everyone else can follow us."

According to the company, it would be an overall leader in the fashion retail business in number of stores, space and sales in the next two years.

On Thursday, it opened its 34th high-end store at Aerocity in the Capital, to house about 500 brands.

"We are planning to have six more stores by the end of this year," said Biyani. The company is operating 33 Central stores in large cities (including Mumbai, Bengaluru, Hyderabad, Pune) and some in smaller cities such as Indore, Patna, Baroda and Surat. "We would continue to focus on tier-I & II (cities). Wherever there would be a suitable customer, we would be there."

On its new Aerocity store, the company said footfall would exceed 10,000 visitors once ancillary elements such as food courts and community centres are in place in the area. It said annual footfall at Central is in excess of 55-60 million people.

On competition from Reliance Retail, Biyani said the two companies were in different categories. "Directly, we do not compete as much," he said.

On fighting it out online, instead of tie-ups, the company would go through the acquisition route. "We have acquired Fab Furnish, we are growing it and it is doing very well for us. We will make it profitable in a month or two. It is going to overall be a profitable operation," he said.