Brand Outpost: In sight, In mind
By Satarupa Chakraborty | December 21, 2017
With more malls and more brands flocking on to India's retail shore, engaging with customers is becoming increasingly popular to increase footfall. Branding Outposts installed by several brands in mall prtemises are no longer only extension of in-store visual merchandising but it has gone to the extent of being thematic installations or selfie-points or customer-engagement posts. VM&RD talks to brands, malls and service providers to scan this popular practice.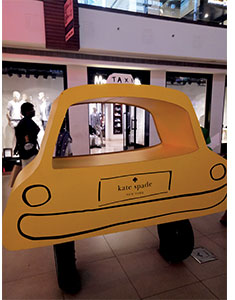 Shunning all the speculations about the downfall of brick-and-mortar retail spaces, the malls in India continue to show a recurring growth in the number of brands they are hosting in their spaces. In a recent report by real estate consulting firm, Cushman & Wakefield, India is all set to receive approximately 34 new malls by 2020. This could mean more brands, more stores and more clutter, maybe. But, the brick-and-mortar retailers are innovating their in-store experiences and even taking them outside too. One of the recent trends that is helping brands make their presence in the malls are the "branding outposts". The previously-unused or more popular parts such as entry points or atriums of the malls are being used by the brands, either to showcase an extension of their in-store VM or to use the space more innovatively with a clear objective of visibility. VM&RD talks to brands, malls and service providers to scan this popular practice.
Visibility – when and why
When Japanese lifestyle retailer MUJI set foot in India early this year, atriums of popular malls were inundated with their promotional outposts and posters. Before making the debut, the brand attempted to educate Indian consumers on the legacy of the brand. When bags and accessories brand, Kate Spade did their pre-promotion, the outposts were meant to be more of selfie-points. American casual wear brand Aeropostale, ahead of their first store launch in India last year, resorted to the same objective and attempted to create a social media stir. A spokesperson from the marketing team of Reliance Brands, mentioned, "When it comes to creating buzz and visibility, we always prefer branding installations in the mall or pop-up , the first to create buzz and the latter to understand our consumers." Brands like Superdry and Brooks Brothers created many such pop-ups to understand footfalls of particular malls.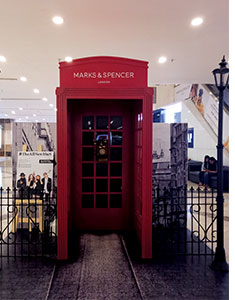 The engagement buzz
Branding outposts were mere extension of in-store visual merchandising till a few years back, which has taken an interesting turn now. To present both the brand's iconic connection to London and create a photo-point for consumers, Marks & Spencer, created an installation of typical London street phone booth. The British retailer, having done such branding outpost for the first time in India, has revealed its plan to engage more in such activities in future. Footwear brand Aldo, to promote their Art & Soul collection, collaborated with famous artist Jehangir Jani, to present some of his visual narrations of Aldo's merchandises. Fitness brand Adidas's 95% outposts are thematic and engagement driven, whereas only 5% are merchandise-driven. Arjun Singh Gehlot, Director, Ambience Malls, explained, "Such branding has gone beyond being static in western country and we have also started embracing digital installations and augmented reality for in-mall branding. Sparingly, but yes. Personally, it's also about enhancing the mall experience and therefore, we encourage more experiential outposts."
Echoing his thoughts, a marketing spokesperson from Major Brands, added, "We have always tried to create something with a spike even if it's simple product or mannequin displayed. We may take an element from the existing in-store VM but make sure that we present a larger-than-life stature of the same when we are doing in-mall activation."
Merchandise-driven, theme-driven or engagement-driven, do all activations qualify to take a place in the mall? Well, there's always a mandate to be followed by the mall authorities. When a German ice cream brand was foraying in Indian market, their communication didn't augur well with Indian sentiment and the mall authority directed them to remove it overnight. Yogeshwar Sharma, Director, select Citywalk, said, "Even though a brand has every right to promote themselves, we have to be careful towards the sentiments of the people who are walking in our property. We provide all support to the engaged brands but the design and communications have to be approved by us."
Adding to the concept, Vikas Shetty, Head of Business, Growels Malls, said, "We have our set do's and don'ts. In many cases, the branding installations come in the way of visibility of other stores or free flow of customer movement. Therefore, we have given them a mandate of maximum space of 10ftX10ft. We also do not encourage them set up aesthetically poor outposts or a kind of communication that may offend the catchment."
Siddhant Sahu of VM designing agency Few Steps Ahead, told, "Only aesthetic installation with no interaction have a stagnant shelf life in terms of creating buzz. We need to embrace more and more interaction. However, technology in India is still very expensive. But thematic outposts will pave the future of branding."
Design, challenge and execution
Designers and service providers in retail industry have found out that the rush of branding outposts are mostly in demand in the festive season. They also collectively agree that they have to deliver on lot of prototyping and the marketing budgets for these outposts are relatively low. The timeline to install them are generally as brief as overnight.
On the preferred materials, Amit Kanodia of VM execution agency Pioneer Digital, said, "Brands are ready to experiment with materials to achieve a particular look but only when it's cost-effective. Yes, there are challenges to adapt design and make it look aesthetic in budget constraint. It is more so, when the installation gets done at wee hours when the malls are closed for public."
Recently executing a kinetic installation for Lifestyle in Bangalore's Vega Mall, Deepak Magar of Supra Digital, said, "We invest lot of time in prototyping and left with literally few days for execution. Many a times, we arrive at some challenges during installation and we must come up with a quick solution. All in all, time frame is usually very limited to execute these installations."
Branding outposts – a win-win
Even a few years back, we could spot the seasonal branding outposts three times in a year at the most, which has now increased to 5-6 times a year. Malls, with the responsibility towards helping the brands