Brick-&-mortar retailers also keen on digital footprint
Vjmedia Works | December 31, 2014
India, which currently has 35 million online shoppers, is likely to have around 100 million by 2016, according to recent research by Forrester Consulting and Google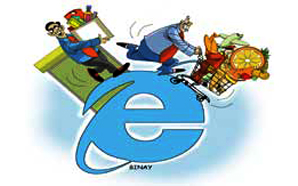 India, which currently has 35 million online shoppers, is likely to have around 100 million by 2016, according to recent research by Forrester Consulting and Google. Business is expected to soar to $15 billion from $4 billion in 2014. In the second of a three-part series, Business Standard looks at how big retailers are facing the challenge posed by online players who have been aggressively discounting prices
Himanshu Chakrawarti, chief executive officer of The MobileStore, readily concedes that the recent flurry of discount sales by a bunch of e-tailers have taken a toll on his company's sales.
"There was an impact," admits the head of the largest standalone retail chain, selling mobile phones and related accessories through 700-odd stores across the country. Still Chakrawarti insists that online players are not really a threat but an opportunity for offline retailers like himself.
"We have to be competitive in offering a value proposition to customers, whether they come to us online, or walk into our stores," says Chakrawarti.
Currently, the bulk of sales at the The MobileStore take place through its stores. Only around eight-nine per cent of sales take place through its online channel (www.mobilestore.in), which offers a limited range of products at prices lower than in-store prices. The online and offline operations function separately, with different teams running them.
But this is changing. Over the last three or four months, The MobileStore has been busy setting up an integrated platform that will enable it to track sales irrespective of whether they take place online or offline.
Going forward, explains Chakrawarti, it will not matter whether the sale is generated from the store, or from the website. This means a customer walking into a store, and not finding the product he is seeking, will be able to order it online immediately, and will even be able to collect it at the store, if he so desires. Meanwhile, a customer shopping on the store's online platform will have a bigger range to choose from.
Similarly, Kishore Biyani's Future Group is also working on a strategy to converge its digital and physical channels. Tata Group's consumer retail brand Croma recently launched a same-day delivery service for certain products booked online on its website before a cut-off time.
At the same time, established retailers are tying up with e-tail players to hawk their in-house brands. Future Group has tied up with Amazon to sell its private labels in the fashion category, while Croma's flagship brand store will now be hosted on snapdeal.com, an online marketplace.
While The MobileStore does not plan to list itself in any third-party online marketplace, it has partnered with Snapdeal to sell its extended warranty service for handsets purchased through the online portal. Poor after sales service on handsets purchased online has been a major concern for e-commerce.
Experts say the dividing line between e-tail and retail will start to blur. Agrees Chakrawarti: "It will no longer be online vs offline."
The trend of price cutting through discounted sales online might not last since brand managers realise that this impacts both brand value and image. "Brands will get hit if they are sold below price," notes Harminder Sahni, managing director, Wazir Advisors, a management consulting firm.
Moreover, even as the online space creates its own consumption trends, driven largely by younger customers, there will be a large set of discerning customers who will continue to remain more store-friendly, argue marketeers.
Offline entities, finding it difficult to compete on the basis of pricing, are improving their in-store experience to increase sales. For example, The MobileStore has revamped its upscale stores, or Lounges, displaying accessories, apart from handsets, and organising live demonstrations. Free data transfer, earlier only available in Lounges, is now provided in all its stores. "As mass consumption and lower-priced products move online, premium consumption is likely to be driven from offline stores," says Sahni. For established retailers, it might make more sense to sell their more expensive products from stores, given their limited shelf capacity, and sell the rest online.
However, the online thrust by offline retail chains has undoubtedly taken its toll on the geographical spread of physical stores. The MobileStore, for instance, does not have any aggressive plans to open new retail outlets in 2015. The chain shut 20-odd stores in 2014, but added only 8-10 new ones.
Apart from big retail players, small businesses, mostly from Tier-2 and Tier-3 cities, are also trying to make the most of the appetite of consumers to shop online. Globally, India recorded the fastest sign-up of the Google My Business application by small and medium businesses. Around 20,000-odd small businesses have already signed up for the search-based presence online since the launch of the application last month. "We get around 1,000 plus sign-up requests a day," says Gaurav Bhaskar, spokesperson, Google India. With large format offline players and small businesses keen to set their feet in the online space, the year 2015 might turn out to be a landmark year.