Bringing order to chaos
February 22, 2016
Over the last few years, large swathes of unorganised markets have been organised. A look at the factors that facilitated that transition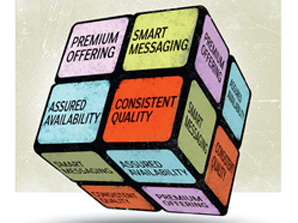 Retail in India is one of the largest sectors of the economy today. In 2015, the total market size was estimated at $600 billion, registering a CAGR of 7.45 per cent since 2000, according to a report, Retail 2020: Retrospect, Reinvent, Rewrite, published by the Boston Consulting Group and Retailers Association of India. India's retail market, the report says, is expected to nearly double to $1 trillion by 2020, driven by income growth, urbanisation and attitudinal shifts. It is interesting to note that 92 per cent of the market in 2015 comprised unorganised trade and this segment is expected to decline to 76 per cent in 2020.
The opportunity to organise retail is obvious. Taking advantage of this, a large number of branded players have stepped into unexplored markets and have successfully organised large swathes of unorganised segments. Technology has been a key enabler. And having a strong omni-channel presence has helped branding in these segments pick up speed.
Take online travel. When Yatra.com entered the travel industry in 2006, the market was totally unorganised, managed largely by local travel agents and tour operators, besides a handful of branded players that largely dealt with overseas travel. The market for international travel has widened, so has the number of options for consumers. Seeing the immense potential to organise travel and booking, players like Yatra and Makemytrip entered the market offering the facility to choose and compare. Now, there are a dozen-odd players and over 40 per cent of all tour and activity bookings are made online.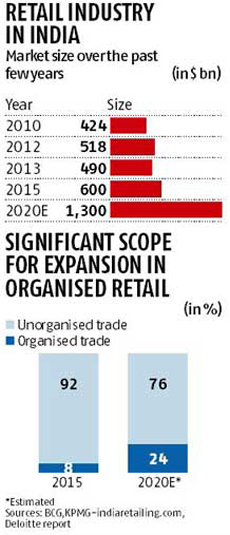 What online booking and comparison sites have done is bring transparency and choices. It applies to both flight prices as well as hotels. "When OTAs stepped in consumers had more choices. Second, with the entry of players like us the level of customer servicing improved drastically," Sharat Dhall, president, Yatra.com. Even as travellers embraced online travel, Yatra.com had to work hard to earn consumer trust. For instance, being a pure-play online company in its early days, it gave enough reason to the Doubting Thomas to wonder if the company actually existed or not! To help customers overcome such doubts the company opened brick-and-mortar booking offices in leading cities.
Now come to India's $2.2 billion diagnostics market. It is going through a visible shift from unorganised and non-branded service providers to organised and branded chains that provide higher quality and reliable services. This, experts reckon, will help double the market by 2018. Players like Dr. Lal Path Labs with more than 150 labs, SRL Diagnostics with close to 300 labs, and Metropolis Healthcare with close to 200 centres, stand in place of dingy, hole-in-the-wall testing laboratories not just in big cities but in tier-2 and tier-3 towns as well.
Now consider a market that began getting organised more than 25 years ago but picked up pace only recently - jewellery. When Tanishq entered the market in the eighties, it faced the challenge of breaching a well-entrenched network of family jewellers. C K Venkataraman, CEO, jewellery, Titan Company Ltd, says, "The relationship between customer and family jewellers went back to a couple of generations. The habit of buying from the family jeweller was strong and the trust was intrinsic. One also had the option of returning old jewellery to the family jeweller." Tanishq broke down those early barriers and consolidated its lead as very few national or branded players threw their hats in the ring. Now, chains like Kalyan, Joyalukkas and Senco besides online jewellery stores such as CaratLane with their promise of quality, transparent pricing and easy returns, have queered the pitch for the neighbourhood jewellers.
So what is common in all these categories? Pops KV Sridhar, chief creative officer, SapientNitro India, says a lot of commodities find it difficult to break into categories. For example, salt was salt until Captain Cook debuted, came with a proposition of free flowing salt and over time a commodity became a brand. So, differentiation is the key to cracking an existing market or for carving out a new product category.
"With product categories like food and jewellery, branded players can also create a strong emotional bond between consumers and their products via advertising - something the players in the fragmented market may not be able to afford other than in a very localised manner," points out Pradeep K. Chintagunta, professor of marketing at Chicago Booth School of Business. Further in the commodity market, differentiation is another means to stand out. The case in point being ITC's entry into atta market. "We differentiated our product by creating special blends and granulations for specific markets," says, Nazeeb Arif, executive VP, corporate communications, ITC
The other key ingredient is trust, says Sanjeev Vashishta, CEO, SRL Diagnostics. He says the brand's emphasis from the start was on fostering trust among consumers and offering a "solution" rather than just another lab - a one-stop shop to handle all routine, specialised and esoteric tests. Of course, technology played a vital role in organising the industry, which today has moved from mere diagnosis to screening to monitoring of diseases in chronic cases to predictive markers.
Trust has also opened up another market for new players to move in: m-wallet. Nitin Misra, VP, business, Paytm, says the growth has been facilitated by primary use case, convenience and security associated with payments. "To make someone park his money with you or have the consumer trust you to make crucial payment like utilities, one needs to build trust - right through the product offering, payment modules and customer service."
Just as latent consumer demand can lead to effective branding, the very process of branding can spike demand. When markets are fragmented, there is less of an ability for firms to stimulate primary demand. Consider the Indian consumer interest in desi clothes, that is, ethnic wear. For the small ethnic retailers in a given urban area, it would be difficult to get consumers to switch their wardrobes. They lacked resources to convey the value proposition to potential customers. Secondly, it would have been hard for the customer to come across these retailers due to their small footprint. Enter a brand like Fabindia that shifted its business model from an export focus to one of India-based retail. Now you have a national brand with considerable retail footprint and access that could enter a consumer's consideration set while buying.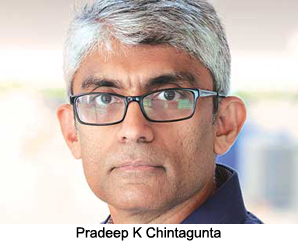 Expert take: Create demand
What are the key triggers that help organise a market or industry and lead to higher brand affinity?
The basic objective of marketing is to generate demand and that is where companies focus on - fine-tuning their marketing strategy and marketing mix to better cater to consumer needs so they end up buying more; perhaps even creating longer-term relationships.
The second objective is to build brands - essentially the marketer wants to create an associative network of benefits, emotions, images that are unique to her product or service. This helps sustain the relationships the marketer is trying to engender.
The third objective is to create completely new categories of products where none existed before - this way the brand becomes synonymous with a category - like Xerox. And finally, the role of marketing is to aid society by not only accomplishing the first three objectives but also benefitting the larger society at the same time.
So, branding fits into this larger rubric of marketing.
So what leads to brand affinity?
Differentiation: First and foremost, it is a means of differentiating your product from other "unbranded" products.
Quality assurance: A second reason for creating brand affinity is that of quality assurance. In a fragmented market that is based on a strong relationship between the firm and the customer (as in traditional jewellery), the relationship servers as the basis for quality assurance.
Status symbol: Brands can signal status - in some cases like automobiles, the signals can be overt. Driving a Mercedes-Benz conveys to the bystander something about the passengers in that car.
Primary demand generator: When markets are fragmented, there is less of an ability for firms to stimulate primary demand.
Pradeep K Chintagunta
Professor of marketing, Chicago Booth School of Business